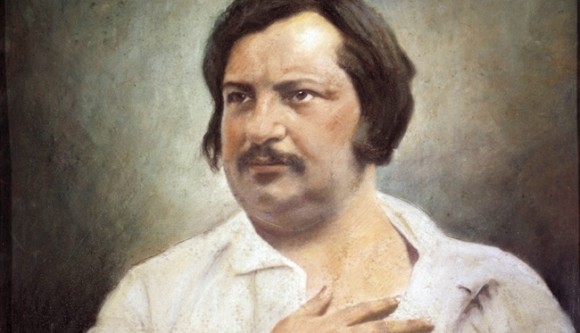 163 years after his death, Honoré de Balzac remains an extremely modern-sounding wag. Were he alive today, he'd no doubt be pounding out his provocative observations in a coffice, a café whose free wifi, lenient staff, and abundant electrical outlets make it a magnet for writers.
One has a hunch Starbucks would not suffice…
Judging by his humorous essay, "The Pleasures and Pains of Coffee," Balzac would seek out a place that stays open past midnight, and the strongest, most arcane brewing methods. The Bucket of Black Snakes was his Green Fairy. He was that most cunning of addicts, sometimes imbibing up to 50 cups of coffee a day, carefully husbanding his binges, knowing just when to pull back from the edge in order to prolong his vice.
Coffee — he called it a "great power in [his] life" — made possible a grueling writing schedule that had him going to bed at six, rising at 1am to work until eight in the morning, then grabbing forty winks before putting in another seven hours.
It takes more than a couple of cappuccinos to maintain that kind of pace. Whenever a reasonable human dose failed to stimulate, Balzac would begin eating coffee powder on an empty stomach, a "horrible, rather brutal method" that he recommended "only to men of excessive vigor, men with thick black hair and skin covered with liver spots, men with big square hands and legs shaped like bowling pins."
Apparently it got the job done. He cranked out eighty-five novels in twenty years and died at 51. The cause? Too much work and caffeine, they like to say. Other speculated causes of death include hypertension, atherosclerosis, and even syphilis.
Here you can behold The Coffee Pot That Fueled Honoré de Balzac's Coffee Addiction.
via The New Yorker
Related Content:
"The Vertue of the COFFEE Drink": London's First Cafe Creates Ad for Coffee in the 1650s
The History of Coffee and How It Transformed Our World
How Climate Change Is Threatening Your Daily Cup of Coffee
A Short, Animated Look at What's Inside Your Average Cup of Coffee
Black Coffee: Documentary Covers the History, Politics & Economics of the "Most Widely Taken Legal Drug"
Ayun Halliday hasn't touched the stuff for two whole weeks. Follow her @AyunHallliday