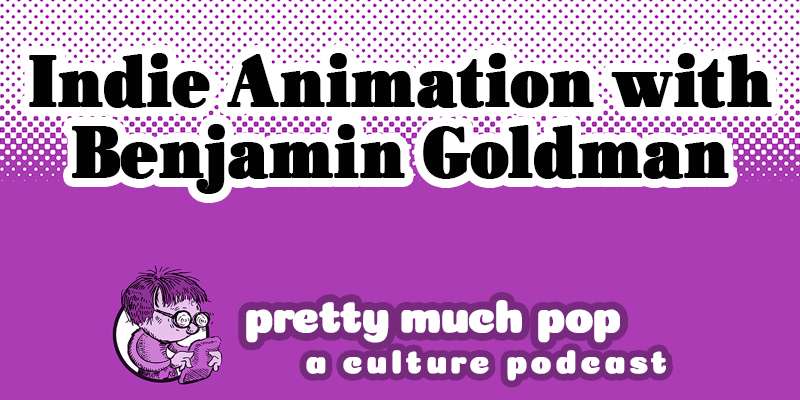 In the peren­ni­al con­flict between art and our cor­po­rate enter­tain­ment machine, ani­ma­tion seems designed to be mech­a­nized, giv­en how labor-inten­sive it is, and yes, most of our ani­ma­tion comes aimed at chil­dren (or naughty adults) from a few behe­moths (like, say, Dis­ney).
Your hosts Mark Lin­sen­may­er, Eri­ca Spyres, and Bri­an Hirt are joined by Ben­jamin Gold­man to dis­cuss doing ani­ma­tion on your own, with only faint hope of "the cav­al­ry" (e.g. Net­filx mon­ey or the Pixar fleet of ani­ma­tors) com­ing to help you real­ize (and dis­trib­ute and gen­er­ate rev­enue from) your vision. As an adult view­er, what are we look­ing for from this medi­um?
We talk about what exact­ly con­sti­tutes "indie," shorts vs. fea­tures, how the image relates to the nar­ra­tion, real­ism or its avoid­ance, and more. Watch Ben­jam­in's film with Daniel Gam­burg, "Eight Nights."
Some of our oth­er exam­ples include Jérémy Clap­in's I Lost My Body and Skhizein, World of Tomor­row, If Any­thing Hap­pens I Love You, The Oppo­sites Game, Windup, Fritz the Cat, Spike & Mike's Sick and Twist­ed Fes­ti­val of Ani­ma­tion, and Image Union.
Hear a few lists and com­ments about this inde­pen­dent ani­ma­tion:
Fol­low Ben­jamin on Insta­gram @bgpictures. Here's some­thing he did for a major film stu­dio that you might rec­og­nize, from the film ver­sion of A Series of Unfor­tu­nate Events:
Hear more of this pod­cast at prettymuchpop.com. This episode includes bonus dis­cus­sion that you can access by sup­port­ing the pod­cast at patreon.com/prettymuchpop. This pod­cast is part of the Par­tial­ly Exam­ined Life pod­cast net­work.
Pret­ty Much Pop: A Cul­ture Pod­cast is the first pod­cast curat­ed by Open Cul­ture. Browse all Pret­ty Much Pop posts.