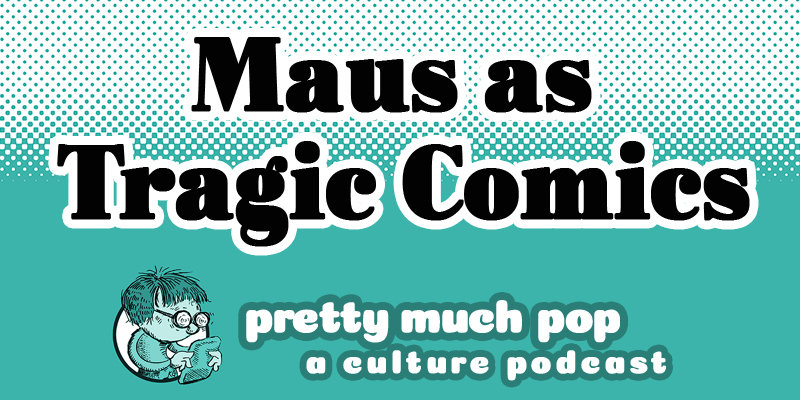 In light of its being recently banned in some settings, we discuss Art Spiegelman's Maus (1980-91), which conveys his father's account of living through the Holocaust. We also consider other war-related graphic novels like Marjane Satrapi's Persepolis (2000) and George Takei's They Called Us Enemy (2019).
Your host Mark Linsenmayer is joined by comics scholar Vi Burlew, comics blerd/acting coach Anthony LeBlanc, and comedian/graphic novelist Daniel Lobell.
Are comics particularly effective in changing hearts and minds when they display people's hardships? Should kids be exposed to the horrors of the world in this way? What about the complexities of social justice and gender identity? We also touch on Gilbert Gottfried and the relationship between humor and tragedy, learning history vs. reading one person's experience, the ages at which became political, and how comics may have aided that.
Read Vi's Washington Post editorial about censorship that inspired this episode.
Other relevant sources include:
If you enjoyed this discussion, try our episodes featuring Vi talking about the trope of the heroine's journey in film, Anthony talking about blerds, i.e. black nerds, and Daniel talking about the comic Peanuts.
Follow us @ViolaBurlew, @anthonyleblanc, @DanielLobel, and @MarkLinsenmayer.
Hear more Pretty Much Pop. Support the show at patreon.com/prettymuchpop or by choosing a paid subscription through Apple Podcasts. This podcast is part of the Partially Examined Life podcast network.
Pretty Much Pop: A Culture Podcast is the first podcast curated by Open Culture. Browse all Pretty Much Pop posts.