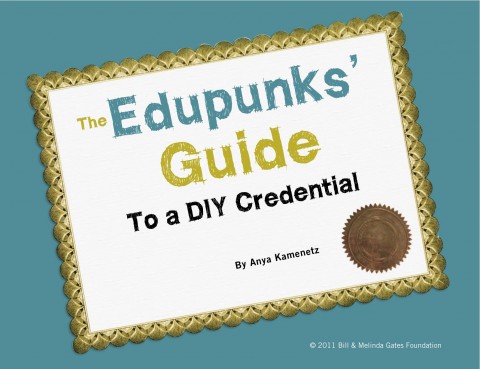 It's hot off the digital press. Anya Kamenetz, a senior writer at Fast Company Magazine and author of DIY U: Edupunks, Edupreneurs, and the Coming Transformation of Higher Education, has teamed up with the Gates Foundation to release a free ebook, The Edupunks' Guide to a DIY Credential.
The new ebook offers a "comprehensive guide to learning online and charting a personalized path to an affordable credential," and it comes complete with some handy-sounding tutorials: how to write a personal learning plan, how to teach yourself online, how to build your personal learning network, 7 ways to get college credit without taking a college course, etc.
The book also smartly features a long list of open educational resources, where the author was nice enough to give us a small mention.
You can read The Edupunks' Guide to a DIY Credential on Scribd, or alternatively you can download it in multiple formats (PDF, Kindle, ePub, RTF, etc.) at the bottom of this page.