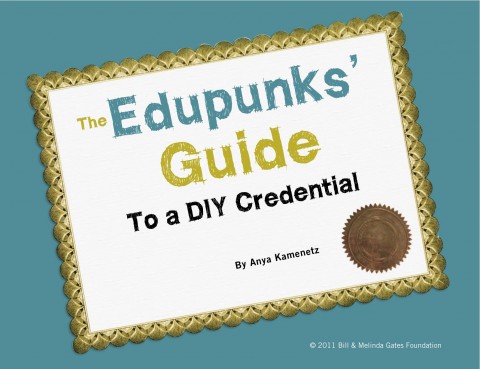 It's hot off the dig­i­tal press. Anya Kamenetz, a senior writer at Fast Com­pa­ny Mag­a­zine and author of DIY U: Edupunks, Edupre­neurs, and the Com­ing Trans­for­ma­tion of High­er Edu­ca­tion, has teamed up with the Gates Foun­da­tion to release a free ebook, The Edupunks' Guide to a DIY Cre­den­tial.
The new ebook offers a "com­pre­hen­sive guide to learn­ing online and chart­ing a per­son­al­ized path to an afford­able cre­den­tial," and it comes com­plete with some handy-sound­ing tuto­ri­als: how to write a per­son­al learn­ing plan, how to teach your­self online, how to build your per­son­al learn­ing net­work, 7 ways to get col­lege cred­it with­out tak­ing a col­lege course, etc.
The book also smart­ly fea­tures a long list of open edu­ca­tion­al resources, where the author was nice enough to give us a small men­tion.
You can read The Edupunks' Guide to a DIY Cre­den­tial on Scribd, or alter­na­tive­ly you can down­load it in mul­ti­ple for­mats (PDF, Kin­dle, ePub, RTF, etc.) at the bot­tom of this page.