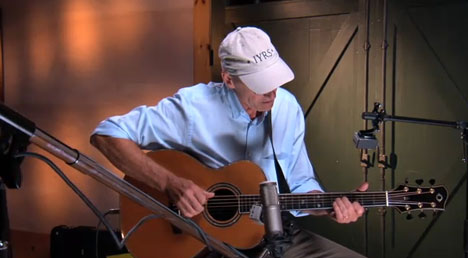 James Taylor has started to offer free guitar lessons online. He is, after all, your Handy Man.
Now let's get this out of the way: The jury is still out on whether these video lessons will offer serious guidance or not. The first video offers a somewhat detailed primer on … caring for your fingernails. And it comes coupled with a short lesson, "Little Wheel" in e minor, that is decidedly short on pedagogy. More lessons will be coming soon though. Sign up for JT's email list, and they'll ping you when new videos are posted online.
What to do in the meantime? Well, you can always turn to YouTube, which features a surprising number of free video tutorials. If you sift around, you can learn how to buy an acoustic guitar, tune it by ear, play stum patterns, finger pick, play various chord progressions and so on. For more lessons, you can start rummaging around three helpful YouTube channels: RockonGoodPeople; Watch & Learn Music Lessons;  and MartyZsongs. They provide lots of free tutorials (while also trying to promote paid products on the side).
via metafilter