Today we're bringing you a roundup of some of the great Science Fiction, Fantasy and Dystopian classics available on the web. And what better way to get started than with Aldous Huxley reading a dramatized recording of his 1932 novel, Brave New World. The reading aired on the CBS Radio Workshop in 1956. You can listen to Part 1 here and Part 2 here.
(FYI: You can download Huxley's original work — as opposed to the dramatized version — in audio by signing up for a Free Trial with Audible.com, and that applies to other books mentioned here as well.)

Little known fact. Aldous Huxley once gave George Orwell French lessons at Eton. And, 17 years after the release of Brave New World, Huxley's pupil published 1984. The seminal dystopian work may be one of the most influential novels of the 20th century, and it's almost certainly the most important political novel from that period. You can find it available on the web in three formats: Free eText – Free Audio Book – Free Movie.
In 1910, J. Searle Dawley wrote and directed Frankenstein. It took him three days to shoot the 12-minute film (when most films were actually shot in just one day). It marked the first time that Mary Shelley's classic monster tale (text – audio) was ever adapted to film. And, somewhat notably, Thomas Edison had a hand (albeit it an indirect one) in making the film. The first Frankenstein film was shot at Edison Studios, the production company owned by the famous inventor.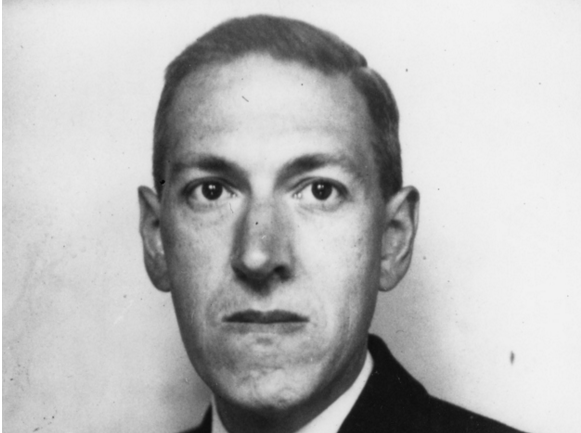 Stephen King and Joyce Carol Oates — they both pay homage to H.P. Lovecraft and his great tales. And you can too by spending time with his collected works, available in etext formats here and audio formats here (Free Mp3 Zip File – Free Stream).
Philip K. Dick published 44 novels and 121 stories during his short lifetime, solidifying his position as one of America's top sci-fi writers. If you're not intimately familiar with his novels, then you almost certainly know major films based on Dick's work – Blade Runner, Total Recall, A Scanner Darkly and  Minority Report. To get you acquainted with PKD's writing, we have culled together 14 short stories for your enjoyment.
eTexts (find download instructions here)
"Beyond the Door"
"Beyond Lies the Wub"
"Mr. Spaceship"
"Piper in the Woods"
"Second Variety"
"The Crystal Crypt"
"The Defenders"
"The Eyes Have It"
"The Gun"
"The Hanging Stranger"
"The Skull"
"The Variable Man"
"Tony and the Beetles"
"We Can Remember It For You Wholesale"
Audio
Back in the late 1930s, Orson Welles launched The Mercury Theatre on the Air, a radio program dedicated to bringing dramatic, theatrical productions to the American airwaves. The show had a fairly short run, lasting from 1938 to 1941. But it made its mark. During these few years, The Mercury Theatre aired The War of the Worlds, an episode narrated by Welles that led many Americans to believe their country was under Martian attack. The legendary production, perhaps the most famous ever aired on American radio, was based on H.G. Wells' early sci-fi novel, and you can listen to the broadcast right here.
Between 1951 and 1953, Isaac Asimov published three books that formed the now famous Foundation Trilogy. Many considered it a masterwork in science fiction, and that view became official doctrine in 1966 when the trilogy received a special Hugo Award for Best All-Time Series, notably beating out Tolkien's The Lord of the Rings. Eventually, the BBC decided to adapt Asimov's trilogy to the radio, dramatizing the series in eight one-hour episodes that aired between May and June 1973. Thanks to The Internet Archive you can download the full program as a zip file, or stream it online:
Part 1 |MP3| Part 2 |MP3| Part 3 |MP3| Part 4 |MP3| Part 5 |MP3| Part 6 |MP3| Part 7 |MP3| Part 8 |MP3|
Before the days of Harry Potter, generations of young readers let their imaginations take flight with The Chronicles of Narnia, a series of seven fantasy novels written by C. S. Lewis. Like his friend J.R.R. Tolkien, Lewis served on the English faculty at Oxford University and took part in the Inklings, an Oxford literary group dedicated to fiction and fantasy. Published between 1950 and 1956, The Chronicles of Narnia has sold over 100 million copies in 47 languages, delighting younger and older readers worldwide.
Now, with the apparent blessing of the C.S. Lewis estate, the seven volume series is available in a free audio format. There are 101 audio recordings in total, each averaging 30 minutes and read by Chrissi Hart. Download the complete audio via the web or RSS Feed.
Neil Gaiman has emerged as one of today's best fantasy writers. He has made comics respectable and published novels, including one that will be adapted by HBO. A great deal of his output, though, has been in the form of short stories, some available on the web in text format, others in audio.
Audio & Video
Other Gaiman works can be download via Audible.com's special Free Trial. More details here.
Text
Between 1982 and 2000, Rudy Rucker wrote a series of four sci-fi novels that formed The Ware Tetralogy. The first two books in the series – Software and Wetware – won the Philip K. Dick Award for best novel. And William Gibson has called Rucker "a natural-born American street surrealist" or, more simply, one sui generis dude. And now the even better part: Rucker (who happens to be the great-great-great-grandson of Hegel) has released The Ware Tetralogy under a Creative Commons license, and you can download the full text for free in PDF and RTF formats. In total, the collection runs 800+ pages.