By day, Bob Egan is a mild-mannered commercial real estate agent in New York City. By night, and on weekends, he transforms himself into something of a pop culture detective, searching out the locations of famous record album covers and other famous pop images. About a year ago he started a Web site, PopSpotsNYC, to share his findings, and the site has been growing in popularity ever since.
Egan's fascination with album cover locations began in 1977, when he moved to his first apartment in Greenwich Village and discovered he was only a block away from the place on Jones Street where The Freewheelin' Bob Dylan cover photograph was shot in 1963, which showed Dylan walking arm-in-arm with his girlfriend, Suze Rotolo, on a cold February day.
"Living in Greenwich Village in the late 70s," Egan told Open Culture, "I was surrounded by sites I had read about in college: Bleecker and Macdougal, The Bottom Line, the Mudd Club, CBGB's, etc. I was soaking up information for years later, I guess, because it wasn't until the mid 90s that I first went into Bleecker Bob's and asked if they knew where the cover of Blonde on Blonde was shot. When they didn't know, I said, Well why not find out myself?"
The Blonde on Blonde location remains a mystery, but Egan has tracked down a number of other Dylan cover locations, including Highway 61 Revisited (the front steps of a town house on Gramercy Park West), Another Side of Bob Dylan (the corner of 52nd Street and Broadway), and the single "I Want You" (a warehouse district on Jacob Street that was torn down long ago).
The Jacob Street location, also the site of a July 30, 1966 Saturday Evening Post cover of Dylan, was one of the hardest to find. "I searched through every curved street in New York and finally found it online in an old photo from the library," Egan said. "The entire street, which was next to the Brooklyn Bridge, had been demolished 50 years ago, but I finally clicked on a library image and found myself staring straight into the exact spot Dylan was in the photo. I let out a whoop!"
Egan has found the exact locations of record albums and other famous images of a number of artists, including Bruce Springsteen, Neil Young, The Who, and Simon & Garfunkel. The choices reflect his taste in music. "I grew up during the classic rock era," Egan said. "My 'musical comfort food' is Dylan, Van Morrison, Lou Reed, and The Grateful Dead."
Even though the Grateful Dead was a West Coast group, Egan makes use of online tools like Google Street View and Bing Bird's Eye to explore locations from his New York home. The 1970 album "Workingman's Dead" is one of Egan's current projects. "The Dead photo was supposedly taken next to a bus stop in the Mission District of San Francisco," said Egan. "I bought a vintage map of the bus route from 1969 from the San Francisco transit museum and searched all the bus routes through the Mission with Street View, but still haven't found it."
When we asked Egan what drives his obsession, he said, "I think of it like this: If I went to England and someone asked me if I wanted to see Westminster Abbey or Abbey Road, I'd take Abbey Road."
Below are several examples of Egan's detective work. To see more, and to read the story behind each location, visit PopSpotsNYC.com.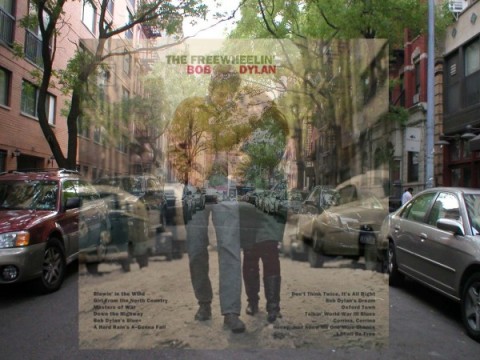 The album cover that started it all for Egan was The Freewheelin' Bob Dylan, featuring Don Hunstein's photo of Dylan and his girlfriend Suze Rotolo walking through snow at the north end of Jones Street, in Greenwich Village.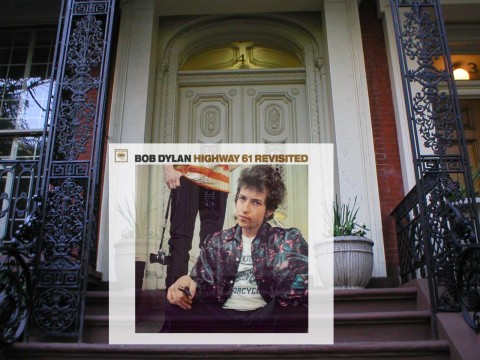 The location of the cover photo of Dylan's 1965 album Highway 61 Revisited posed a challenge. Egan always assumed that Daniel Kramer's photo of Dylan was taken indoors, but he eventually tracked it down to the front steps of a town house on Gramercy Park West that was the home of Dylan's manager, Albert Grossman. The person standing behind Dylan in the photo, holding a camera by its strap, is the singer's friend Bob Neuwirth.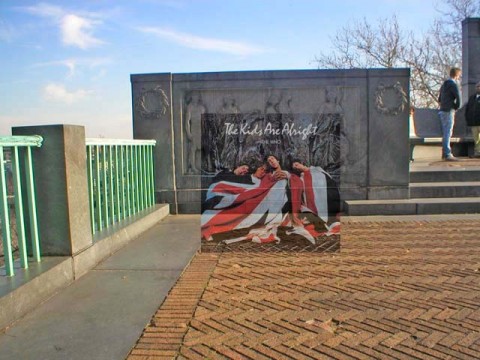 What could be more British than the 1979 cover of The Kids Are Alright, by The Who? Actually, Art Kane's photo was taken in America, at the little-known Carl Schurz Monument in the Morningside Heights area of New York City. Egan gives directions on how to find the place at his Web site.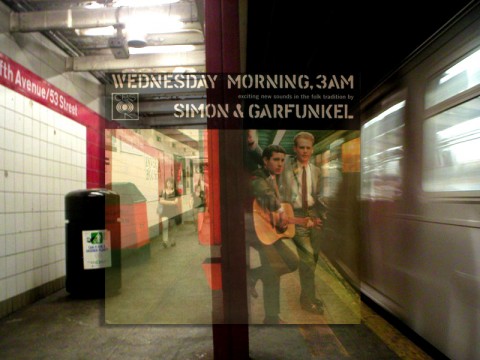 Egan found the precise location of Henry Parker's cover photo for Simon & Garfunkel's 1965 debut album, Wednesday Mourning 3 A.M.: the lower subway platform at Fifth Avenue and 53rd Street, for the outbound E and F lines.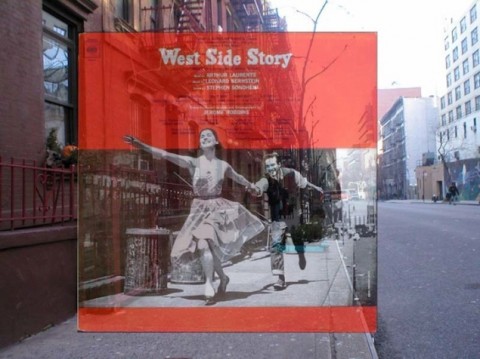 Leo Friedman's cover photograph from the original 1957 cast recording of West Side Story shows characters Maria (Carol Lawrence) and Tony (Larry Kent) running through the Hell's Kitchen neighborhood of New York. The location was actually one of Egan's easier discoveries. "How did I find it," he says on his Web site? "Pretty simple. If you look closely at the garbage can to the left of Maria–the address is right on it! 418 West 56th Street." (All images courtesy Bob Egan/PopSpotsNYC.com)