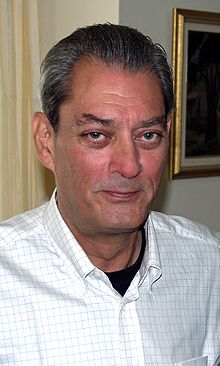 Novelist, screenwriter, poet, and translator Paul Auster has carved out a place for himself over the past several decades as a decidedly writer's writer, a Brooklyn Borges of a sort, whose metafictional tales are often intricately constructed stories within stories (within stories). Auster is also known for writing and co-directing (with Wayne Wang) 1995 sleeper indie hit Smoke, a film about the denizens of a Brooklyn cigar shop. As with much of Auster's fiction, a central character in Smoke is a broken-hearted, solitary writer (played by William Hurt). Auster's 2002 novel The Book of Illusions is centered around a similar character, a writer deep in mourning. On April 11, 2001, Auster stopped by the Kelly Writers House at the University of Pennsylvania to give a reading from The Book of Illusions. Below, you can hear him read the first two pages of the novel:
The complete UPenn event, including introduction and a lengthy reading from the second chapter is available
here
.
Penn Sound, which hosts the above reading, also has audio of Auster reading the entirely of an early collection of stories, The Red Notebook: True Stories, at the University of Buffalo in April of 1995. Auster has argued that fiction is "magnificently useless," but valuable nonetheless for the joy it brings both writers and readers. In The Red Notebook he narrates what he claims are true events from his life. The collection is divided into four short sections: "The Red Notebook," "It Don't Mean a Thing," "Accident Report," and, the final narrative, "Why Write?" His answers to this final question–whether they're really "true" or just magnificently useless inventions–show us surprising coincidences and odd patterns in the seemingly random business of daily life. Listen to the first installment below. You can find the complete audio, with introduction by Robert Creeley, here.
Penn Sound is a "center for programs in contemporary writing" at the University of Pennsylvania and features a large archive of recorded audio and video readings and discussions on contemporary poetry, fiction, and more.
The reading of The Red Notebook appears in our collection of Free Audio Books.
Josh Jones is a doctoral candidate in English at Fordham University and a co-founder and former managing editor of Guernica / A Magazine of Arts and Politics.