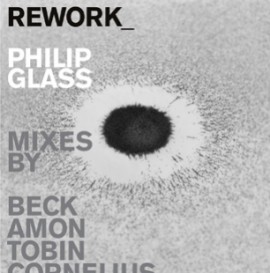 Later this month — October 23rd to be precise — the singer-songwriter Beck and fellow musicians will celebrate Philip Glass' 75th birthday with the release of Rework: Philip Glass Remixed. The album will be streamed online in its entirety on NPR's First Listens site starting next Monday.
But you can already catch Beck's contribution to the release. It's nothing other than 20 Philip Glass compositions remixed into a 20 minute track, and it's called 'NYC: 73-78'. Catch it on NPR's site or listen below.
If the whole idea of Glass turning 75 makes you feel nostalgic, and if you want to revisit some vintage material, don't miss two old chestnuts: Philip Glass Composes for Sesame Street (1979) and Philip Glass, Seen and Heard Through the Cinematic Mind of Peter Greenaway (1983).