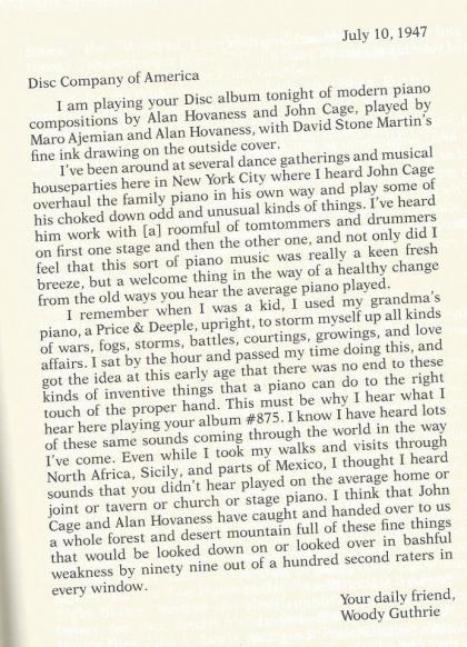 I've always felt a certain close affinity with Woody Guthrie. Could be my admiration for his unstinting working-man's politics or that he hails from my mother's home state of Oklahoma. Those are strong appeals, and I suppose it's all of that and more: Guthrie could carve out compact granite sentences even Robert Frost would envy. If the letter above doesn't convince you, read the man's autobiography. In the letter, the unapologetic working-class folksinging Okie who embodied depression-era authenticity writes to "Disc Company of America" to enthuse over John Cage for his "overhaul of the family piano" and his "choked down odd and unusual kinds of things."
Odd and unusual are two words that spring to mind when imagining Guthrie writing a letter in praise of Cage. (He also praises Armenian composer Alan Hovhaness—Guthrie spells it "Hovaness"). Written in 1947, it is the kind of text one wants to quote in its entirety. Fortunately, we have the reproduction above, and you can read it for yourself. What isn't reproduced is the postscript, in which Guthrie wrote: "I need something like this oddstriking music to match the things I feel in my soul tonight." He also wrote that that morning, his wife, Marjorie, had "given birth to a big 7-pound boy"—Arlo.
Guthrie's letter references a (now extremely rare) two-disc set entitled Piano Compositions by Alan Hovhaness and John Cage played by Maro Ajemian and Alan Hovhanes, featuring a hand-drawn cover by acclaimed jazz-record illustrator David Stone Martin. According to LA Times music critic Mark Swed, the Cage composition on Guthrie's 78-rpm record was the prepared piano solos from Cage's Amores, composed in 1943. Below, watch a performance of the "oddstriking" Amores by Spanish ensemble Neopercusión.
Thanks to Tristan for pointing us to this letter originally blogged over at Stool Pigeon.
Josh Jones is a doctoral candidate in English at Fordham University and a co-founder and former managing editor of Guernica / A Magazine of Arts and Politics.