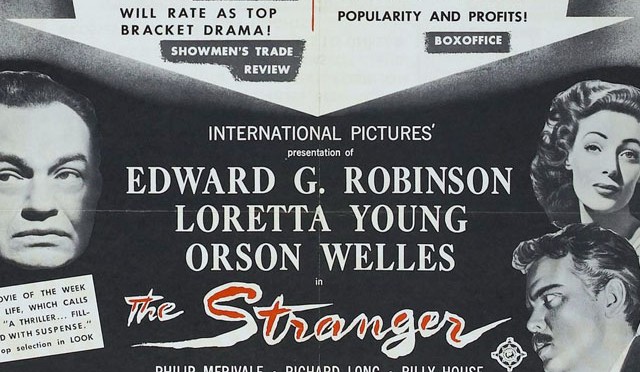 Did Orson Welles ever make an non-notable movie? Sure, the sheer cinematic importance of Citizen Kane, Touch of Evil, The Lady from Shanghai, and even the famously incomplete The Magnificent Ambersons, tend to draw all the attention most people have for his filmography. Make sure you watch those — no self-respecting lover of American film could do without them — but then look beyond them.
Personally, I yield to no one in my endorsement of Welles' formally unique multi-genre quasi-documentary F for Fake. But first, I suggest you look to the top of this post and watch 1946's The Stranger, a far more mainstream picture (for one can hardly travel farther from the mainstream than F for Fake), and in fact the only Welles film to meet with immediate box office success. Considering what it shows, that may come as a surprise.
The picture pits a United Nations Nazi hunter, played by Hollywood Golden Age legend Edward G. Robinson, against a Third Reich war criminal played by Welles himself. The hunter tracks down the hunted, who has taken on a new, nearly anonymous identity in small-town Connecticut. The U.N. man becomes desperate to bring the Nazi to justice, the Nazi's becomes desperate to live his new life in peace, and his unsuspecting wife becomes desperate to deny the truth about her husband's past. In order to convince the lady, Robinson's character screens her actual footage of Nazi concentration camps. The shock on actress Loretta Young's face was the shock on the faces of American audiences; neither previously had much of a chance to see what had really happened in wartime Europe. Leave it to Welles, whose fascination with and hatred of fascism led him to write a series of columns on the subject for the New York Post, to smuggle this depth of real human horror into what looks at first glance like a plain old 1940s noir thriller.
You will find The Stranger, a film now in the public domain, listed in our collection, 4,000+ Free Movies Online: Great Classics, Indies, Noir, Westerns, Documentaries & More.
Related content:
Orson Welles on the Art of Acting: 'There is a Villain in Each of Us'
The Hearts of Age: Orson Welles' Surrealist First Film (1934)
Colin Marshall hosts and produces Notebook on Cities and Culture. Follow him on Twitter at @colinmarshall.