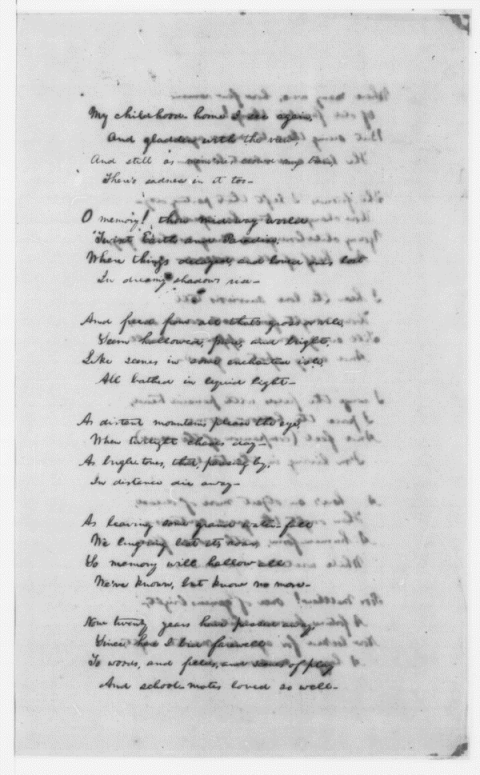 It should surprise few to learn that Abraham Lincoln wrote poetry. But this fact about his life is dwarfed by those events that defined his political legacy, and this is also no surprise. Nevertheless, in the midst of the current Lincoln revival, the man and the statesman, I think it's fitting to attend to Abraham Lincoln the poet. Certainly scholars have read his poetry in relation to his skillful prose and oratory. But, on its own, this writing gives us insight into the sensitivity of Lincoln's less public modes of expression.
Was he a great poet? Well, it appears that he had at least three phases—the first, a youthful one in his teens and early twenties when he produced some silly juvenelia, "a number of crude and satirical verses." The most popular of these is called "Chronicles of Reuben," a local satire Lincoln scholar Robert Bray describes as "a series of pseudo-biblical prose and verse pieces that are, out of their local Indiana context, so topical as to be neither funny nor comprehensible." The piece, written in 1828 to avenge himself upon a rival Indiana family, apparently had great effect on the neighbors, however. One of them, Joseph C. Richardson, claimed that the poem was "remembered here in Indiana in scraps better than the Bible."
We have to credit frontier oral tradition for our knowledge of some of Lincoln's more serious poems in his second phase, after he joined "a Kind of Poetical Society" in Illinois sometime between 1837-39. One neighbor, James Matheny, remembered the following worldly lines from a Lincoln poem called "On Seduction":
Whatever Spiteful fools may Say—
Each jealous, ranting yelper—
No woman ever played the whore
Unless She had a man to help her.
If this is truly a stanza from Lincoln's pen, the satirist is still very much in evidence—Swift could have written these lines—but the self-described "prairie lawyer" has grown philosophical and left the adolescent boundaries of local feuds and pranks.
His third, most serious phase begins when Lincoln returned to Indiana, after leaving Illinois briefly in an attempt to help Henry Clay's failed presidential bid against James Polk. Lincoln called Indiana "as unpoetical as any spot of the earth," and yet it serves as a subject for a poem completed in 1846 called "My Childhood Home I See Again." (The image above is of the first six stanzas of this long poem in Lincoln's handwriting. Click here to see the remaining pages). Here in the first two stanzas (below), you can see the cutting wit of the younger, more confident man give way to a kind of wistful nostalgia worthy of Wordsworth:
My child-hood home I see again,
And gladden with the view;
And still as mem'ries crowd my brain,
There's sadness in it too–
O memory! thou mid-way world
'Twixt Earth and Paradise;
Where things decayed, and loved ones lost
In dreamy shadows rise–
You can read a complete transcript of the poem here, and the Library of Congress has a detailed description of the poem's stages of composition.
Lincoln-as-poet continued in this thoughtful, mature voice in the remaining years of his life, though never equaling the poetic output of 1846. Somewhat out of character, the final documented piece of poetry from Lincoln comes from July 19, 1863. Written in response to the North's victory in Gettysburg, "Verse on Lee's Invasion of the North" is a short piece of doggerel that sees him returning to satire, writing in the voice of "Gen. Lee":
Gen. Lee's invasion of the North written by himself—
In eighteen sixty three, with pomp,
and mighty swell,
Me and Jeff's Confederacy, went
forth to sack Phil-del,
The Yankees they got arter us, and
giv us particular hell,
And we skedaddled back again,
And didn't sack Phil-del.
Surely the poem was written in a hurry, and with jubilant, triumphal glee, but if this is the last we heard from Lincoln the poet, it might be a shame, though it would not blot out the literary skill of poems like "My Childhood Home I See Again" and others like "The Bear Hunt" and "To Rosa," which you can read here.
But there's more to this story; in 2004, a historian discovered an unsigned poem called "The Suicide's Soliloquy"—published in the August 25, 1838 issue of the Sangamo Journal, a Springfield newspaper—and believed the former president to be the poet. In the video above, listen to a moody, dramatic reading of the poem:
It is not known with certainty if Lincoln wrote this poem, but scholarly consensus inclines heavily in that direction, given its stylistic similarity to his other work from this period. "The Suicide's Soliloquy" is as passionate and morbid as any of Edgar Allen Poe's verse, and betrays Lincoln's characteristic melancholy in its stormiest and most Romantic guise. NPR has the full poem and the story of its discovery.
Related Content:
Resurrecting the Sounds of Abraham Lincoln in Steven Spielberg's New Biopic
The Last Surviving Witness of the Lincoln Assassination
Louis CK Plays Abraham Lincoln, America's 16th President and (Yes) Stand-Up Comedian Too
Josh Jones is a writer, editor, and musician based in Washington, DC. Follow him @jdmagness