These days any yahoo with a cell phone and access to the Internet fancies him or herself a Henri Cartier-Bresson, Ruth Orkin or Helen Levitt, but true street photography involves more than just being in the right place at the right time. Brandon Stanton, the self-taught creator of the wildly popular Humans of New York blog, has the dedication as well as the eye and the technical mastery. His curiosity and compassion are abundant, but what really sets his work apart is its 21st century immediacy.
Daily, Stanton wanders the streets of New York, approaches strangers and asks if he can take some pictures. A few hours later, those photos light up Facebook, with captions drawn from the brief collaboration between subject and photographer. In short order, each post garners hundreds of likes and comments. Nasty feedback is a rarity. Stanton's fans seem content to follow his lead, finding much to celebrate in straightforward poses of parents with children, festively attired seniors, and proud oddballs.
Certain interactions beg longer narratives, which Stanton relates in the "Stories" section of his website. These pieces offer character insights, and often document how the photograph came to be.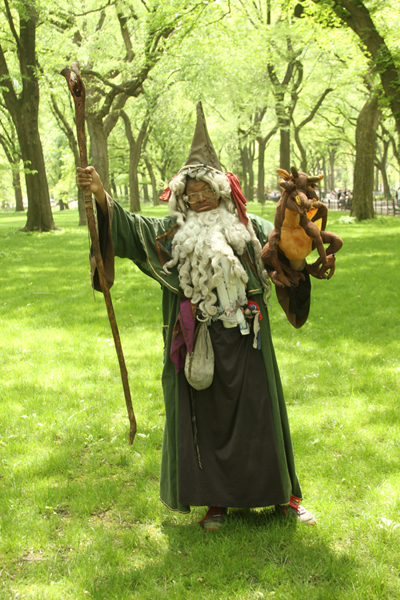 His gift for empathy is best exemplified in his portrait of Black Wolf, The Dragonmaster. I've run into this dude everywhere from the Coney Island Mermaid Parade to Central Park, but confess that I found his visual presentation off putting. Unlike me, Stanton looked until he found something universal in the deliberate freakishness.
…we all need to feel important. Not New York important, necessarily, but important. We all need to know that there's a place in this world that only we can fill. Some people need bigger places than others, but everyone needs a place—a hole in the universe that only they can fill. This need is so deep and food-like and so human that we will do anything to fill it. We'll go crazy to feel important. A protective, evolutionary sort of crazy. When the body has no food, it will break down muscle to feed itself. When the ego has no food, it will break down the mind to feed itself. If we have no place in this world, we'll withdraw from this world, and inhabit one where we have a place.
Stanton's lens provides the import, yielding images so arresting, they stop us in our tracks. Appreciate his collection of extraordinary humans, then challenge yourself to notice such specimens in the wild on a daily basis.
Related Content:
Finding Vivian Maier: New Documentary Reveals the Vision of Obscure Chicago Street Photographer
Watch as National Geographic Photographer Steve McCurry Shoots the Very Last Roll of Kodachrome
Stanley Kubrick's Jazz Photography and The Film He Almost Made About Jazz Under Nazi Rule
Ayun Halliday hopes every Glamour Don't will someday find herself a Human of New York. Follow her @AyunHalliday