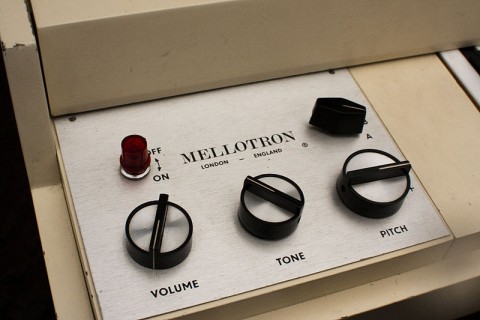 Image Tobias Aker­boom via Wiki­me­dia Com­mons
Did you know that the Span­ish gui­tar intro to the Bea­t­les' "Bun­ga­low Bill" was not played by George Har­ri­son, but rather by an odd elec­tron­ic instru­ment called a Mel­lotron, the same strange pro­to-syn­the­siz­er respon­si­ble for the flute intro to "Straw­ber­ry Fields For­ev­er"? You'll learn quite a bit more about the "rash break­ing out all over pop music" that was the Mel­lotron in the audio sto­ry above, nar­rat­ed by Rick Wake­man.
From the afore­men­tioned Bea­t­les' songs to The Band's "This Wheel's on Fire" to pret­ty much every song in 60s pop and 70s pro­gres­sive rock, as well as in 60s revival­ists like Oasis, the Mel­lotron makes an appear­ance. It even shows up on Skynyrd's "Free­bird" of all things.
Wake­man sketch­es the his­to­ry of the odd­ball instru­ment, from its hum­ble begin­nings in the garage of Cal­i­for­nia inven­tor Har­ry Cham­ber­lin, to its pop­u­lar­iza­tion by sales­man Bill Fransen, who took Chamberlin's design and made it his own.
Bear in mind, as we enter the world of Mel­lotron­ics, that the instru­men­tal bits you hear through­out Wakeman's sto­ry were played by some­one, some­time. The sounds made by this key­board-like thing are in fact actu­al parts from live orches­tras and sundry oth­er musi­cal arrange­ments, record­ed onto tape loops and con­fig­ured in an inge­nious way so that they cor­re­spond to a stan­dard key­board and a vari­ety of pre­sets and knob­by-dial­ly-things.
You might even call it an ana­log sam­pler. The more tech­ni­cal­ly-mind­ed among you may wish to read this Sound on Sound arti­cle for specs. For you enthu­si­asts, key­boardist Mike Pin­dar of the Moody Blues—whose "Nights in White Satin" would nev­er have been with­out the Mellotron—demonstrates the instrument's inner work­ings in the short video above.
Inven­tor Har­ry Cham­ber­lin orig­i­nal­ly designed the Mel­lotron (which he called, of course, the Cham­ber­lin) to re-cre­ate the sound of an orches­tra at home, or in the local lodge or cabaret, pre­sum­ably. This is the use Paul McCart­ney divines in the funky demon­stra­tion of his Mel­lotron above. Sir Paul, in a cabaret set­ting, does a goofy lounge singer act, then plays the "Straw­ber­ry Fields" intro.
Dig­i­tal syn­the­siz­ers and com­put­ers over­took the Mel­lotron, as they did all ana­log elec­tron­ics. But like all things old, it's new again, in sim­u­lat­ed form, avail­able to iPhone users via the Manetron app (Mel­lotron also makes a phys­i­cal, dig­i­tal ver­sion of their vin­tage instru­ment). The sto­ry and sound of the Mel­lotron recent­ly inspired a full doc­u­men­tary treat­ment in the 2010 film Mel­lodra­ma: The Mel­lotron Movie, now out on DVD, which may be the most com­pelling doc­u­men­tary about a pio­neer­ing elec­tron­ic instru­ment ever made (far bet­ter than 2004's dis­ap­point­ing Moog). As for­mer Beach Boy Bri­an Wil­son says in the film, "the Mel­lotron stays cool." And indeed, it does.
via Coudal
Relat­ed Con­tent:
Meet the Dr. Who Com­pos­er Who Almost Turned The Bea­t­les' "Yes­ter­day" Into Ear­ly Elec­tron­i­ca
The Genius of Bri­an Eno On Dis­play in 80 Minute Q&A: Talks Art, iPad Apps, ABBA, & More
All Hail the Beat: How the 1980 Roland TR-808 Drum Machine Changed Pop Music
The "Amen Break": The Most Famous 6‑Second Drum Loop & How It Spawned a Sam­pling Rev­o­lu­tion
Josh Jones is a writer and musi­cian based in Wash­ing­ton, DC. Fol­low him at @jdmagness