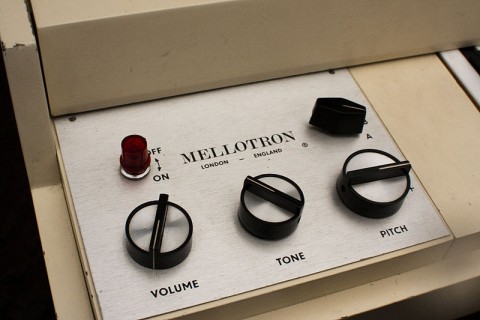 Image Tobias Akerboom via Wikimedia Commons
Did you know that the Spanish guitar intro to the Beatles' "Bungalow Bill" was not played by George Harrison, but rather by an odd electronic instrument called a Mellotron, the same strange proto-synthesizer responsible for the flute intro to "Strawberry Fields Forever"? You'll learn quite a bit more about the "rash breaking out all over pop music" that was the Mellotron in the audio story above, narrated by Rick Wakeman.
From the aforementioned Beatles' songs to The Band's "This Wheel's on Fire" to pretty much every song in 60s pop and 70s progressive rock, as well as in 60s revivalists like Oasis, the Mellotron makes an appearance. It even shows up on Skynyrd's "Freebird" of all things.
Wakeman sketches the history of the oddball instrument, from its humble beginnings in the garage of California inventor Harry Chamberlin, to its popularization by salesman Bill Fransen, who took Chamberlin's design and made it his own.
Bear in mind, as we enter the world of Mellotronics, that the instrumental bits you hear throughout Wakeman's story were played by someone, sometime. The sounds made by this keyboard-like thing are in fact actual parts from live orchestras and sundry other musical arrangements, recorded onto tape loops and configured in an ingenious way so that they correspond to a standard keyboard and a variety of presets and knobby-dially-things.
You might even call it an analog sampler. The more technically-minded among you may wish to read this Sound on Sound article for specs. For you enthusiasts, keyboardist Mike Pindar of the Moody Blues—whose "Nights in White Satin" would never have been without the Mellotron—demonstrates the instrument's inner workings in the short video above.
Inventor Harry Chamberlin originally designed the Mellotron (which he called, of course, the Chamberlin) to re-create the sound of an orchestra at home, or in the local lodge or cabaret, presumably. This is the use Paul McCartney divines in the funky demonstration of his Mellotron above. Sir Paul, in a cabaret setting, does a goofy lounge singer act, then plays the "Strawberry Fields" intro.
Digital synthesizers and computers overtook the Mellotron, as they did all analog electronics. But like all things old, it's new again, in simulated form, available to iPhone users via the Manetron app (Mellotron also makes a physical, digital version of their vintage instrument). The story and sound of the Mellotron recently inspired a full documentary treatment in the 2010 film Mellodrama: The Mellotron Movie, now out on DVD, which may be the most compelling documentary about a pioneering electronic instrument ever made (far better than 2004's disappointing Moog). As former Beach Boy Brian Wilson says in the film, "the Mellotron stays cool." And indeed, it does.
via Coudal
Related Content:
Meet the Dr. Who Composer Who Almost Turned The Beatles' "Yesterday" Into Early Electronica
The Genius of Brian Eno On Display in 80 Minute Q&A: Talks Art, iPad Apps, ABBA, & More
All Hail the Beat: How the 1980 Roland TR-808 Drum Machine Changed Pop Music
The "Amen Break": The Most Famous 6-Second Drum Loop & How It Spawned a Sampling Revolution
Josh Jones is a writer and musician based in Washington, DC. Follow him at @jdmagness