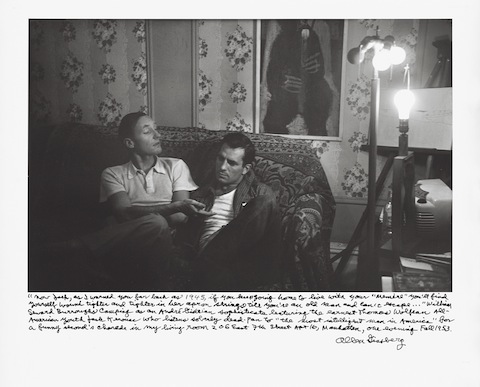 Starting today, the Contemporary Jewish Museum (CJM) begins its four-day celebration of Allen Ginsberg with The Allen Ginsberg Festival in San Francisco, produced in cooperation with The Beat Museum, City Lights Bookstore, and several other organizations. The festival, which runs from the 11th to the 14th of this month, celebrates Ginsberg's life and art with a host of events (some free, some ranging from $10 to $15 for admission). While the literary tours, panel discussions, and lectures promise to be a treat for those lucky enough to attend, perhaps the centerpiece of the Ginsberg Festival is an exhibition of the poet's annotated photographs, on view at CJM until September 8th.
The photos, which moved through NYU's Grey Art Gallery earlier this year, show Ginsberg and his beat buddies in intimate and unguarded moments, such as the snap above of William Burroughs and Jack Kerouac. In his tidy script handwriting, Ginsberg writes below the photo:
"Now Jack as I warned you far back as 1945, if you keep going home to live with your 'Memère' you'll find yourself wound tighter and tighter in her apron strings till you're an old man and can't escape…" William Seward Burroughs camping as an André Gide-ian sophisticate lecturing the earnest Thomas Wolfean All-American youth Jack Kerouac who listens soberly dead-pan to "the most intelligent man in America" for a funny second's charade in my living room 206 East 7th Street Apt 16, Manhattan, one evening Fall 1953
Flavorwire has compiled 25 of these photos, including the portrait of the young merchant marine, Allen Ginsberg, below, which he annotates as, "Allen Ginsberg, utility man S.S. John Blair just back from Galveston-Dakar doldrums trip, I handed my camera to the radio-man on the ship's fantail, smoking what? In New York harbor, circa October 30, 1947."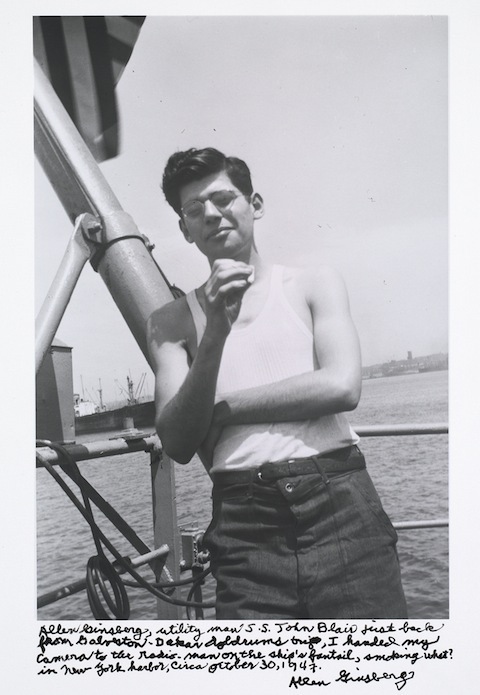 As the CJM page notes, "the late 1940s and early 1950s marked a crucial period for Allen Ginsberg as he found his poetic and sexual voices simultaneously." The photos in this exhibit document not only Ginsberg finding himself, but also finding himself among a group of men—Burroughs, Kerouac, Neal Cassady, Gregory Corso—whose restlessness and erudite enthusiasm changed the course of twentieth century literature.
Related Content:
Hear the Very First Recording of Allen Ginsberg Reading His Epic Poem "Howl" (1956)
Allen Ginsberg's "Celestial Homework": A Reading List for His Class "Literary History of the Beats"
Allen Ginsberg's Personal Recipe for Cold Summer Borscht
Josh Jones is a writer and musician based in Washington, DC. Follow him at @jdmagness