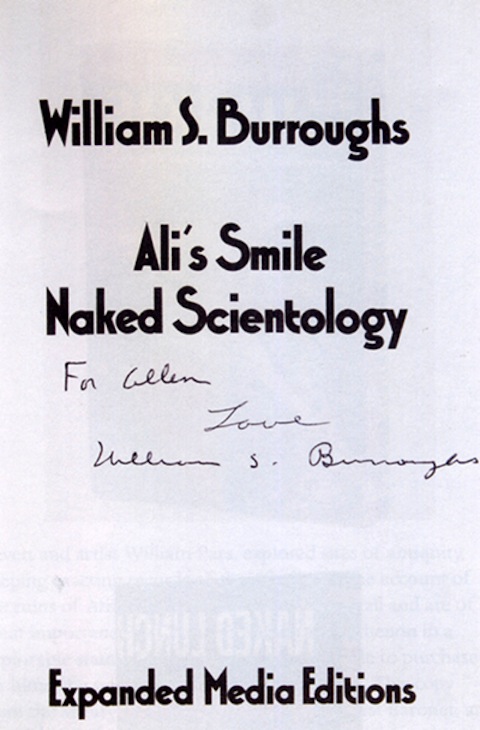 Crash director Paul Haggis impressed us all when his defection from the Church of Scientology became the subject of "The Apostate," a 2011 New Yorker profile by Lawrence Wright. But Haggis' high-profile departure from the lavish if shadowy house that L. Ron Hubbard built had a notable precedent in William S. Burroughs' Naked Scientology. The Naked Lunch author and Beat Luminary published it after his own disillusionment with the organization of Scientology, though he retained his esteem for what he considered their mind-improving techniques. Booktryst offers a brief summary of Burroughs' intense flirtation with the Church and its teachings: his initial attraction "because of its promise to liberate the mind by clearing it of traumatic memories that impeded personal growth, and, by extension, social progress and freedom from social control," and his ultimate disappointment that, as biographer Ted Morgan puts it, he "had hoped to find a method of personal emancipation and found instead another control system."
For a more in-depth look at what brought Burroughs into Scientology and what put him off of it, read Lee Konstantinou's i09 post on the subject. "Burroughs took Scientology quite seriously indeed for the better part of a decade — during what was arguably his most artistically fertile period," Konstantinou writes. "Today, where so much attention focuses on the science fictional origins of Scientology, it is easy to forget how seemingly in harmony the Church was with a whole range of countercultural, 'New Age,' and anti-psychiatric practices in the Sixties." He files Scientology with Burroughs' other "mind-expanding and mind-freeing practice," including hallucinogens, "Mayan calendrical mind control systems," apomorphine,  and his signature "cut-up" texts. To hear all about it straight from Burroughs, read his 1970 Los Angeles Free Press j'accuse against Hubbard and his "fascist" tendencies, and the whole of Naked Scientology in PDF form.

via @SteveSilberman
Related Content:
Commissioner of Sewers: A 1991 Profile of Beat Writer William S. Burroughs
William S. Burroughs on the Art of Cut-up Writing
William S. Burroughs' Short Class on Creative Reading
William S. Burroughs Reads His First Novel, Junky
Colin Marshall hosts and produces Notebook on Cities and Culture and writes essays on literature, film, cities, Asia, and aesthetics. He's at work on a book about Los Angeles, A Los Angeles Primer. Follow him on Twitter at @colinmarshall.