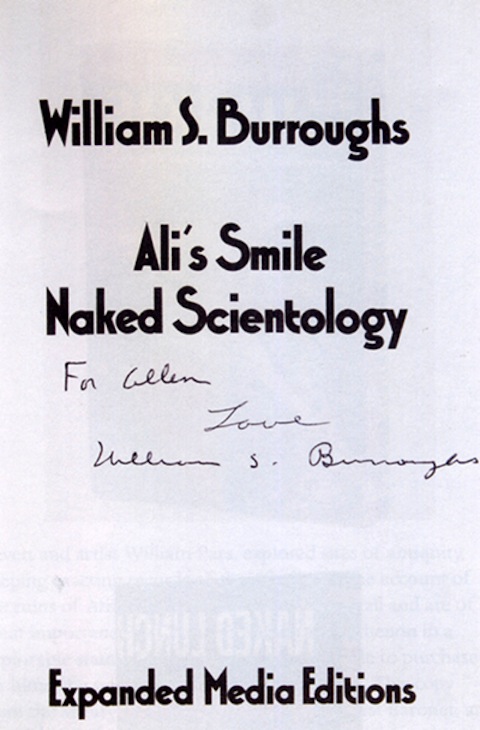 Crash direc­tor Paul Hag­gis impressed us all when his defec­tion from the Church of Sci­en­tol­ogy became the sub­ject of "The Apos­tate," a 2011 New York­er pro­file by Lawrence Wright. But Hag­gis' high-pro­file depar­ture from the lav­ish if shad­owy house that L. Ron Hub­bard built had a notable prece­dent in William S. Bur­roughs' Naked Sci­en­tol­ogy. The Naked Lunch author and Beat Lumi­nary pub­lished it after his own dis­il­lu­sion­ment with the orga­ni­za­tion of Sci­en­tol­ogy, though he retained his esteem for what he con­sid­ered their mind-improv­ing tech­niques. Book­tryst offers a brief sum­ma­ry of Bur­roughs' intense flir­ta­tion with the Church and its teach­ings: his ini­tial attrac­tion "because of its promise to lib­er­ate the mind by clear­ing it of trau­mat­ic mem­o­ries that imped­ed per­son­al growth, and, by exten­sion, social progress and free­dom from social con­trol," and his ulti­mate dis­ap­point­ment that, as biog­ra­ph­er Ted Mor­gan puts it, he "had hoped to find a method of per­son­al eman­ci­pa­tion and found instead anoth­er con­trol sys­tem."
For a more in-depth look at what brought Bur­roughs into Sci­en­tol­ogy and what put him off of it, read Lee Kon­stan­ti­nou's i09 post on the sub­ject. "Bur­roughs took Sci­en­tol­ogy quite seri­ous­ly indeed for the bet­ter part of a decade — dur­ing what was arguably his most artis­ti­cal­ly fer­tile peri­od," Kon­stan­ti­nou writes. "Today, where so much atten­tion focus­es on the sci­ence fic­tion­al ori­gins of Sci­en­tol­ogy, it is easy to for­get how seem­ing­ly in har­mo­ny the Church was with a whole range of coun­ter­cul­tur­al, 'New Age,' and anti-psy­chi­atric prac­tices in the Six­ties." He files Sci­en­tol­ogy with Bur­roughs' oth­er "mind-expand­ing and mind-free­ing prac­tice," includ­ing hal­lu­cino­gens, "Mayan cal­en­dri­cal mind con­trol sys­tems," apo­mor­phine, and his sig­na­ture "cut-up" texts. To hear all about it straight from Bur­roughs, read his 1970 Los Ange­les Free Press j'ac­cuse against Hub­bard and his "fas­cist" ten­den­cies, and the whole of Naked Sci­en­tol­ogy in PDF form.

via @SteveSilberman
Relat­ed Con­tent:
Com­mis­sion­er of Sew­ers: A 1991 Pro­file of Beat Writer William S. Bur­roughs
William S. Bur­roughs on the Art of Cut-up Writ­ing
William S. Bur­roughs' Short Class on Cre­ative Read­ing
William S. Bur­roughs Reads His First Nov­el, Junky
Col­in Mar­shall hosts and pro­duces Note­book on Cities and Cul­ture and writes essays on lit­er­a­ture, film, cities, Asia, and aes­thet­ics. He's at work on a book about Los Ange­les, A Los Ange­les Primer. Fol­low him on Twit­ter at @colinmarshall.