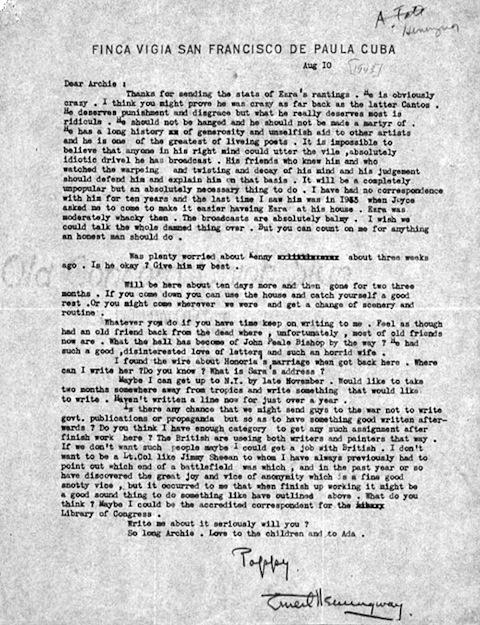 An old friend of mine and I have a code phrase for a phenomenon that everyone knows well: One learns that an artist one admires, maybe even loves, is not only a flawed and warty mortal, but also an abusive monster or worse. The phrase is "Ezra Pound." We'll look at each other knowingly whenever a conversation turns to a troubling but brilliant figure and say in unison, "Ezra Pound." Why? Because Ezra Pound was crazy.
Or at least that was Ernest Hemingway's explanation for why one of the greatest literary benefactors and most innovative and influential poets of the early twentieth century became a raving lunatic booster for anti-Semitic fascism in a series of over one hundred broadcasts he made in Italy during WWII. Pound wasn't simply a crank—he was a deeply enthusiastic supporter of Hitler and Mussolini, and his rantings—many available here in transcript and some in original audio here (or right below) —made no secret about whom he considered the enemies of Europe and America: the Jews.
Hemingway wrote the letter above to Archibald MacLeish expressing his shock and dismay that their mutual friend and colleague had completely run off the rails. For Hemingway, the only way to deal with the situation was to "prove [Pound] was crazy as far back as the latter Cantos." Hemingway writes, "He deserves punishment and disgrace but what he really deserves most is ridicule"
He should not be hanged and he should not be made a martyr of…. It is impossible to believe that anyone in his right mind could utter the vile, absolutely idiotic drivel he has broadcast. His friends who knew him and who watched the warpeing and twisting and decay of his mind and his judgement should defend him and explain him on that basis. It will be a completely unpopular but an absolutely necessary thing to do. [sic]
This Pound's many friends did do, and when he was finally captured in Italy and tried for treason, Pound was sentenced to a psych ward, where he wrote and published the award-winning The Pisan Cantos amid great uproar and outrage from many in the literary community. This is unsurprising. Although Pound publicly repudiated his stint as a fascist broadcaster, his hard-right racist views did not change. In his later life, he formed friendships with white supremacists and remained controversial, contrarian, and… well, crazy.
And yet, it is hard to dismiss Pound, even if his star has fallen below the horizon of modernist literary history. It may be possible to argue that his fascist streak was in fact several miles long, extending back into his post-WWI politics and his humorous but haranguing book-length essays on Western Culture and Its Decline throughout the 30s. As Louis Menand writes in The New Yorker, this Pound may have been ripe for misinterpretation by the more brutish and less refined, a la Nietzsche, since he "believed that bad writing destroyed civilizations and that good writing could save them, and although he was an élitist about what counted as art and who mattered as an artist, he thought that literature could enhance the appreciation of life for everyone." Pound was also a mother hen figure for a generation of modernists who flourished under his editorial direction—as well as that of Poetry magazine founder Harriet Monroe. Menand writes:
No doubt Eliot, James Joyce, William Butler Yeats, Robert Frost, William Carlos Williams, H.D., Ernest Hemingway, Ford Madox Ford, and Marianne Moore would have produced interesting and innovative work whether they had known Pound or not, but Pound's attention and interventions helped their writing and sped their careers. He edited them, reviewed them, got them published in magazines he was associated with, and included them in anthologies he complied; he introduced them to editors, to publishers, and to patrons; he gave them the benefit of his time, his learning, his money, and his old clothes.
And all of this is not even to mention, of course, Pound's incredible poetic output, which demonstrates such a mastery of form and language (East and West) that he is well-remembered as the founder of one of the most influential modernist movements: Imagism. This side of Pound cannot be erased by his later lapse into despicable hatred and paranoia, but neither does the early Pound cancel out the latter. Both Pounds exist in history, for as long as he's remembered, and every time I learn some new disturbing fact about an artist I admire, I shake my head and silently invoke the most extreme and bafflingly troubling case—one that can't be resolved or forgotten—"Ezra Pound."
via Letters of Note
Related Content:
Ezra Pound's Fiery 1939 Reading of His Early Poem, 'Sestina: Altaforte'
Ernest Hemingway to F. Scott Fitzgerald: "Kiss My Ass"
The Big Ernest Hemingway Photo Gallery: The Novelist in Cuba, Spain, Africa and Beyond
Josh Jones is a writer and musician based in Durham, NC. Follow him at @jdmagness