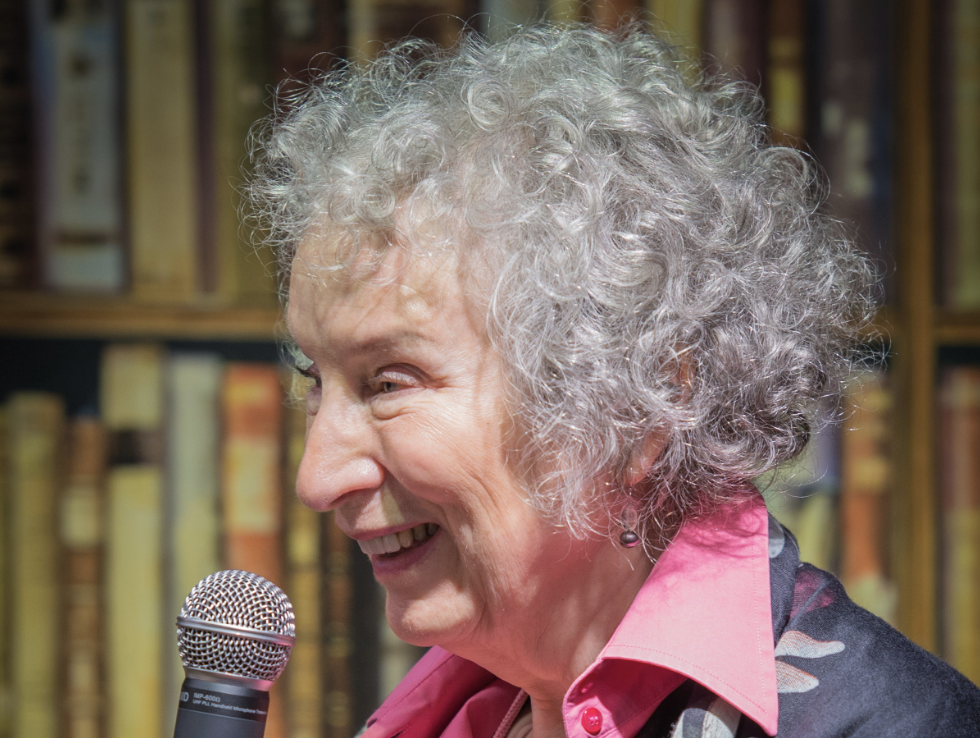 Image by Frankie Fouganthin, via Wikimedia Commons
Since 2009, the organization VIDA: Women in the Literary Arts has sought to bring balance to the representation of female authors in the literary world. As revealed by the 2010 controversy begun by author Jodi Picoult over the gushing treatment Jonathan Franzen's Freedom received in the New York Times, the disparity, and the bias, are real. Author Jennifer Weiner chimed in as well, writing: "when a man writes about family and feelings, it's literature with a capital L, but when a woman considers the same topics, it's romance, or a beach book." This fracas—involving a number of mostly New York literati and the death of the term "chick lit"—didn't split evenly down gender lines. Both male and female writers lined up to defend Picoult and Franzen, but it did open up legitimate questions about the old (mostly white) boys club that claims the upper echelons of literary fiction and the brass ring that is the New York Times book review.
What received no notice in the popular media during all this chatter was the place of women writers in genre fiction, which mostly lives outside the gates and rarely gets much notice from the critics (with the exception of a handful of "serious" writers and the Young Adult market). Well, there is a discussion about gender parity in the science fiction world taking place now on the blog of sci-fi critic and writer Ian Sales. Sales curates SF Mistressworks—a blog for women sci-fi writers—and after reviewing a 1975 anthology called Women of Wonder, he asked readers over at his blog to submit their favorite short fiction by women writers. His goal? To collect 100 stories and novellas as a counter to the classic, and almost wholly male-dominated collection, 100 Great Science Fiction Short Short Stories, edited by Isaac Asimov. You can read the full list of 100 over at Sales' blog. Below, we've excerpted those stories that are freely available online. If you're a science fiction fan and find yourself unable to name more than one or two female authors in the genre (everyone knows, for example, the fabulous Ursula K. Le Guin and Margaret Atwood, pictured above), you might want to take a look at some of the great work you've missed out on.
Sales' list spans several decades and, as he writes, demonstrates "a good spread of styles and themes and approaches across the genre."
1 'The Fate of the Poseidonia', Clare Winger Harris (1927, short story) online here
12 'The New You', Kit Reed (1962, short story) online here
13 'The Putnam Tradition', Sonya Dorman (1963, short story) online here
16 'The Heat Death of the Universe', Pamela Zoline (1967, short story) online here
24 'The Violet's Embryo', Angélica Gorodischer (1973, novelette) online here (excerpt)
28 'The View from Endless Scarp', Marta Randall (1978, short story) online here
51 'The Road to Jerusalem', Mary Gentle (1991, short story) online here
71 'Captive Girl', Jennifer Pelland (2006, short story) online here
79 'Spider the Artist', Nnedi Okrafor (2008, short story) online here
81 'Eros, Philia, Agape', Rachel Swirsky (2009, novelette) online here
82 'Non-Zero Probabilities', NK Jemisin (2009, short story) online here
85 'Blood, Blood', Abbey Mei Otis (2010, short story) online here and here
88 'Amaryllis', Carrie Vaughn (2010, short story) online here
89 'I'm Alive, I Love You, I'll See You in Reno', Vylar Kaftan (2010, short story) online here
91 'Six Months, Three Days', Charlie Jane Anders (2011, short story) online here
93 'The Cartographer Bees and the Anarchist Wasps', E Lily Yu (2011, short story) online here
94 'Silently and Very Fast', Catherynne M Valente (2011, novella) online here, here and here
96 'A Vector Alphabet of Interstellar Travel', Yoon Ha Lee (2011, short story) online here
97 'Immersion', Aliette de Bodard (2012, short story) online here
98 'The Lady Astronaut of Mars', Mary Robinette Kowal (2012, novelette) online here
* Please note: an earlier version of this post was titled "The 100 Best Sci-Fi Stories by Women Writers (Read 20 for Free Online)." As this list's curator, Ian Sales, points out unequivocally below, this is not meant to be a definitive "best of" in any sense. Our apologies for misreading his intentions. 
via Metafilter
Related Content:
Free Science Fiction Classics on the Web: Huxley, Orwell, Asimov, Gaiman & Beyond
Free Philip K. Dick: Download 11 Great Science Fiction Stories
Isaac Asimov Recalls the Golden Age of Science Fiction (1937-1950)
425 Free eBooks: Download to Kindle, iPad/iPhone & Nook
Josh Jones is a writer and musician based in Washington, DC. Follow him at @jdmagness