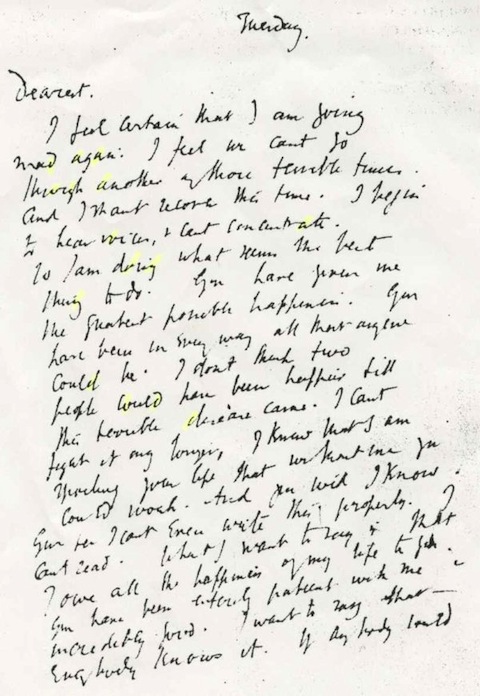 It seems like a very mor­bid and inhu­man prac­tice to treat the sui­cide note as a piece of lit­er­a­ture, even if the author of said note is a writer as famous as Vir­ginia Woolf. And yet, why not? I can antic­i­pate all sorts of eth­i­cal objec­tions hav­ing to do with decen­cy, and I share some of those sen­ti­ments. Let us not for­get, how­ev­er, that death has often been a lit­er­ary occa­sion: the long tra­di­tion of record­ed last words ranges from deathbed con­fes­sions to the strange­ly the­atri­cal genre of the gal­lows speech (see Socrates, Anne Boleyn, or John Brown). Like those unfor­get­table fig­ures of his­to­ry, Vir­ginia Woolf's last script­ed words are pored over by lay read­ers and schol­ars alike (see, for exam­ple, pages on Woolf's final words from Smith Col­lege and Yale).
Woolf's death, in March of 1941, occa­sioned the third of her sui­cide let­ters, and yes, it feels unseem­ly to linger over her last piece of prose. Per­haps it is the mode of death, sui­cide still being a soci­etal taboo, thought of as trag­ic even when it's under­tak­en calm­ly and ratio­nal­ly by some­one ready to leave this world. And in many cas­es, espe­cial­ly those involv­ing men­tal ill­ness, death seems so need­less, so extreme. Such was the case with Woolf, who drowned her­self after a long strug­gle with what would prob­a­bly be called today bipo­lar dis­or­der. Her sui­cide note, writ­ten to her hus­band Leonard, is a haunt­ing and beau­ti­ful doc­u­ment, in all its unadorned sin­cer­i­ty behind which much tur­moil and anguish lie. See a scan of the hand­writ­ten note at the top, and read the full tran­script below. Direct­ly above, you can hear a dra­mat­ic read­ing of Woolf's note, such a wrench­ing mis­sive because it is not a farewell to the world at large, but rather to a trust­ed friend and lover.
Dear­est,
I feel cer­tain I am going mad again. I feel we can't go through anoth­er of those ter­ri­ble times. And I shan't recov­er this time. I begin to hear voic­es, and I can't con­cen­trate. So I am doing what seems the best thing to do. You have giv­en me the great­est pos­si­ble hap­pi­ness. You have been in every way all that any­one could be. I don't think two peo­ple could have been hap­pi­er till this ter­ri­ble dis­ease came. I can't fight any longer. I know that I am spoil­ing your life, that with­out me you could work. And you will I know. You see I can't even write this prop­er­ly. I can't read. What I want to say is I owe all the hap­pi­ness of my life to you. You have been entire­ly patient with me and incred­i­bly good. I want to say that — every­body knows it. If any­body could have saved me it would have been you. Every­thing has gone from me but the cer­tain­ty of your good­ness. I can't go on spoil­ing your life any longer.
I don't think two peo­ple could have been hap­pi­er than we have been.
Relat­ed Con­tent:
Vir­ginia Woolf and Friends Dress Up as "Abyssin­ian Princes" and Fool the British Roy­al Navy (1910)
Watch Pat­ti Smith Read from Vir­ginia Woolf, and Hear the Only Sur­viv­ing Record­ing of Woolf's Voice
"A Haunt­ed House" by Vir­ginia Woolf
Find Works by Vir­ginia Woolf in Our Col­lec­tions of Free Audio Books and Free eBooks.
Josh Jones is a writer and musi­cian based in Durham, NC. Fol­low him at @jdmagness