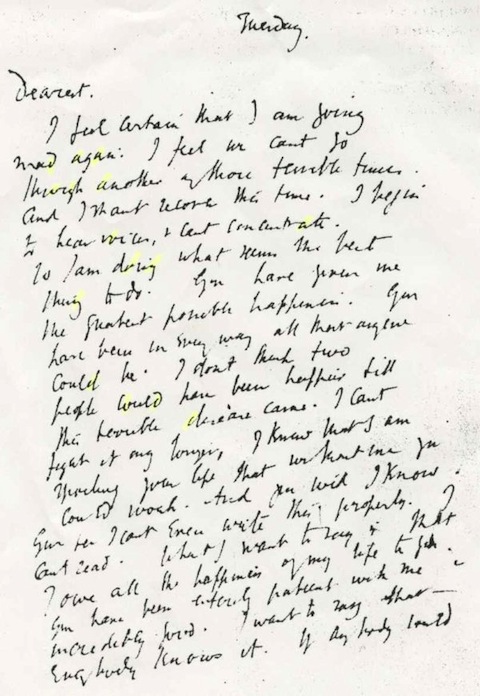 It seems like a very morbid and inhuman practice to treat the suicide note as a piece of literature, even if the author of said note is a writer as famous as Virginia Woolf. And yet, why not? I can anticipate all sorts of ethical objections having to do with decency, and I share some of those sentiments. Let us not forget, however, that death has often been a literary occasion: the long tradition of recorded last words ranges from deathbed confessions to the strangely theatrical genre of the gallows speech (see Socrates, Anne Boleyn, or John Brown). Like those unforgettable figures of history, Virginia Woolf's last scripted words are pored over by lay readers and scholars alike (see, for example, pages on Woolf's final words from Smith College and Yale).
Woolf's death, in March of 1941, occasioned the third of her suicide letters, and yes, it feels unseemly to linger over her last piece of prose. Perhaps it is the mode of death, suicide still being a societal taboo, thought of as tragic even when it's undertaken calmly and rationally by someone ready to leave this world. And in many cases, especially those involving mental illness, death seems so needless, so extreme. Such was the case with Woolf, who drowned herself after a long struggle with what would probably be called today bipolar disorder. Her suicide note, written to her husband Leonard, is a haunting and beautiful document, in all its unadorned sincerity behind which much turmoil and anguish lie. See a scan of the handwritten note at the top, and read the full transcript below. Directly above, you can hear a dramatic reading of Woolf's note, such a wrenching missive because it is not a farewell to the world at large, but rather to a trusted friend and lover.
Dearest,
I feel certain I am going mad again. I feel we can't go through another of those terrible times. And I shan't recover this time. I begin to hear voices, and I can't concentrate. So I am doing what seems the best thing to do. You have given me the greatest possible happiness. You have been in every way all that anyone could be. I don't think two people could have been happier till this terrible disease came. I can't fight any longer. I know that I am spoiling your life, that without me you could work. And you will I know. You see I can't even write this properly. I can't read. What I want to say is I owe all the happiness of my life to you. You have been entirely patient with me and incredibly good. I want to say that – everybody knows it. If anybody could have saved me it would have been you. Everything has gone from me but the certainty of your goodness. I can't go on spoiling your life any longer.
I don't think two people could have been happier than we have been.
Related Content:
Virginia Woolf and Friends Dress Up as "Abyssinian Princes" and Fool the British Royal Navy (1910)
Watch Patti Smith Read from Virginia Woolf, and Hear the Only Surviving Recording of Woolf's Voice
"A Haunted House" by Virginia Woolf
Find Works by Virginia Woolf in Our Collections of Free Audio Books and Free eBooks.
Josh Jones is a writer and musician based in Durham, NC. Follow him at @jdmagness