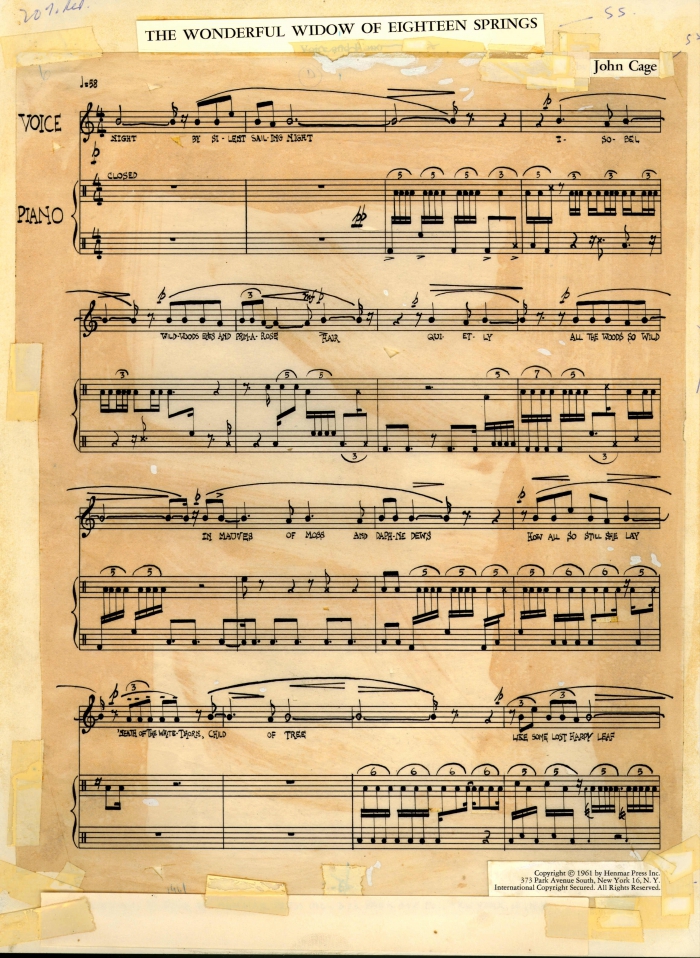 In 1942, John Cage composed a short piece of music adapted from the text of James Joyce's Finnegans Wake. Titled "The Wonderful Widow of Eighteen Springs," the piece was originally commissioned and performed by amateur soprano and socialite Justine Fairbank, and while we don't have a recording of her performance, we do have Cage's sheet music (see first page above, or view the entire book here). It is—as one might expect—an unusual piece. It sounds like song, yet isn't. As the Library of Congress description of the piece has it:
This essentially rhythmic speech set against a patterned percussive accompaniment cannot be considered a song in the usual sense. Cage, however, is such an innovator that one often loses sight of the fact that if one does not expect conventional sounds, his music is often very well constructed. Here, for example, the composer weaves a hypnotically compelling pattern of rhythmic tension and relaxation, akin to certain non-Western music, which is very appropriate for Joyce's moody prose.
Cage's own instructions "for the singer" state: "sing without vibrato, as in folk-singing. Make any transposition necessary in order to employ a low and comfortable range."
This flexible arrangement allows anyone to pick up the piece, and so we have, directly below, an unlikely interpreter of Cage's experimental art, the late Ramones singer Joey Ramone. Ramone's interpretation of the piece is enthralling simply as a piece of recorded music.  But it's also a fascinating piece of cultural history, representing a confluence of the foremost figures in early twentieth century modernist literature, mid-century avant-garde music, and late century punk rock.
The recording comes from a whole album of Cage interpretations by New York punk and new- and no-wave art-rockers, including David Byrne, Arto Lindsay, John Zorn, Debbie Harry, and Lou Reed. The album, entitled Caged/Uncaged—A Rock/Experimental Homage to John Cage, was recorded in Italy in 1993 and produced by John Cale. You can listen to and download individual tracks at Ubuweb or hear the whole thing here.
It's more than just a tribute record; it's a serious engagement with the music of a composer whose work—like the fluid prose-poetry of Finnegans Wake—seems infinitely malleable and adaptable to the present. Forty years after composing the song Joey Ramone performs, Cage said, "we live, in a very deep sense, in the time of Finnegans Wake." Perhaps we still live in the time of Joyce, and also of John Cage.
Related Content:
John Cage Unbound: A New Digital Archive Presented by The New York Public Library
James Joyce Reads 'Anna Livia Plurabelle' from Finnegans Wake
The Ramones in Their Heyday, Filmed "Live at CBGB," 1977
Find Finnegans Wake in our collection of 450 Free eBooks
Josh Jones is a writer and musician based in Durham, NC. Follow him at @jdmagness