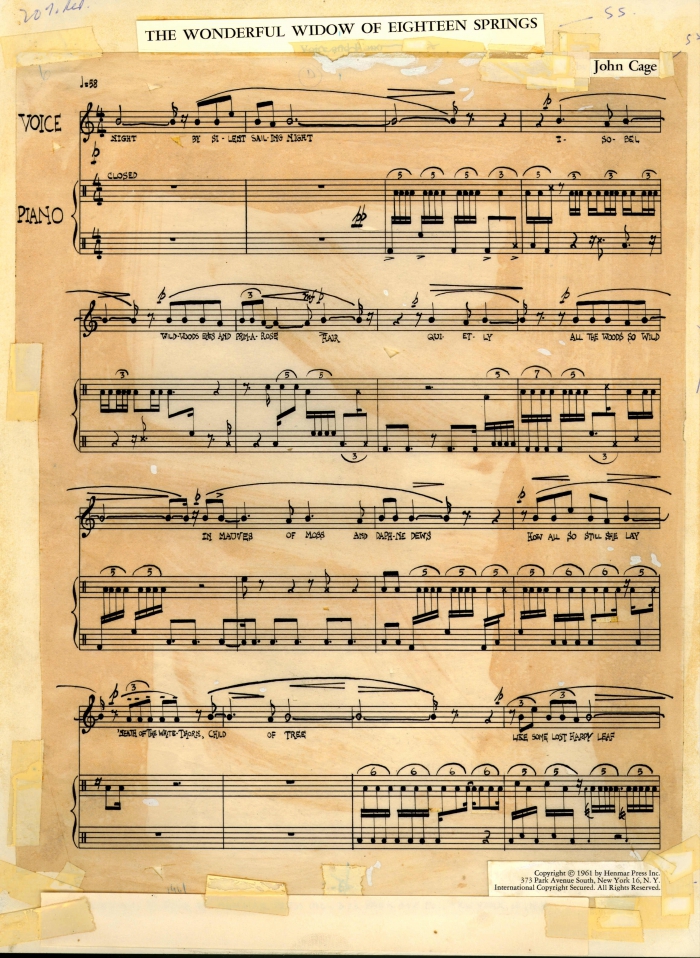 In 1942, John Cage com­posed a short piece of music adapt­ed from the text of James Joyce's Finnegans Wake. Titled "The Won­der­ful Wid­ow of Eigh­teen Springs," the piece was orig­i­nal­ly com­mis­sioned and per­formed by ama­teur sopra­no and socialite Jus­tine Fair­bank, and while we don't have a record­ing of her per­for­mance, we do have Cage's sheet music (see first page above, or view the entire book here). It is—as one might expect—an unusu­al piece. It sounds like song, yet isn't. As the Library of Con­gress descrip­tion of the piece has it:
This essen­tial­ly rhyth­mic speech set against a pat­terned per­cus­sive accom­pa­ni­ment can­not be con­sid­ered a song in the usu­al sense. Cage, how­ev­er, is such an inno­va­tor that one often los­es sight of the fact that if one does not expect con­ven­tion­al sounds, his music is often very well con­struct­ed. Here, for exam­ple, the com­pos­er weaves a hyp­not­i­cal­ly com­pelling pat­tern of rhyth­mic ten­sion and relax­ation, akin to cer­tain non-West­ern music, which is very appro­pri­ate for Joyce's moody prose.
Cage's own instruc­tions "for the singer" state: "sing with­out vibra­to, as in folk-singing. Make any trans­po­si­tion nec­es­sary in order to employ a low and com­fort­able range."
This flex­i­ble arrange­ment allows any­one to pick up the piece, and so we have, direct­ly below, an unlike­ly inter­preter of Cage's exper­i­men­tal art, the late Ramones singer Joey Ramone. Ramone's inter­pre­ta­tion of the piece is enthralling sim­ply as a piece of record­ed music. But it's also a fas­ci­nat­ing piece of cul­tur­al his­to­ry, rep­re­sent­ing a con­flu­ence of the fore­most fig­ures in ear­ly twen­ti­eth cen­tu­ry mod­ernist lit­er­a­ture, mid-cen­tu­ry avant-garde music, and late cen­tu­ry punk rock.
The record­ing comes from a whole album of Cage inter­pre­ta­tions by New York punk and new- and no-wave art-rock­ers, includ­ing David Byrne, Arto Lind­say, John Zorn, Deb­bie Har­ry, and Lou Reed. The album, enti­tled Caged/Uncaged—A Rock/Experimental Homage to John Cage, was record­ed in Italy in 1993 and pro­duced by John Cale. You can lis­ten to and down­load indi­vid­ual tracks at Ubuweb or hear the whole thing here.
It's more than just a trib­ute record; it's a seri­ous engage­ment with the music of a com­pos­er whose work—like the flu­id prose-poet­ry of Finnegans Wake—seems infi­nite­ly mal­leable and adapt­able to the present. Forty years after com­pos­ing the song Joey Ramone per­forms, Cage said, "we live, in a very deep sense, in the time of Finnegans Wake." Per­haps we still live in the time of Joyce, and also of John Cage.
Relat­ed Con­tent:
John Cage Unbound: A New Dig­i­tal Archive Pre­sent­ed by The New York Pub­lic Library
James Joyce Reads 'Anna Livia Plura­belle' from Finnegans Wake
The Ramones in Their Hey­day, Filmed "Live at CBGB," 1977
Find Finnegans Wake in our col­lec­tion of 450 Free eBooks
Josh Jones is a writer and musi­cian based in Durham, NC. Fol­low him at @jdmagness