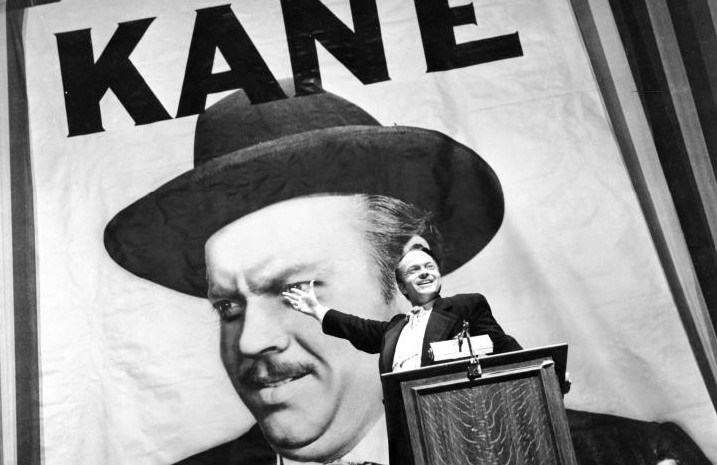 We've recently featured the all-time-greatest-film-selections from such celebrated directors as Stanley Kubrick, Martin Scorsese, Woody Allen, and Quentin Tarantino. Some of these lists came from the grand poll put on last year by Sight & Sound, the British Film Institute's well-respected cinema journal. While scrutinizing the voting records in the directors' division yields no small pleasure for the cinephile, to focus too closely on that would ignore the big picture. By that, I mean the overall standings in this most painstaking critical effort to determine "the Greatest Films of All Time":
These results came out with a bang — the sound, of course, of Vertigo displacing Citizen Kane. How many who watched the young Orson Welles' debut during its financially inauspicious original run could have guessed it would one day stand as a byword for the height of cinematic craftsmanship?
But Citizen Kane just flopped, drawing a good deal of critical acclaim even as it did so, whereas, seventeen years later, Hitchcock's Vertigo not only flopped, but did so into a fog of mixed reviews, tumbling unceremoniously from there into obscurity. Prints became scarce, and the ones Hitchcock aficionados could later track down had seen better days. It would take a kind of obsession — not to mention a thorough restoration — to return Vertigo to the zeitgeist.
We ignored Vertigo at our peril, and if we now ignore Citizen Kane because of its new second-chair status, we do that at our peril as well. The 90-minute documentary, The Complete Citizen Kane, originally aired in 1991 as an episode of the BBC's Arena. It looks at Welles' masterpiece from every possible angle, even bringing in New Yorker critic Pauline Kael, whose essay "Raising Kane" took a controversial anti-auteurist position about this most seemingly auteur-driven of all American films.
Follow us on Facebook, Twitter, Google Plus and LinkedIn and share intelligent media with your friends. And if you want to make sure that our posts definitely appear in your Facebook newsfeed, just follow these simple steps.
Related Content:
Quentin Tarantino Lists the 12 Greatest Films of All Time: From Taxi Driver to The Bad News Bears
Woody Allen Lists the Greatest Films of All Time: Includes Classics by Bergman, Truffaut & Fellini
Martin Scorsese Reveals His 12 Favorite Movies (and Writes a New Essay on Film Preservation)
Stanley Kubrick's List of Top 10 Films (The First and Only List He Ever Created)
Philosopher Slavoj Zizek Interprets Hitchcock's Vertigo in The Pervert's Guide to Cinema (2006)
Orson Welles Explains Why Ignorance Was the Genius Behind Citizen Kane
Colin Marshall hosts and produces Notebook on Cities and Culture and writes essays on literature, film, cities, Asia, and aesthetics. He's at work on a book about Los Angeles, A Los Angeles Primer. Follow him on Twitter at @colinmarshall.
Don't miss anything from Open Culture in 2014. Sign up for our Daily Email or RSS Feed. And we'll send cultural curiosities your way, every day.