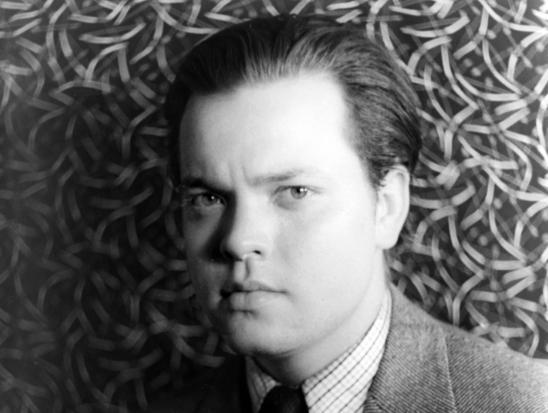 Image by Carl Van Vechten, via Wikimedia Commons
One night in October of 1938, listeners tuned into CBS radio to hear a piece of radio theater (listen below) so frightening and, for its time, realistic, that people across New England and eastern Canada fled their homes to escape danger. Or so the legend goes. With Orson Welles reading the part of an astronaut and professor, the Mercury Theatre on the Air's broadcast of War of the Worlds hit a frayed nerve in the American public.
The show aired during the tense years leading up to World War II, when fascism was on the rise in Europe. Many took the "news" of an alien invasion for truth.  It would have been easy to be fooled: the story, adapted from H.G. Wells' early sci-fi novel, was written as a simulated news broadcast. It opened with an introduction from the novel and a note that the adaptation was set a year ahead (1939). For those who missed that disclaimer, the remainder of the show was unsettling to say the least.
A reporter read a weather report. Then came dance music played by a fictitious band ("Ramon Raquello and his Orchestra") that was interrupted by news of bizarre explosions on the surface of Mars. Soon Orson Welles made his appearance, interviewed as an expert who denied the possibility of any life on the red planet. But then came the news of a cylindrical meteorite landing in northern New Jersey. A crowd gathered and a "reporter" came on the scene to watch the cylinder unscrew itself and reveal a rocketship inside.
Chaos ensued, followed by a Martian invasion of New York City, where people ran into the East River "like rats."
Welles offered another disclaimer at the end of the story (when the aliens succumbed to Earth's pathogens) to remind listeners that the broadcast was fiction.
Too little, too late? Or just great theater?
The next day, Welles held a brilliant news conference where he apologized for putting a fright into listeners. (It's another great piece of theater.) Meanwhile the broadcast established the Mercury Theatre on the Air—already an acclaimed stage production company—as one of America's top-rated radio programs. Until then the show had languished in relative obscurity. After sending thousands of people into a panic, the show earned advertising sponsorship from Campbell's Soup.
Kate Rix writes about digital media and education. Follow her on Twitter.
Related Content:
Orson Welles Meets H.G. Wells in 1940: The Legends Discuss War of the Worlds, Citizen Kane, and WWII
Aldous Huxley Reads Dramatized Version of Brave New World
Free: Isaac Asimov's Epic Foundation Trilogy Dramatized in Classic Audio