There's something inherently ridiculous about Google's Street View cars.
Their roof-mounted 15-lens Trekker cameras constantly blunder across less-than-dignified scenes whilst trawling the roads on behalf of Google Maps (a service that is forever linked in my mind to Lazy Sunday, the preposterous rap video starring comedians Andy Samberg and Chris Parnell.)
The cars themselves are totally goofy-looking. I would imagine that spotting one in real life is something akin to a Weinermobile sighting. No wonder the producers of Arrested Development arranged for George Michael Bluth, the hapless innocent played by Michael Cera, to drive one in the series' fourth season.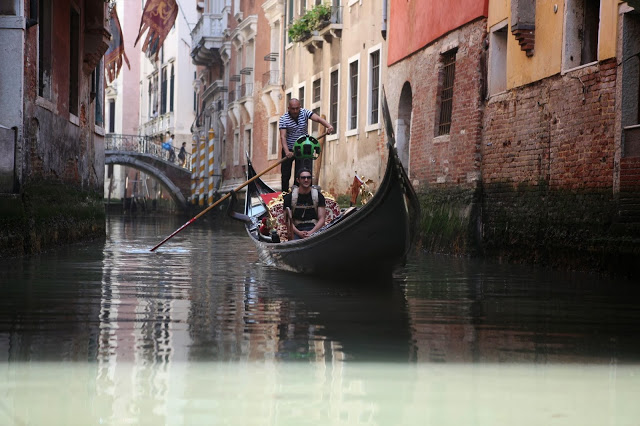 I have a hunch that the Street View Trekker's backpack model will ultimately prove less mockable than its four-wheeled counterpart. It can go where cars can't, conferring an extreme sports vibe despite the big, ball-shaped camera apparatus sticking up. A limited pilot program has been recruiting volunteers to wear the backpack in such locales as Bulgaria, Indonesia, and South Africa. The Philippines is another destination where volunteers are sought, and all kidding aside, it would be riveting to see how this technology might document the devastation in Tacloban.
For now, the non-automotive Street View's greatest triumph lies in recording the canals and cobbled walkways of Venice, Italy, a feat impossible to pull off in a car. To accomplish this, a team of backpackers logged over 375 miles on foot and by boat. Their efforts provide tourists with practical information in a format to which they've no doubt grown accustomed, as well as presenting armchair travelers with plenty of non-disappointing eye candy.
Cyber visitors can choose to traverse the Floating City much as actual visitors can – on foot, by vaporetta or by gondola. (I'd advise making a trip to the bathroom even if you're not actually leaving home. At the very least turn the sound down – the paddling noises accompanying the last option could cause a Pavlovian bladder response.)
In addition to the Street View and standard map, you can explore using a sepia-toned map from the David Rumsey Historical Map Collection, that dates back to 1838.
A lovely escape, all in all. Let us hope it never opens to traffic.
You can start your tour here.
Related Content:
How Venice Works: A Short Film
Google Street View Opens Up a Look at Shackleton's Antarctic
A Virtual Tour of the Sistine Chapel
Google Street View Takes You on a Panoramic Tour of the Grand Canyon
Ayun Halliday is the author of No Touch Monkey! And Other Travel Lessons Learned Too Late, The Zinesters Guide to NYC and several other books. Follow her @AyunHalliday