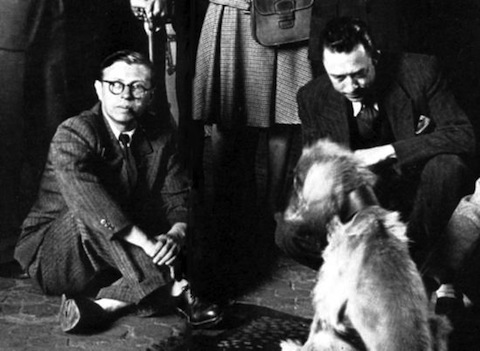 Today, as you must surely know, marks the 50th anniversary of John F. Kennedy's assassination and also surely marks a revival of interest in the myriad conspiracy theories that abound in the absence of a satisfactory explanation for the events at Dealey Plaza on November 22nd, 1963. One theory I've never heard floated before comes to us via Andy Martin, lecturer in French at Cambridge University and author of The Boxer and the Goalkeeper: Sartre vs Camus. In an article for Prospect magazine, Martin writes:
To the massed ranks of the CIA, the Mafia, the KGB, Castro, Hoover, and LBJ, we can now add: Jean-Paul Sartre. FBI and State Department reports of the 1960s had drawn attention to Sartre's membership of the Fair Play for Cuba Committee, of which Lee Harvey Oswald was also a member. And—prophetically?—Sartre had "dismissed the US as a headless nation." […] Could he, after all, have been the Second Shooter?
It's probably fair to say that Martin's tongue is wedged firmly in his cheek throughout this opening of his fascinating chronicle of the FBI's surveillance of Sartre and his onetime friend and editor Albert Camus. But Martin's interest in the misalliance of Sartre and the Feds is very serious. What he finds during his investigation of the FBI files on existentialism is that "the G-men, initially so anti-philosophical, find themselves reluctantly philosophizing. They become (in GK Chesterton's phrase) philosophical policemen."
While we have become accustomed, since the days of Joe McCarthy, to ideological witch hunts, it seems that Sartre and Camus served as test cases for the sort of thing that frequently plays out in overheated Congressional hearings and media denunciations—agents with furrowed brows and little philosophical training desperately trying to work out whether such and such abstruse academic is part of a grand conspiracy to undermine truth, justice, the American Way, etc.. Sartre appeared early on the anti-Communist radar, though, ironically, he did so as a plant of sorts, brought over in 1945 by the Office of War Information as part of a group of journalists the United States' government hoped would put out good propaganda.
"Hoover wondered," however, writes Martin, "what kind of good propaganda you can hope to get out of the author of Nausea and Being and Nothingness." It turned out, not much, but a year later Hoover latched on to Sartre's friend and editor Albert Camus, whose name he and his agents spelled, variously, as "Canus" or "Corus." Where Sartre had breezed into the country—smitten by its literature and music—Camus was held at immigration on Hoover's orders. He would spend a brief, depressing time and never return.
How we get from post-war surveillance of French existentialist philosophers to Sartre and the grassy knoll is a long and complicated tale, befitting the paranoid imaginings of J. Edgar Hoover. He was, after all, the conspiracy theorist par excellence and "he needed to know," writes Martin, "if Existentialism and Absurdism were some kind of front for Communism. To him, everything was potentially a coded re-write of the Communist Manifesto." What Hoover feared from Sartre, however, was that the latter was himself an influential believer in a conspiracy, one that cast doubt on the FBI's strongly-held belief that Oswald was the lone gunman.
Despite gathering years of NSA-worthy surveillance on the philosophers, Hoover's agents were never able to discern the ideological program of the French. "I can't work out," wrote one in a note in Sartre's file, "if he's pro-Communist or anti-Communist." The black-and-white, spy-vs-spy world of the FBI left little room for philosophical nuance and literary ambiguity, after all. But they never stopped watching Sartre, convinced that "there must be some kind of conspiracy between communists, blacks, poets and French philosophers." As it turns out, there were several—political and aesthetic conspiracies involving such terrifying figures as Frantz Fanon and Aimé Césaire. These poets and close relations of Sartre did, indeed, help foment revolution in the Caribbean and elsewhere—but theirs are stories for another day.
Read Martin's Prospect article here.
Related Content:
FBI's "Vault" Web Site Reveals Declassified Files on Hemingway, Einstein, Marilyn & Other Icons
Albert Camus Writes a Friendly Letter to Jean-Paul Sartre Before Their Personal and Philosophical Rift
How the CIA Secretly Funded Abstract Expressionism During the Cold War
Josh Jones is a writer and musician based in Durham, NC. Follow him at @jdmagness