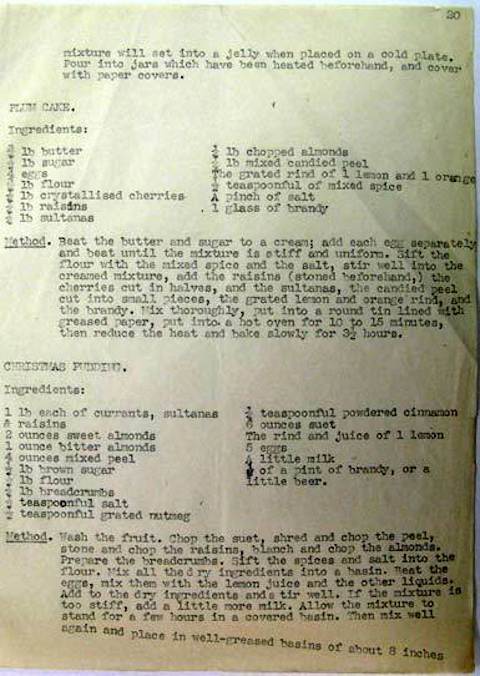 British cooking has been the butt of many jokes, and serious thought-pieces have been devoted to "why British food was so bad for so long." While that article blames WWI for the decline of English Cuisine, the stigma long precedes the 20th century. In his unpublished essay "British Cookery," for example, George Orwell opens with a quote from Voltaire, who wrote that Britain has "a hundred religions and only one sauce." This, Orwell writes, "was untrue" and "is equally untrue today." His "today" was 1945, before the best British cuisine was Indian. And though he does defend his country's cooking, and did so in another essay published that year in the Evening Standard, Orwell also makes some critical comments that confirm some of the stereotypes, calling the British diet "a simple, rather heavy, perhaps slightly barbarous diet" and writing: "Cheap restaurants in Britain are almost invariably bad, while in expensive restaurants the cookery is almost always French, or imitation French."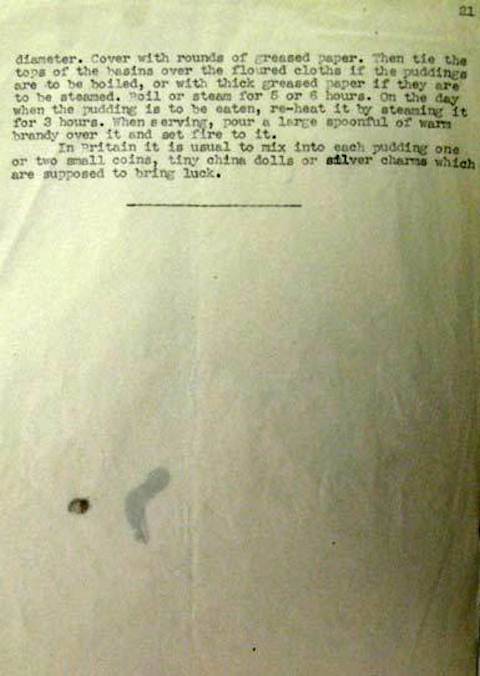 The essay is an exhaustive survey of the British palate of the time, and it concludes with some of Orwell's own recipes for sweets, including treacle tart, orange marmalade, plum cake, and, lastly, Christmas pudding. You can see the stained typescript of the last two recipes above, and read the full transcript of Orwell's "British Cookery" here (the recipes are at the end). Having no experience with the strange world of British sweets and pies, I'll have to take The Guardian's Alex Renton's word when he tells us that "the Orwell Christmas pudding is nothing radical." Nonetheless, I'm tempted to try this recipe more than any of the others Renton mentions, even if I may not get my hands on real suet or sultanas. Read a transcript of Orwell's Christmas pudding recipe below.
CHRISTMAS PUDDING.
Ingredients:
1 lb each of currants, sultanas & raisins

2 ounces sweet almonds

1 ounces sweet almonds

1 ounces bitter almonds

4 ounces mixed peel

½ lb brown sugar

½ lb flour

¼ lb breadcrumbs

½ teaspoonful salt

½ teaspoonful grated nutmeg

¼ teaspoonful powdered cinnamon

6 ounces suet

The rind and juice of 1 lemon

5 eggs

A little milk

1/8 of a pint of brandy, or a little beer
 Method. Wash the fruit. Chop the suet, shred and chop the peel, stone and chop the raisins, blanch and chop the almonds. Prepare the breadcrumbs. Sift the spices and salt into the flour. Mix all the dry ingredients into a basin. Heat the eggs, mix them with the lemon juice and the other liquids. Add to the dry ingredients and stir well. If the mixture is too stiff, add a little more milk. Allow the mixture to stand for a few hours in a covered basin. Then mix well again and place in well-greased basins of about 8 inches diameter. Cover with rounds of greased paper. Then tie the tops of the basins over the floured cloths if the puddings are to be boiled, or with thick greased paper if they are to be steamed. Boil or steam for 5 or 6 hours. On the day when the pudding is to be eaten, re-heat it by steaming it for 3 hours. When serving, pour a large spoonful of warm brandy over it and set fire to it.
In Britain it is unusual to mix into each pudding one or two small coins, tiny china dolls or silver charms which are supposed to bring luck.
via Biblioklept
Related Content:
George Orwell and Douglas Adams Explain How to Make a Proper Cup of Tea
The Recipes of Iconic Authors: Jane Austen, Sylvia Plath, Roald Dahl, the Marquis de Sade & More
Prepare Marilyn Monroe's Personal, Handwritten Turkey-and-Stuffing Recipe on Thanksgiving
Josh Jones is a writer and musician based in Durham, NC. Follow him at @jdmagness