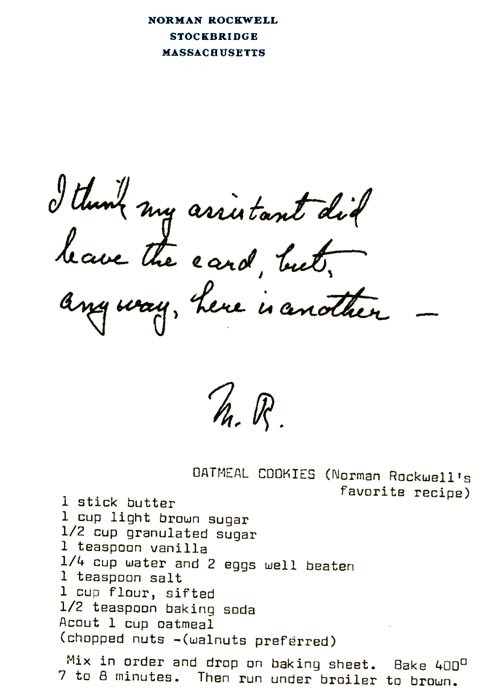 Norman Rockwell, prolific painter and illustrator of 20th century Americana, often worked so single-mindedly that he missed his meals. In 1943, Rockwell exhausted himself to such a degree that, while completing the Franklin Delano Roosevelt-inspired series of paintings entitled Four Freedoms, he lost 15 pounds over the course of seven months. This drop in weight is, perhaps, all the more shocking when given some context: Rockwell was far from being a corpulent man. In fact, when the then 23-year-old artist attempted to enlist as a serviceman in the U. S. Navy during World War I, he was judged to be eight pounds underweight, standing at six feet and tipping the scales at 140 pounds. Rockwell, however, was not to be deterred by something so trivial as his bodily composition. He gorged himself on bananas and doughnuts when he came home that evening. The next day, Navy recruiters dully welcomed the sufficiently bloated Rockwell to the fold.
When Rockwell did eat, we know that he had a penchant for oatmeal cookies. At least two of the artist's letters detailing instructions for making this choice snack are posted online. Although there is a 1966 iteration of the oatmeal cookie recipe available on Biblioklept.org, we've provided a later version, from the 1970s, found on The Saturday Evening Post website:
Ingredients
1 stick butter
1 cup light brown sugar
1/2 cup granulated sugar
1 teaspoon vanilla
1/4 cup water and 2 eggs well beaten
1 teaspoon salt
1 cup flour, sifted
1/2 teaspoon baking soda
About 1 cup oatmeal
Chopped nuts (walnuts preferred)
Directions
Mix in order and drop on baking sheet. Bake 400° 7 to 8 minutes. Then run under broiler to brown.
Related Content:
Ernest Hemingway's Favorite Hamburger Recipe
David Lynch Teaches You to Cook His Quinoa Recipe in a Weird, Surrealist Video
Prepare Marilyn Monroe's Personal, Handwritten Turkey-and-Stuffing Recipe on Thanksgiving