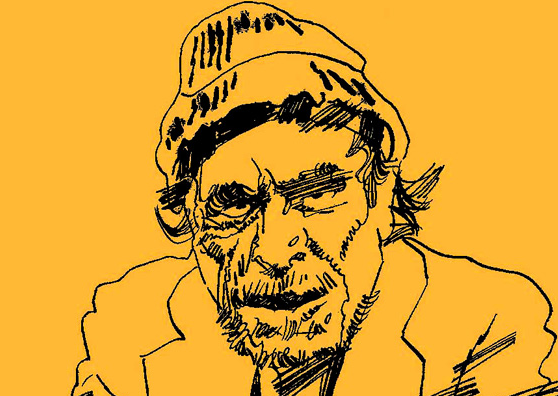 Image by Graziano Origa, via Wikimedia Commons
I don't remember exactly how I first came across Charles Bukowski's Notes of a Dirty Old Man, a collection of essays in which the low-rent poet and writer details his lonely exploits as an unapologetic working-class alcoholic in L.A. But it was long before the days of personalized internet marketing, when I was more likely to make new finds by scouring used bookstores (record stores, video stores…) and grabbing something unfamiliar and cheap because I liked the cover and vaguely recognized it as important. I may have just been leaving a bar, or heading toward one, and found Bukowski a perfect drinking companion. He was a modern-day character out of Dostoevsky, the novelist Bukowski most admired.
I do recall devouring the book, hitting my college library for more, and finding precious little. Then I discovered the video, The Charles Bukowski Tapes, a collection of 52 short interviews conducted by French filmmaker Barbet Schroeder, who directed the Bukowski-penned Barfly, with Mickey Rourke as Bukowski stand-in Henry Chinaski. Watch Part 1 here, and and Part 2 here.
Edited down from 64 hours of footage shot over three years while Bukowski wrote the screenplay to the 1987 film, the interviews range over his typical topics—booze, women, and barroom brawls—while also exploring his development as a writer and his thoughtful personal philosophy.
The camera lingers on his craggy, pockmarked face (he's no '80s Mickey Rourke), and the intimacy and candor can be unsettling. In one scene that made me cringe—and reminded me that Bukowski isn't playing a role here—he violently attacks his then wife, Linda Lee. At almost four hours, The Charles Bukowski Tapes is too much to take in all at once. But the wonderful thing about watching on YouTube rather than on a college library VHS is that you can easily drop in at any random point. This may be the best way of watching The Charles Bukowski Tapes since there's no particular logic to the interviews' arrangement that I can discern. There are some distracting issues with the audio syncing in the video upload, but for Bukowski fans, it's a minor annoyance worth enduring. Above, see Bukowski on camera again, this time in a silent cameo in a pivotal scene from Barfly.
Related Content:
The Last (Faxed) Poem of Charles Bukowski
Listen to Charles Bukowski Poems Being Read by Bukowski, Tom Waits and Bono
"Don't Try": Charles Bukowski's Concise Philosophy of Art and Life
Josh Jones is a writer and musician based in Durham, NC. Follow him at @jdmagness