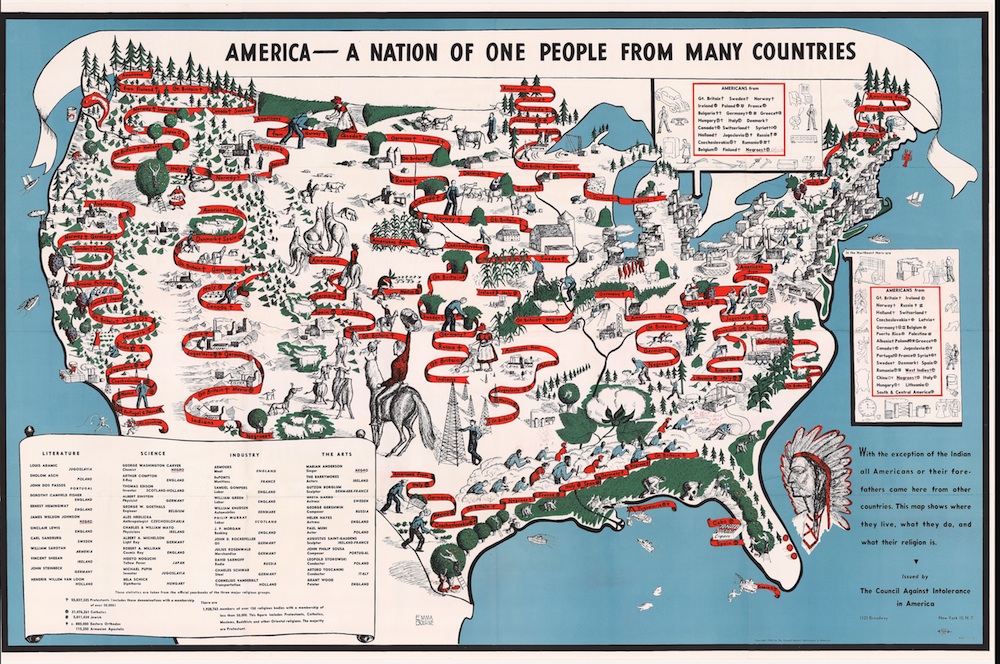 Rebecca Onion, who occasionally contributes to Open Culture, runs The Vault, a blog residing at Slate.com that's "dedicated to history at its most beautiful, strange, funny, and moving." It's a great place to spend time if you enjoy revisiting archival documents of historical interest — photographs, pamphlets, buttons, toys and, yes, maps, like the one above. Featured on The Vault last week, this curious map was issued by the Council Against Intolerance in America in 1940 and depicts the "geographical locations, typical employment, and religious commitments" of ethnic groups living in the United States at the time time. A copy of the map was owned and annotated by poet Langston Hughes, the American poet, social activist, playwright, who was a leading figure in the Harlem Renaissance. If you enlarge the image (click here, then click again) and look carefully, you can see that he annotated the map with a red pen. One such annotation — where he placed a burning cross and "K.K.K." in the vicinity of African Americans living in the South — appears in the image below. Head over to The Vault to get more on this story.
Would you like to support the mission of Open Culture? Please consider making a donation to our site. It's hard to rely 100% on ads, and your contributions will help us continue providing the best free cultural and educational materials to learners everywhere.
Also consider following Open Culture on Facebook and Twitter and sharing intelligent media with your friends. Or sign up for our daily email and get a daily dose of Open Culture in your inbox. 
Related Content:
Poems as Short Films: Langston Hughes, Pablo Neruda and More
The University of Richmond Animates the 1932 Atlas of the Historical Geography of the United States
Visualizing Slavery: The Map Abraham Lincoln Spent Hours Studying During the Civil War