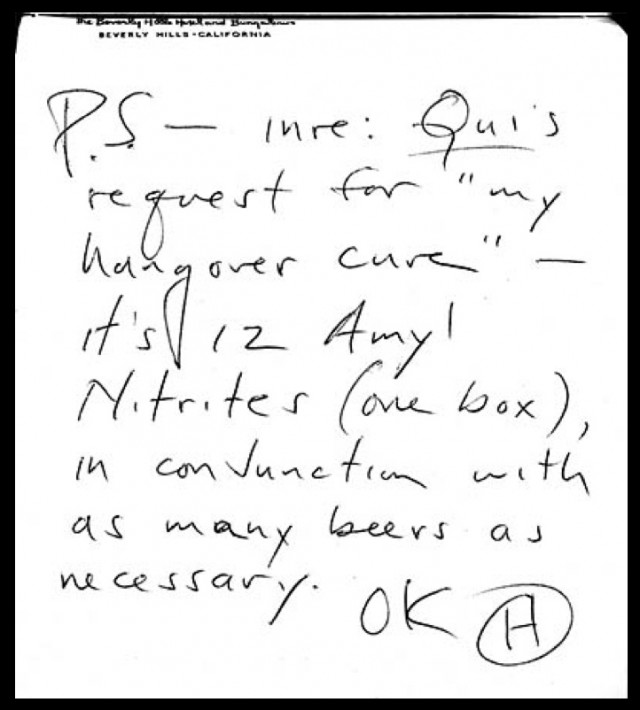 Last year, we brought you a descrip­tion of Hunter S. Thompson's dai­ly drug and alco­hol reg­i­men, con­sist­ing of fright­en­ing amounts of cocaine and liquor, sup­plant­ed by the occa­sion­al cup of cof­fee or acid tab. While the sto­ry may be apoc­ryphal, Thomp­son was no dilet­tante when it came to psy­choac­tive sub­stances. The father of gonzo jour­nal­ism bur­nished his image as a for­mi­da­ble sub­stance user in the open­ing lines of Fear and Loathing in Las Vegas (1971):
The trunk of the car looked like a mobile police nar­cotics lab. We had two bags of grass, seventy—five pel­lets of mesca­line, five sheets of high—powered blot­ter acid, a salt shak­er half full of cocaine, and a whole galaxy of multi—colored uppers, down­ers, scream­ers, laugh­ers and also a quart of tequi­la, a quart of rum, a case of Bud­weis­er, a pint of raw ether and two dozen amyls. All this had been round­ed up the night before, in a fren­zy of high—speed dri­ving all over Los Ange­les County—from Topan­ga to Watts, we picked up every­thing we could get our hands on. Not that we need­ed all that for the trip, but once you get locked into a seri­ous drug col­lec­tion, the ten­den­cy is to push it as far as you can.
It's safe to say that if you were to con­sult any­one about a hang­over fix, Thomp­son would be a good can­di­date for coun­sel. Luck­i­ly, the author left us with a guide. In 2011, Play­boy released a com­pendi­um of its 1960s and 1970s cor­re­spon­dences with Thomp­son. Most were dis­ap­point­ing­ly pro­sa­ic, but among the dross was a hur­ried­ly scrib­bled note on the top­ic of hang­over cures:
P.S. — inre: Oui's request for "my hang­over cure" — it's 12 amyl nitrites (one box), in con­junc­tion with as many beers as nec­es­sary.
OK H
If a hair of the dog approach doesn't quite suit you, or if Thompson's recipe exceeds your ini­tial con­sump­tion, I sug­gest a bot­tle of sports drink at the tail end of a big night to replen­ish elec­trolytes. Still, accord­ing YouTube's SciShow, which does a fan­tas­tic job of elu­ci­dat­ing the chem­i­cal process­es behind all the headaches and room spins, there's only one fool­proof method:
As a PSA to stave off angry com­ments, a spoil­er alert: SciShow's rec­om­men­da­tion is on par with the absti­nence mod­el of birth con­trol: just don't do it, and you'll be fine.
Ilia Blin­d­er­man is a Mon­tre­al-based cul­ture and sci­ence writer. Fol­low him at @iliablinderman.
Relat­ed Con­tent:
Hunter S. Thomp­son Calls Tech Sup­port, Unleash­es a Tirade Full of Fear and Loathing (NSFW)
John­ny Depp Reads Let­ters from Hunter S. Thomp­son (NSFW)
Hunter S. Thomp­son Remem­bers Jim­my Carter's Cap­ti­vat­ing Bob Dylan Speech (1974)