After reaching the rank of Sergeant during World War I, Alexander Woollcott returned to New York to become a drama critic for the New York Times. Woollcott was a man of large bulk and outsized personality, whose sharp, acerbic wit made him popular with his readers. According to The Ten-Year Lunch, an Oscar-winning documentary about the New York group of writers and journalists known as the Algonquin Round Table, Woollcott's quick tongue made his bombastic presence nearly unbearable to his friends:
When he returned from the war, Woollcott boasted of his military adventures so often and so loudly that his friends grew tired of listening. He began every sentence with "When I was in the theatre of war…" Irritated by his pomposity, press agent Murdoch Pemberton lured Woollcott [to the Algonquin Hotel] with the promise of an ace pastry chef. The idea was to hold a sort of roast, at which a number of critics and journalists from around town would come and poke fun at him.
For better or worse, the attempt to puncture Woollcott's ego at the Algonquin Hotel was unsuccessful. Rather than take offence, Woollcott was flattered by the attention, and the various figures in attendance also thoroughly enjoyed themselves. Serendipitously, the legendary luncheons of the Algonquin Round Table were born.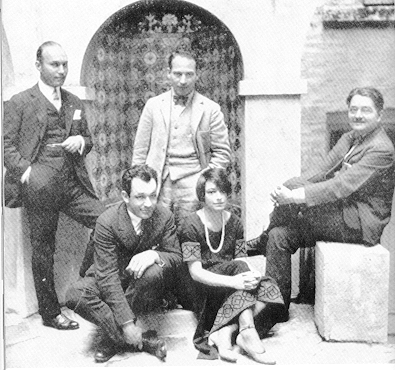 Most of the Table's members had taken part in the war, to one degree or another: journalist
Ruth Hale
and her syndicated-columnist husband
Heywood Broun
had been war correspondents;
New Yorker
founder
Harold Ross
had edited the military newspaper
Stars & Stripes
; acclaimed columnist
Franklin Pierce Adams
had made Captain. Other members included poet and critic
Dorothy Parker
, a tragic romantic who had become the city's most quotable woman. (Parker's inexhaustible supply of witticisms still feels fresh today: when asked to use the word horticulture in a sentence, Parker replied, "You can lead a whore to culture, but you can't make her think.") Parker's best friend was humorist and essayist
Robert Benchley
, who had once written an essay exploring Newfoundland fishing rights for his International Law class at Harvard from the unorthodox perspective of the fish. Frequently joining them was
Neysa McNein
, a sought-after illustrator who hosted the Table's afternoon gatherings in her studio, where
Irving Berlin
could occasionally be found playing the piano.
The near-daily meetings at the Algonquin Hotel fostered a close-knit cultural fraternity of New York's best writers, illustrators, and artists. The group vacationed together at their jointly-owned Vermont island, played games of poker wagering houses and honeymoons, and criticized each other's work. Whenever a member of the Round Table would make a conceited remark, everyone would immediately rise and bow, honoring their friend's regal affectations. The only exception to the rule was Woollcott, whose bread and butter pomposity was tolerated by virtue of its regularity.
With its interviews of original Table members, the documentary is a tantalizing look at the lives of the men and women who ruled New York's cultural milieu during the heyday of the printed word. Equal parts wish for the idyllic past and history of New York's biggest cultural players, The Ten-Year Lunch leaves one with a pang of oddly potent nostalgia. We can't recommend it enough.
In the image above, see Art Samuels, Charlie MacArthur, Harpo Marx, Dorothy Parker and Alexander Woollcott
Ilia Blinderman is a Montreal-based culture and science writer. Follow him at @iliablinderman.