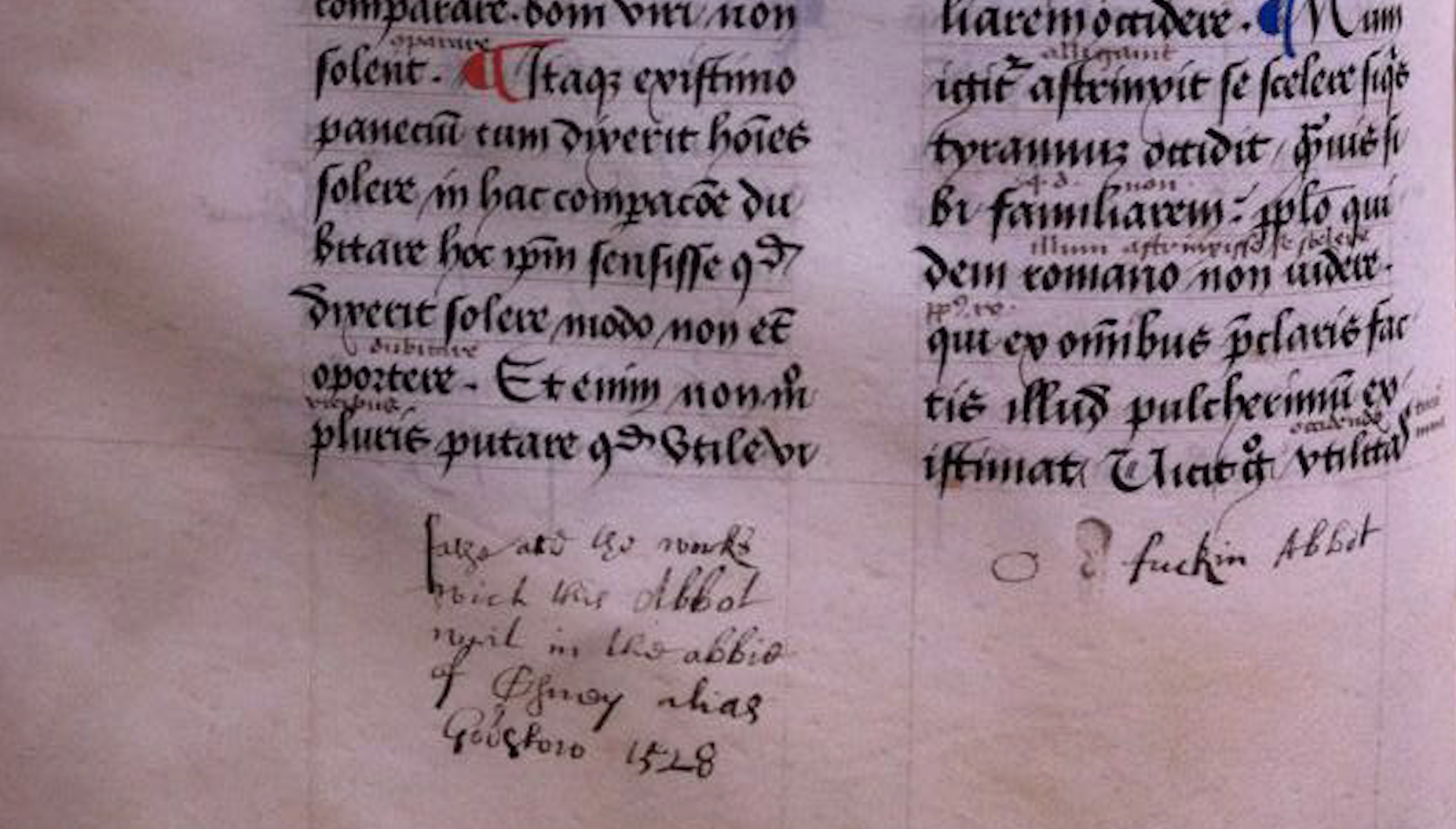 English speakers enjoy what seems like an unmatched curiosity about the origins and historical usages of their language's curses. The exceedingly popular "F word" has accreted an especially wide body of textual investigation, wide-eyed speculation, and implausible folk etymology. (One of the term's well-known if spurious creation myths even has a Van Halen album named after it.) "The history begins in murky circumstances," says the Oxford English Dictionary's site, and that dictionary of dictionaries has managed to place the word's earliest print appearance in the early sixteenth century, albeit written "in code" and "in a mixed Latin-and-English context." Above, you can see one of the few concrete pieces of information we have on the matter: the first definitive use of the F word in "the English adjectival form, which implies use of the verb."
Here the word appears (for the first time if not the last) noted down by hand in the margins of a proper text, in this case Cicero's De Officiis. "It's a monk expressing his displeasure at an abbot," writes Katharine Trendacosta at i09. "In the margins of a guide to moral conduct. Because of course." She quotes Melissa Mohr, author of Holy Sh*t: A Brief History of Swearing, as declaring it "difficult to know" whether this marginalia-making monk meant the word literally, to accuse this abbott of "questionable monastic morals," or whether he used it "as an intensifier, to convey his extreme dismay." Either way, it holds a great deal of value for scholars of language, given, as the OED puts it, "the absence of the word from most printed text before the mid twentieth century" and the "quotation difficulties" that causes. If you find nothing to like in the F word's ever-increasing prevalence in the media, think of it this way: at least future lexicographers of swearing will have more to go on.
To view the complete manuscript page, click here. The document seemingly resides at Brasenose College, Oxford.
via io9
Related Content:
Steven Pinker Explains the Neuroscience of Swearing (NSFW)
Stephen Fry, Language Enthusiast, Defends The "Unnecessary" Art Of Swearing
George Carlin Performs His "Seven Dirty Words" Routine: Historic and Completely NSFW
Medieval Cats Behaving Badly: Kitties That Left Paw Prints … and Peed … on 15th Century Manuscripts
Colin Marshall hosts and produces Notebook on Cities and Culture and writes essays on cities, Asia, film, literature, and aesthetics. He's at work on a book about Los Angeles, A Los Angeles Primer. Follow him on Twitter at @colinmarshall or on his brand new Facebook page.