Samuel Beck­ett was a play­wright, a nov­el­ist, a Nobel Prize win­ner and the chauf­feur for a school-aged André the Giant. He was also, appar­ent­ly, a com­pul­sive doo­dler. The orig­i­nal man­u­scripts of his first and sec­ond nov­els, Mur­phy and Watt respec­tive­ly, are cov­ered in mar­gin­a­lia.
The man­u­script for Mur­phy, com­pris­ing six note­books, was auc­tioned off last year by Sotheby's to the tune of £962,500 (or over $1.6 mil­lion). The book was writ­ten between the years of 1935 to 1936 and the man­u­script shows numer­ous revi­sions. It also con­tains this doo­dle (above) of Char­lie Chap­lin, who would lat­er influ­ence his sem­i­nal play Wait­ing for Godot. Beck­et­t's doo­dle of James Joyce appears beneath it.
For some­one who made a career explor­ing heavy themes like noth­ing­ness and futil­i­ty, his draw­ings are noth­ing like the stark, angu­lar doo­dles of Franz Kaf­ka. Beckett's pic­tures are curvy, light-heart­ed and whim­si­cal. Look at the draw­ing below. I real­ly don't know what's going on there but it sort of looks like a man in ear­muffs giv­ing birth to a hat.
And this one is of a cou­ple golfers.
Beckett's sec­ond nov­el Watt, the last book he wrote in Eng­lish, also took up six note­books. Accord­ing to Beckett's rec­ol­lec­tions, Watt was writ­ten "in drips and drabs" while he was in liv­ing in France dur­ing WWII. In the first note­book, along­side an X‑ed out page of text is this odd draw­ing of a long-haired cen­taur in a top hat.
And this page, in the sec­ond note­book, fea­tures a bunch of ter­rif­ic, strik­ing­ly graph­ic doo­dles includ­ing one that looks like Mor­ley Safer in an Asian cone hat. (Again with the hats.)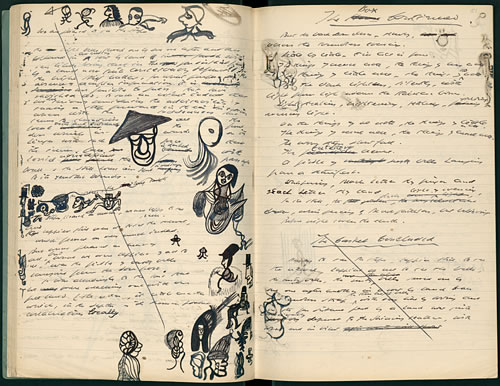 via @SteveSilberman/Brain­Pick­ings/Har­ry Ran­som Cen­ter
Relat­ed Con­tent:
Samuel Beck­ett Directs His Absur­dist Play Wait­ing for Godot (1985)
Mon­ster­piece The­ater Presents Wait­ing for Elmo, Calls BS on Samuel Beck­ett
Rare Audio: Samuel Beck­ett Reads Two Poems From His Nov­el Watt
Jonathan Crow is a Los Ange­les-based writer and film­mak­er whose work has appeared in Yahoo!, The Hol­ly­wood Reporter, and oth­er pub­li­ca­tions. You can fol­low him at @jonccrow.