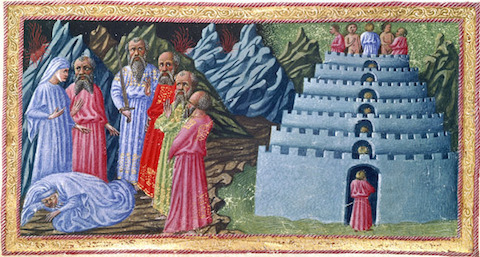 Few writers have inspired so many artists, so deeply and for so long, as Dante Alighieri. His epic poem the Divine Comedy (find in our collection of Free eBooks) has received striking illuminations at the hands of Gustave Doré, Sandro Botticelli, Alberto Martini, and Salvador Dalí — to name only those we've featured before here on Open Culture. The names Priamo della Quercia and Giovanni di Paolo may mean relatively little to you right now, but they'll mean much more once you've taken a look at the illustrations featured here and at The World of Dante, which come from an illuminated manuscript of the Divine Comedy at the British Library known as Yates Thompson 36. Produced in Siena around 1450 for an unknown original patron, "the codex belonged to Alfonso V, king of Aragon, Naples, and Sicily," and includes "110 large miniatures and three historiated initials." (See all here.) Della Quercia illustrated the Inferno and Purgatorio and all three historiated initials; di Paolo illustrated Paradiso.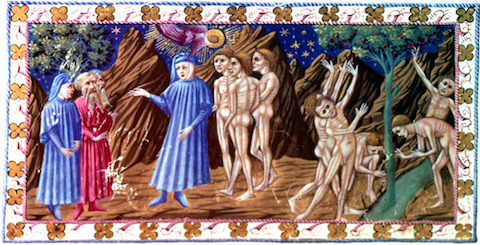 "This makes for two distinctly different styles," continues The World of Dante's page. "Priamo's work reflects the more realistic style of late fifteenth-century Florentine painting, an influence which is particularly noticeable in his use of contours and outlines in the depiction of nudes. Giovanni di Paolo's style is closer to that of late fourteenth-century Sienese artists," producing results "greatly admired for their visual interpretation of the poem: the artist doesn't just transcribe Dante's words but seeks to render their meaning." The British Library's medieval manuscripts blog describes it as "certainly a lavish production" that "must have been an expensive undertaking," given the status of the men doing the illuminating as "two of the preeminent artists of the day." But when it came to visualizing Dante's journey, quite literally, to hell and back in 15th-century Italy, no artist ranked too highly. Even today, I can't imagine any artist reading the Divine Comedy, illuminated or no, without getting a few vivid ideas of their own.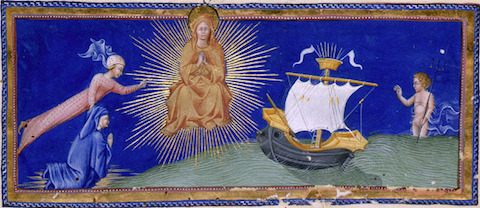 More images can be found on the British Library web site (scroll down the page). A Yale course entirely dedicated to Dante appears in our collection, 1,700 Free Online Courses from Top Universities.
Related Content:
Botticelli's 92 Illustrations of Dante's Divine Comedy
Gustave Doré's Dramatic Illustrations of Dante's Divine Comedy
Alberto Martini's Haunting Illustrations of Dante's Divine Comedy (1901-1944)
Salvador Dalí's 100 Illustrations of Dante's The Divine Comedy
Colin Marshall hosts and produces Notebook on Cities and Culture and writes essays on cities, language, Asia, and men's style. He's at work on a book about Los Angeles, A Los Angeles Primer. Follow him on Twitter at @colinmarshall or on Facebook.