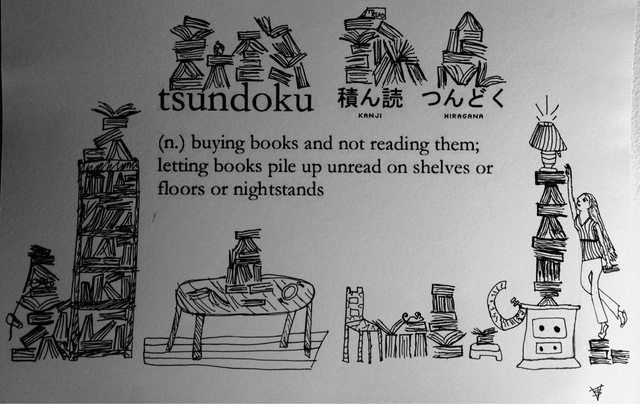 There are some words out there that are brilliantly evocative and at the same time impossible to fully translate. Yiddish has the word shlimazl, which basically means a perpetually unlucky person. German has the word Backpfeifengesicht, which roughly means a face that is badly in need of a fist. And then there's the Japanese word tsundoku, which perfectly describes the state of my apartment. It means buying books and letting them pile up unread.
The word dates back to the very beginning of modern Japan, the Meiji era (1868-1912) and has its origins in a pun. Tsundoku, which literally means reading pile, is written in Japanese as 積ん読. Tsunde oku means to let something pile up and is written 積んでおく. Some wag around the turn of the century swapped out that oku (おく) in tsunde oku for doku (読) – meaning to read. Then since tsunde doku is hard to say, the word got mushed together to form tsundoku.
As with other Japanese words like karaoke, tsunami, and otaku, I think it's high time that tsundoku enter the English language. Now if only we can figure out a word to describe unread ebooks that languish on your Kindle. E-tsundoku? Tsunkindle? Visit our collection of Free eBooks and contemplate the matter for a while.
The illustration above was made when Redditor Wemedge asked his daughter to illustrate the word "Tsundoku," and she did not disappoint.
Follow Open Culture on Facebook and Twitter and share intelligent media with your friends. Or better yet, sign up for our daily email and get a daily dose of Open Culture in your inbox. And if you want to make sure that our posts definitely appear in your Facebook newsfeed, just follow these simple steps.
Related Content: 
Learn 46 Languages Online for Free: Spanish, Chinese, English & More
Learn Latin, Old English, Sanskrit, Classical Greek & Other Ancient Languages in 10 Lessons
Speaking in Whistles: The Whistled Language of Oaxaca, Mexico
"Learn English With Ricky Gervais," A New Podcast Debuts (NSFW)
Jonathan Crow is a Los Angeles-based writer and filmmaker whose work has appeared in Yahoo!, The Hollywood Reporter, and other publications. You can follow him at @jonccrow. And check out his art blog Veeptopus.