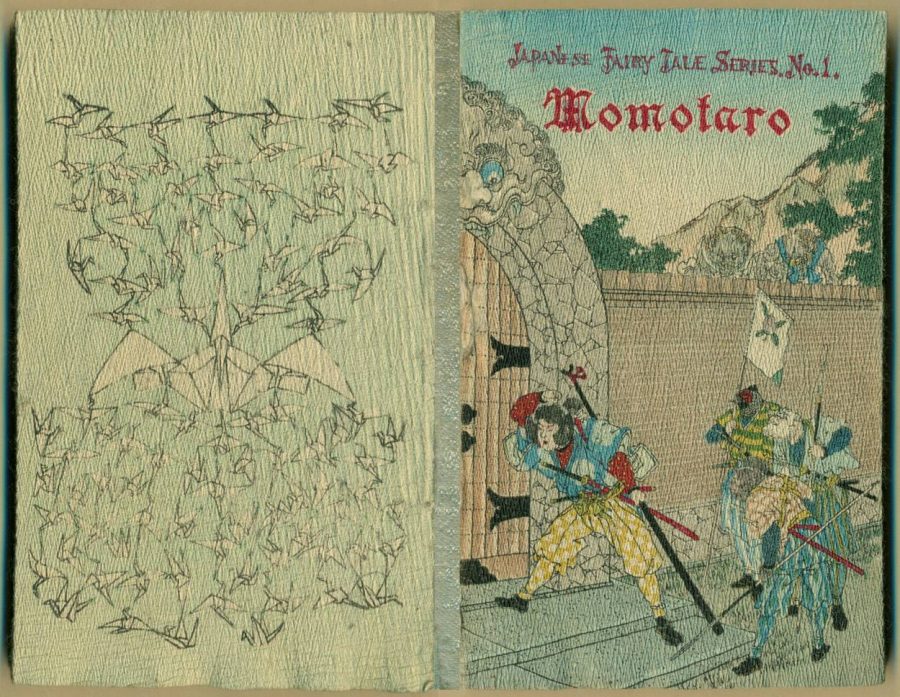 Every­one in Japan knows the sto­ry of Momo­taro, the boy born from a peach who goes on to defeat the maraud­ing ogres known as oni. The old­est known writ­ten ver­sions of Momo­taro's adven­tures date back to the 17th cen­tu­ry, but even then the tale almost cer­tain­ly had a long his­to­ry of pas­sage through oral tra­di­tion. And though Momo­taro may well be the best-known Japan­ese folk hero, his sto­ry is just one in a body of folk­lore vast enough that few, even among avid enthu­si­asts, can claim to have mas­tered it in its entire­ty.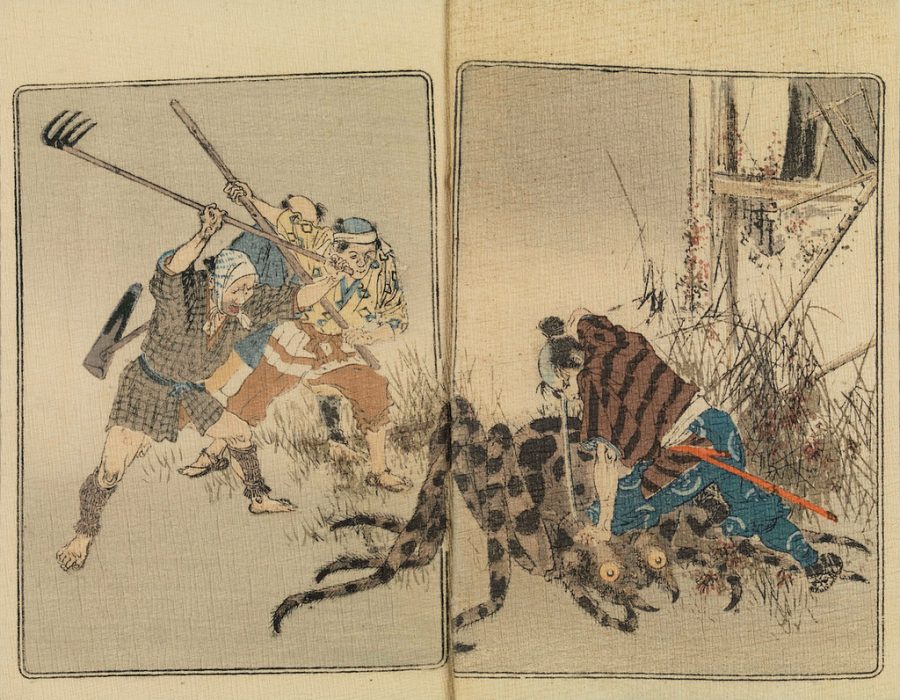 That vast body of Japan­ese folk­lore has pro­vid­ed no small amount of inspi­ra­tion to comics, ani­ma­tion, and the oth­er mod­ern forms of sto­ry­telling that have brought many of these folk­tales to wider audi­ences — even glob­al audi­ences, a project that began in the late 19th cen­tu­ry.
Their West­ern pop­u­lar­iza­tion has no greater fig­ure­head than Laf­ca­dio Hearn. A Greek-British writer who moved to Japan in 1890, Hearn lat­er became a nat­u­ral­ized Japan­ese cit­i­zen and wrote such books as Japan­ese Fairy Tales, Kwaidan: Sto­ries and Stud­ies of Strange Things, and The Boy Who Drew Cats.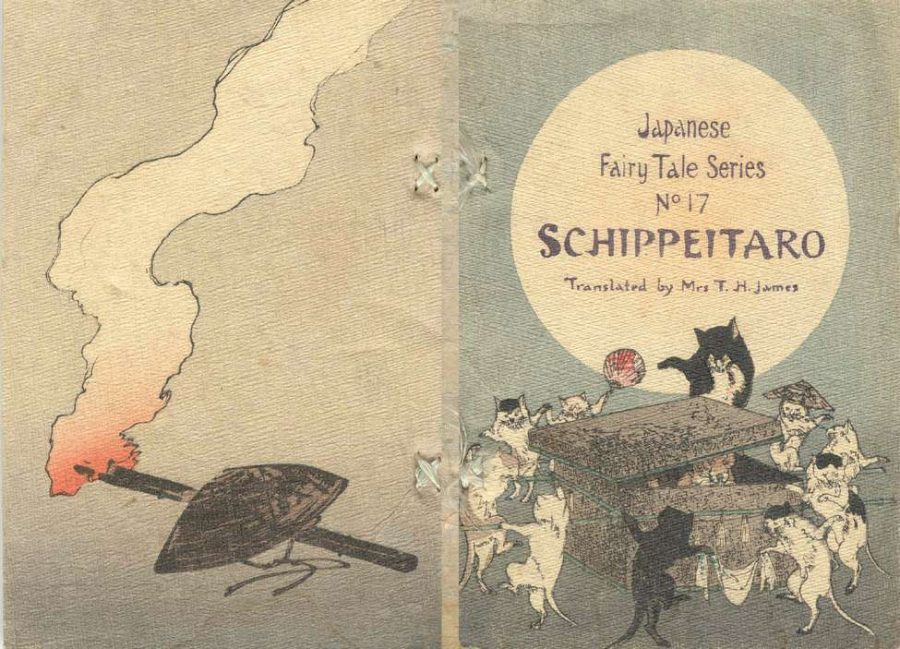 That last title, an Eng­lish ver­sion of a Japan­ese folk­tale about a child who van­quish­es a gob­lin rat in a monastery by draw­ing its nat­ur­al ene­mies on the monastery walls, was also adapt­ed in a series of beau­ti­ful­ly illus­trat­ed crêpe-paper chil­dren's books put out by an enter­pris­ing Japan­ese pub­lish­er named Take­jiro Hasegawa. "In twen­ty vol­umes, pub­lished between 1885 and 1922, the Fairy Tale series intro­duced tra­di­tion­al Japan­ese folk tales, first to read­ers of Eng­lish and French, and lat­er to read­ers of Ger­man, Span­ish, Por­tuguese, Dutch, and Russ­ian," writes the Pub­lic Domain Review's Christo­pher DeCou.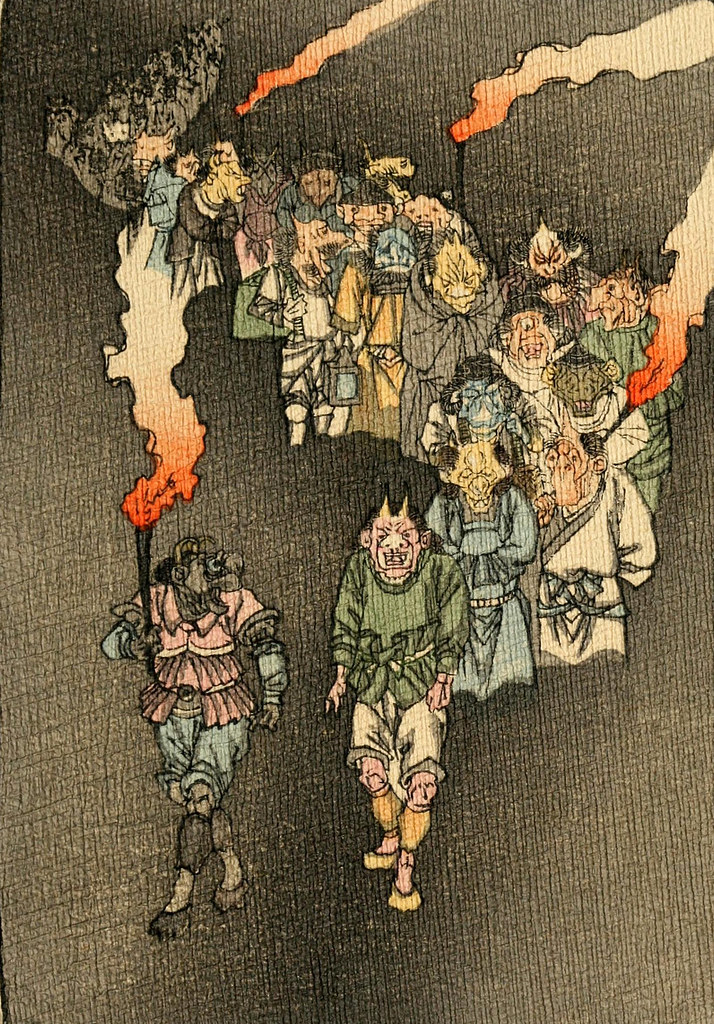 Want­i­ng to mod­el the books on Japan­ese antholo­gies pub­lished in the six­teenth cen­tu­ry, Hasegawa hired tra­di­tion­al Japan­ese wood­block print­ers like Kobyashi Eitaku, Suzu­ki Kason, and Chikanobu to illus­trate them. And, for the trans­la­tion work, he drew on the local mis­sion­ary com­mu­ni­ty to which his own Eng­lish edu­ca­tion had put him in con­tact. "The ear­li­est vol­umes in the Japan­ese Fairy Tale Series real­ly were very much a prod­uct of Tokyo's close-knit expat com­mu­ni­ty," DeCou writes. A grow­ing West­ern inter­est in Japon­isme, as well as "Hasewaga's wheel­ing and deal­ing at World's Fairs" and the good sense to bring the famous Hearn aboard the project, made the Japan­ese Fairy Tale Series into an endur­ing inter­na­tion­al suc­cess.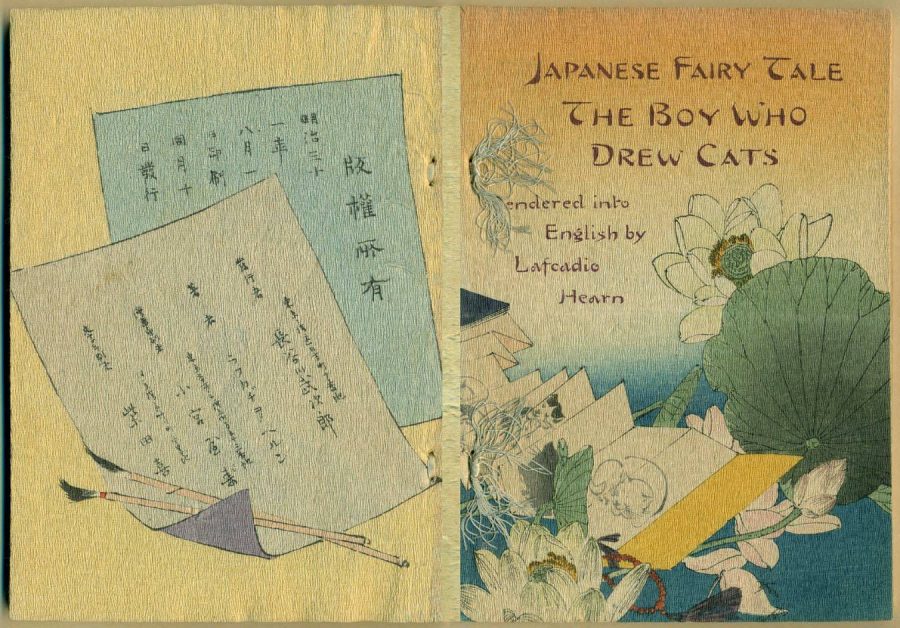 "At a time when pub­lish­ing hous­es in Lon­don and New York dom­i­nat­ed the mar­ket," DeCou writes, "Hasegawa's press in Tokyo was pro­duc­ing equal­ly beau­ti­ful vol­umes using tra­di­tion­al Japan­ese craft­work and broad­cast­ing Japan's cul­ture to the world." You can see more pages of the Japan­ese Fairy Tale Books at the Pub­lic Domain Review, and com­plete dig­i­ti­za­tions at the site of book deal­er George Bax­ley as well as at the Pub­lic Library of Cincin­nati and Hamil­ton Coun­ty and the Inter­net Archive. Like Hearn, Hasegawa under­stood that Japan­ese folk­lore had the appeal to cross tem­po­ral and cul­tur­al bound­aries. But could even he have imag­ined that the very books in which he pub­lished them would still draw such fas­ci­na­tion more than a cen­tu­ry lat­er?
Relat­ed Con­tent:
1,000+ His­toric Japan­ese Illus­trat­ed Books Dig­i­tized & Put Online by the Smith­son­ian: From the Edo & Meji Eras (1600–1912)
Splen­did Hand-Scroll Illus­tra­tions of The Tale of Gen­jii, The First Nov­el Ever Writ­ten (Cir­ca 1120)
A Won­der­ful­ly Illus­trat­ed 1925 Japan­ese Edi­tion of Aesop's Fables by Leg­endary Children's Book Illus­tra­tor Takeo Takei
A Japan­ese Illus­trat­ed His­to­ry of Amer­i­ca (1861): Fea­tures George Wash­ing­ton Punch­ing Tigers, John Adams Slay­ing Snakes & Oth­er Fan­tas­tic Scenes
The First Muse­um Ded­i­cat­ed to Japan­ese Folk­lore Mon­sters Is Now Open
Enter a Dig­i­tal Archive of 213,000+ Beau­ti­ful Japan­ese Wood­block Prints
Based in Seoul, Col­in Mar­shall writes and broad­casts on cities, lan­guage, and cul­ture. His projects include the book The State­less City: a Walk through 21st-Cen­tu­ry Los Ange­les and the video series The City in Cin­e­ma. Fol­low him on Twit­ter at @colinmarshall or on Face­book.