Investigative reporter Steve Silberman awesomely flagged this video for us today. He writes:
This seems to have just surfaced: the most complete recording of the Human Be-In in Golden Gate Park in 1967 that I have ever seen, by far. It opens with Allen Ginsberg and Gary Snyder chanting, Michael McClure follows, and the Grateful Dead (with adorable footage of Allen dancing) pop up at about 14:00. At 18:00, Dizzy Gillespie is smiling in the audience. So much mythical noumenon has piled up around these events over the decades it's almost inevitable that the real thing seems a little banal compared to one's imagination, but it's still cool.
If you're not quite familiar with what the Human Be-In, held on January 14, 1967, was all about, let me refer you to this succinct description by a web site called Magic Bus San Francisco: "Announced on the cover of the first edition of the counter-culture zine San Francisco Oracle, the 'Gathering of the Tribes' or 'Human Be-In' as it came to be known, was the prototype of all 1960s counter culture celebrations. The Human Be-In precipitated the legendary Summer of Love, and made San Francisco's Haight-Ashbury the epicenter of the burgeoning hippie movement.
The Be-In featured all the luminaries of psychedelic counter-culture, including Timothy Leary, Allen Ginsberg, Gary Snyder, Richard Alpert (Ram Dass), Dick Gregory, Lenore Kandel, and Jerry Ruben.  Many of the Haight's best musical acts also performed, including the Grateful Dead and Quicksilver Messenger Service." As a curious side note, the Dead didn't get a mention in the poster promoting the event. Is that because they were a late addition? I'm not sure.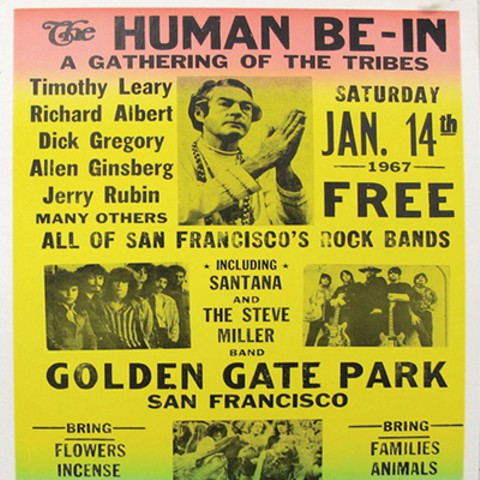 Related Content:
The Historic LSD Debate at MIT: Timothy Leary v. Professor Jerome Lettvin (1967)
The Night When Miles Davis Opened for the Grateful Dead in 1970: Hear the Complete Recordings
8,976 Free Grateful Dead Concert Recordings in the Internet Archive
The Acid Test Reels: Ken Kesey & The Grateful Dead's Soundtrack for the 1960s Famous LSD Parties