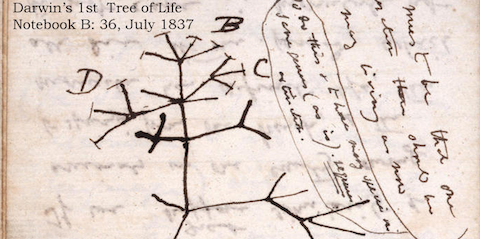 The Dar­win­ian the­o­ry of evo­lu­tion is an amaz­ing sci­en­tif­ic idea that seems, at least to a layper­son like me, to meet all the cri­te­ria for what sci­en­tists like Ian Glynn praise high­ly as "elegance"—all of them per­haps except one: Sim­plic­i­ty. Evo­lu­tion­ary the­o­ry may seem on its face to be a fair­ly sim­ple expla­na­tion of the facts—all life begins as sin­gle-celled organ­isms, then changes and adapts in response to its envi­ron­ment, branch­ing and devel­op­ing into mil­lions of species over bil­lions of years. But the jour­ney Dar­win took to arrive at this idea was hard­ly straight­for­ward and it cer­tain­ly didn't arrive in one eure­ka moment of enlight­en­ment.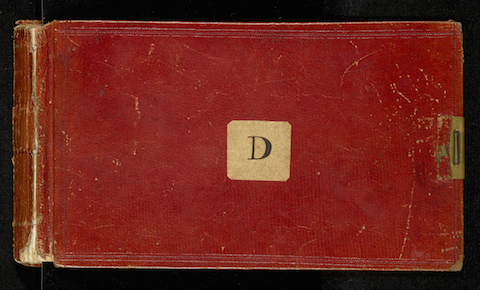 The process for him took over two decades, rep­re­sent­ed by the hun­dreds of pages of notes he left behind, all of which will be freely avail­able online at the Dar­win Man­u­scripts Project at the Amer­i­can Muse­um of Nat­ur­al His­to­ry in 2015. This means 30,000 dig­i­tized doc­u­ments, like the naturalist's first "Tree of Life" at the top of the page, from a July 1837 note­book entry, and Trans­mu­ta­tion Note­book D above, the first note­book in which Dar­win began work­ing on the the­o­ry of nat­ur­al selec­tion.
The Muse­um has cur­rent­ly announced that it is a lit­tle over the halfway point, with just over 16,000 dig­i­tized doc­u­ments that cov­er, they write, "the 25-year peri­od in which Dar­win became con­vinced of evo­lu­tion; dis­cov­ered nat­ur­al selec­tion; devel­oped expla­na­tions of adap­ta­tion, spe­ci­a­tion, and a branch­ing tree of life and wrote the Ori­gin [of Species]." Direc­tor of the project David Kohn describes that lat­ter famous work as "the mature fruit of a pro­longed process of sci­en­tif­ic explo­ration and cre­ativ­i­ty that began toward the end of his Bea­gle voy­age… and that con­tin­ued to expand in range and deep­en in con­cep­tu­al rig­or through numer­ous well-marked stages."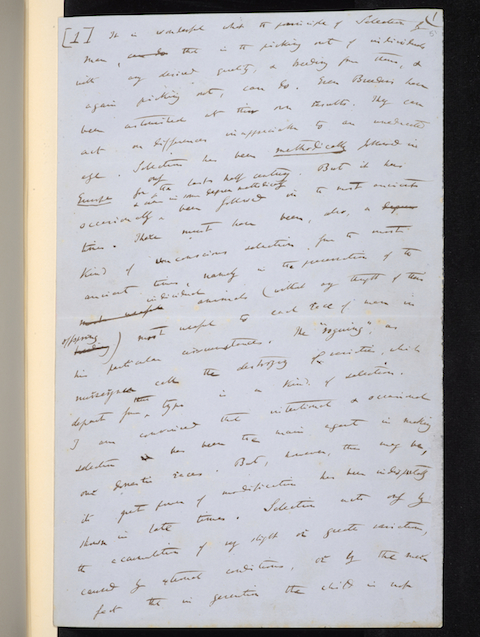 Now his­to­ri­ans of sci­ence can trace those stages as though they were a fos­sil record, start­ing with that famous H.M.S. Bea­gle voy­age, in which the young Dar­win sailed from South Amer­i­ca to the Pacif­ic Islands—stopping at numer­ous sites, includ­ing the Gala­pa­gos Islands of course, and col­lect­ing sam­ples and mak­ing obser­va­tions. The jour­ney pro­duced a live­ly account, 1839's Voy­age of the Bea­gle, pre­lude to the ful­ly devel­oped the­o­ry pre­sent­ed 20 years lat­er in On the Ori­gin of Species. Look­ing into the Bea­gle voy­age sec­tion, you'll find hun­dreds of pages of notes, like that above on Gala­pa­gos mock­ing­birds. Darwin's hand­writ­ing will present a chal­lenge, which is why, Hyper­al­ler­gic tells us, the project is "adding tran­scrip­tions and a schol­ar­ly struc­ture to its high-res­o­lu­tion images."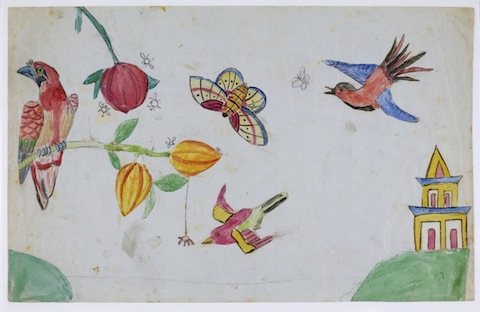 Hyper­al­ler­gic also sums up the remain­ing con­tents of the huge archive, which in addi­tion to the Bea­gle mate­r­i­al will fea­ture every­thing "from the rest of his life, which he spent defend­ing his work." This means "scrib­blings in books he stud­ied, abstracts, his own book drafts, arti­cles and their revi­sions, jour­nals he read, and his note­books on trans­mu­ta­tion." You'll also find "some charm­ing odd­i­ties" like draw­ings by the scientist's chil­dren (above) on the back of orig­i­nal Ori­gin man­u­script pages. Learn much more about the archive, and Darwin's life­long work, at the Amer­i­can Muse­um of Nat­ur­al History's Dar­win Man­u­script Project site.
Relat­ed Con­tent:
What Did Charles Dar­win Read? See His Hand­writ­ten Read­ing List & Read Books from His Library Online
Read the Orig­i­nal Let­ters Where Charles Dar­win Worked Out His The­o­ry of Evo­lu­tion
Trace Darwin's Foot­steps with Google's New Vir­tu­al Tour of the Gala­pa­gos Islands
New Ani­mat­ed Web Series Makes the The­o­ry of Evo­lu­tion Easy to Under­stand
Josh Jones is a writer and musi­cian based in Durham, NC. Fol­low him at @jdmagness