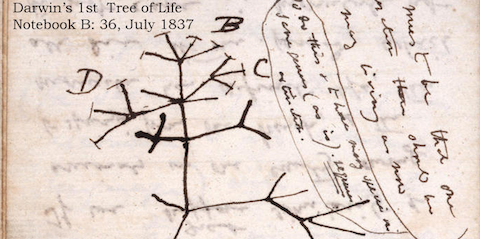 The Darwinian theory of evolution is an amazing scientific idea that seems, at least to a layperson like me, to meet all the criteria for what scientists like Ian Glynn praise highly as "elegance"—all of them perhaps except one: Simplicity. Evolutionary theory may seem on its face to be a fairly simple explanation of the facts—all life begins as single-celled organisms, then changes and adapts in response to its environment, branching and developing into millions of species over billions of years. But the journey Darwin took to arrive at this idea was hardly straightforward and it certainly didn't arrive in one eureka moment of enlightenment.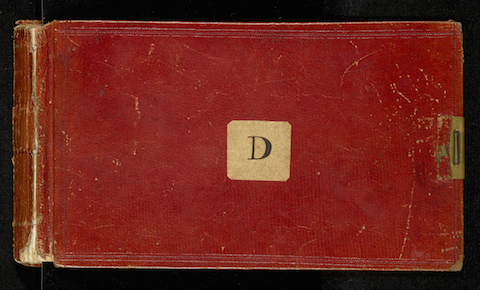 The process for him took over two decades, represented by the hundreds of pages of notes he left behind, all of which will be freely available online at the Darwin Manuscripts Project at the American Museum of Natural History in 2015. This means 30,000 digitized documents, like the naturalist's first "Tree of Life" at the top of the page, from a July 1837 notebook entry, and Transmutation Notebook D above, the first notebook in which Darwin began working on the theory of natural selection.
The Museum has currently announced that it is a little over the halfway point, with just over 16,000 digitized documents that cover, they write, "the 25-year period in which Darwin became convinced of evolution; discovered natural selection; developed explanations of adaptation, speciation, and a branching tree of life and wrote the Origin [of Species]." Director of the project David Kohn describes that latter famous work as "the mature fruit of a prolonged process of scientific exploration and creativity that began toward the end of his Beagle voyage… and that continued to expand in range and deepen in conceptual rigor through numerous well-marked stages."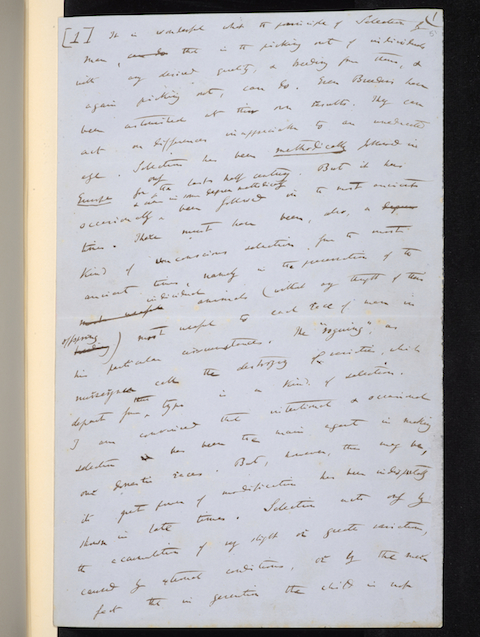 Now historians of science can trace those stages as though they were a fossil record, starting with that famous H.M.S. Beagle voyage, in which the young Darwin sailed from South America to the Pacific Islands—stopping at numerous sites, including the Galapagos Islands of course, and collecting samples and making observations. The journey produced a lively account, 1839's Voyage of the Beagle, prelude to the fully developed theory presented 20 years later in On the Origin of Species. Looking into the Beagle voyage section, you'll find hundreds of pages of notes, like that above on Galapagos mockingbirds. Darwin's handwriting will present a challenge, which is why, Hyperallergic tells us, the project is "adding transcriptions and a scholarly structure to its high-resolution images."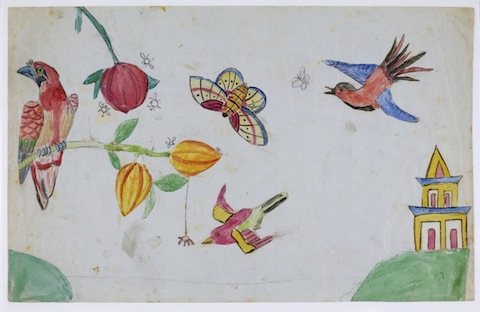 Hyperallergic also sums up the remaining contents of the huge archive, which in addition to the Beagle material will feature everything "from the rest of his life, which he spent defending his work." This means "scribblings in books he studied, abstracts, his own book drafts, articles and their revisions, journals he read, and his notebooks on transmutation." You'll also find "some charming oddities" like drawings by the scientist's children (above) on the back of original Origin manuscript pages. Learn much more about the archive, and Darwin's lifelong work, at the American Museum of Natural History's Darwin Manuscript Project site.
Related Content:
What Did Charles Darwin Read? See His Handwritten Reading List & Read Books from His Library Online
Read the Original Letters Where Charles Darwin Worked Out His Theory of Evolution
Trace Darwin's Footsteps with Google's New Virtual Tour of the Galapagos Islands
New Animated Web Series Makes the Theory of Evolution Easy to Understand
Josh Jones is a writer and musician based in Durham, NC. Follow him at @jdmagness