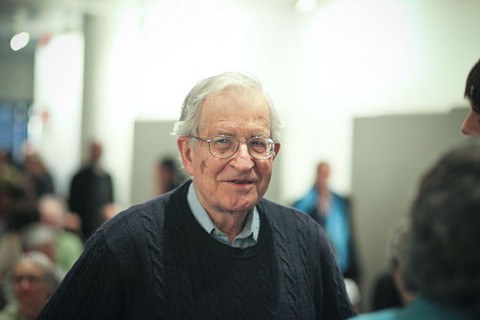 Image by jeanbaptisteparis
There are those guest hosts on Saturday Night Live who immediately become exemplary cast members they fit in so well. I'm thinking mostly of Alec Baldwin. Then there are those—certain pop stars and athletes—who are too awkward even to make for unintentional humor. Sometimes the show will choose a host for obvious cultural or political reasons, whether or not that person has any sense of humor whatsoever. Lorne Michaels even once considered asking notoriously stiff then-presidential candidate Mitt Romney to host in 2012, a prospect that excited no one except maybe Romney.
Given the show's many questionable choices, it's maybe not too surprising that it would consider asking an academic to host. Some extroverted public intellectuals, like Cornell West and Slavoj Zizeck, are natural entertainers. But that they would think of Noam Chomsky—known for his rumpled sweaters and incisive, unsparing geopolitical analysis, delivered in the driest monotone this side of Ben Stein's Ferris Bueller's Day Off character—is, well, pretty odd.
It does make a little bit more sense considering that they only asked Professor Chomsky to play himself on the show, not deliver a monologue or do impersonations. According to his assistant Bev Stohl, the show called sometime in the late 90s and told her that the "writers had written a loose script for Noam. The only thing he needed to do was show up on the set and play it straight, answering the questions that were put to him. Sort of like, 'I'm Noam Chomsky, and I play myself on TV.'" Mostly, writes Stohl on her blog, "I liked the idea of Noam appearing in mainstream media, something that was just beginning to happen in small ways in the 1990's."
And how did Chomsky himself feel about the request? It seems he was vaguely familiar with the show and open to the idea. His wife, on the other hand, was not. "After a brief exchange" with her, writes Critical Theory, "he informed Stohl that 'Carol says no.'" We'll never know if we were "robbed of either the greatest SNL skit ever" or spared "another terribly unfunny segment," but the question of whether Chomsky can be funny is still an open one. Matthew Alford at The Guardian writes that during the Q&A after a lecture he attended, "Chomsky was successful not only at conveying his radical political message but also at raising belly laughs from the audience with dark-laced, insightful humour about his politics." Alford says he measured "a laugh every couple of minutes—very high for a public intellectual but of course not close to the professional comic's benchmark of one gag every 20 seconds." He offers some typical Chomsky-an one-liners, such as:
"[The Bush administration's] moral values are very explicit: shine the boots of the rich and powerful, kick everyone else in the face, and let your grandchildren pay for it."
"If you've resisted the temptation to tell the teacher 'you're an asshole' which maybe he or she is, and if you don't say 'that's idiotic' when you get a stupid assignment… you will end up at a good college and eventually with a good job."
And "It's to the point where Ronald Reagan could put on his cowboy boots and cowboy hat and declare a national emergency because the national security of the United States was in danger from the government of Nicaragua… whose troops were two days from Texas."
Above, you can catch a glimpse of the lighter side of Chomsky.
via Critical Theory
Related Content:
Noam Chomsky Went Gangnam Style … Ever So Briefly?
Filmmaker Michel Gondry Presents an Animated Conversation with Noam Chomsky
Noam Chomsky Spells Out the Purpose of Education
Josh Jones is a writer and musician based in Durham, NC. Follow him at @jdmagness