Next time you see the still-youthful and musically prolific Paul McCartney, take a good hard look and ask yourself, "is it really him?" Can you be sure? Because maybe, just maybe, the conspiracy theorists are right—maybe Paul did die in a car accident in 1966 and was replaced by a double who looks, sounds, acts, and writes almost exactly like him. Almost. It's possible. Entirely implausible, wholly improbable, but within the realm of physical possibility.
In fact, the rumor of Paul's death and replacement by some kind of pod person imposter cropped up not once, but twice during the sixties. First, in January, 1967, immediately after an accident involving McCartney's Mini Cooper that month. The car, driven by Moroccan student Mohammad Hadjij, crashed on the M1 after leaving McCartney's house en route to Keith Richard's Sussex Mansion. Hadjij was hospitalized, but not killed, and Paul, riding in Mick Jagger's car, arrived at the destination safely.
The following month, the Beatles Book Monthly magazine quashed rumors that Paul had been driving the Mini and had died, writing, "there was absolutely no truth in it at all, as the Beatles' Press Officer found out when he telephoned Paul's St. John's Wood home and was answered by Paul himself who had been at home all day with his black Mini Cooper Safely locked up in the garage." "The magazine," writes the Beatles Bible, "downplayed the incident, and claimed the car was in McCartney's possession."
In 1969, rumors of Paul's death and a conspiracy to cover it up began circulating again, this time with an impressive apparatus that included publications in college and local newspapers, discussions on several radio shows, a university research team, and enough esoteric clues to keep highly suspicious, stoned, and/or paranoid, minds guessing for decades afterward. The formless gossip first officially took shape in print in the article "Is Beatle Paul McCartney Dead?" in Iowa's Drake University student newspaper, the Times-Delphic. Cataloguing "an amazing series of photos and lyrics on the group's albums" that pointed to "a distinct possibility that McCartney may indeed be insane, freaked out, even dead," the piece dives headfirst into the kind of bizarre analysis of disparate symbols and tenuous coincidences worthy of the most dogged of today's conspiracy-mongers.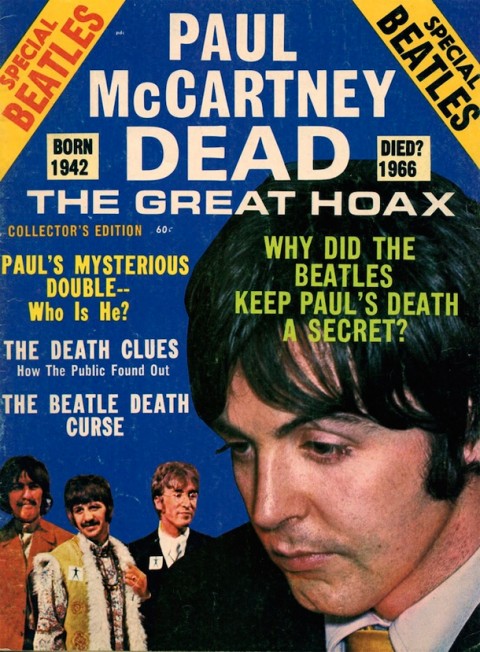 Invoked are ephemera like "a mysterious hand" raised over Paul's head on the Sgt. Pepper's cover—"an ancient death symbol of either the Greeks or the American Indians"—and Paul's bass, lying "on the grave at the group's feet." The lyric "blew his mind out in a car" from "A Day in the Life" comes up, and more photographic evidence from the album's back cover and centerfold photo. Evidence is produced from Magical Mystery Tour and The White Album. Of the latter, you've surely heard, or heard of, the voice seeming to intone, "Turn me on, dead man," and "Cherish the dead," when "Revolution No. 9" is played backwards. Only a college dorm room could have nurtured such a discovery.
The article reads like a parody—similar to the subversive, half-serious satirical weirdness common to the mid-sixties hippie scene. But whether or not its author, Tim Harper, meant to pull off a hoax, the Paul is dead meme went viral when it hit the airwaves the following month. First, a caller to Detroit radio station WKNR transmitted the theory to DJ Russ Gibb. Their hour-long conversation lead to a review of Abbey Road in The Michigan Daily titled "McCartney Dead; New Evidence Brought to Light." With tongue in cheek, writer Fred LaBour called the death and replacement of Paul "the greatest hoax of our time and the subsequent founding of a new religion based upon Paul as Messiah." In the mode of paranoid conspiracy theory so common to the time—a genre mastered by Thomas Pynchon as a literary art—LaBour invented even more clues, inadvertently feeding a public hungry for this kind of thing. "Although clearly intended as a joke," writes the Beatles Bible, "it had an impact far wider than the writer and his editor expected."
Part of the aftermath came in two more radio shows that October of 1969. First, in two parts at the top, New York City DJ Roby Yonge makes the case for McCartney's death on radio station WABC-AM. Recycling many of the "clues" from the previous sources, he also contends that a research team of 30 students at Indiana University has been put on the case. Yonge plainly states that some of the clues only emerge "if you really get really, really high… on some, you know, like, mind-bending drug," but this proviso doesn't seem to undermine his confidence in the shaky web of connections.
Was Yonge's broadcast just an attention grabbing act? Maybe. The next Paul is Dead radio show, just above, is most certainly an Orson Welles-like publicity stunt. Broadcast on Halloween night, 1969, on Buffalo, NY's WKBW, the show employs several of the station's DJs, who construct a detailed and dramatic narrative of Paul's death. The broadcast indulges the same album-cover and lyric divination of the earlier Paul is Dead media, but by this time, it's grown pretty hoary. But for a small contingent of die-hards, the rumor was mostly put to rest just a few days later when Life magazine published a cover photograph of Paul—who had been out of the public eye after the Beatles' breakup—with his wife Linda and their kids. Paraphrasing Mark Twain, McCartney famously remarked in the interview inside, "Rumors of my death have been greatly exaggerated," and added, "If I was dead, I'm sure I'd be the last to know."
In later interviews, the Beatles denied having anything to do with the hoax. Lennon told Rolling Stone in 1970 that the idea of them intentionally planting obscure clues in their albums "was bullshit, the whole thing was made up." The hoax did make for some interesting publicity—even featuring in the storyline of a Batman comics issue—but the band mostly found it baffling and annoying. Certain fans, however, refused to let it die, and there are those who still swear that Paul's imposter, allegedly named Billy Shears and sometimes called "Faul," still walks the earth. Paul is Dead websites proliferate on the internet—some more, some less convincing; all of them outlandish, and all offering a fascinating descent into the seemingly bottomless rabbit hole of conspiracy theory. If that's your kind of trip, you can easily get lost—as did pop culture briefly in 1969—in endless "Paul is Dead" speculation.
Related Content:
Paul McCartney's Conceptual Drawings For the Abbey Road Cover and Magical Mystery Tour Film
Chaos & Creation at Abbey Road: Paul McCartney Revisits The Beatles' Fabled Recording Studio
Hear Isolated Tracks From Five Great Rock Bassists: McCartney, Sting, Deacon, Jones & Lee
Josh Jones is a writer and musician based in Durham, NC. Follow him at @jdmagness