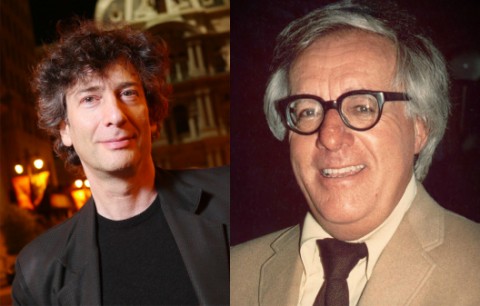 Neil Gaiman sent Ray Bradbury a gift for what turned out to be his last birthday, his 91st. It was a story called "The Man Who Forgot Ray Bradbury." And when Bradbury's editor read it to the bed-ridden author, he reportedly took great pleasure in it.
What could have been better? I guess only hearing Neil Gaiman read the story himself. Which is precisely what you can do with the audio below.
Gaiman's reading was taped at the Aladdin Theater in Portland, Oregon. You can read the text of the story over at i09. We have many more instances of Gaiman reading Gaiman in our collection of Free Neil Gaiman Stories.
Would you like to support the mission of Open Culture? Please consider making a donation to our site. It's hard to rely 100% on ads, and your contributions will help us continue providing the best free cultural and educational materials to learners everywhere.
Also consider following Open Culture on Facebook and Twitter and sharing intelligent media with your friends. Or sign up for our daily email and get a daily dose of Open Culture in your inbox. 
Related Content:
Neil Gaiman's Free Short Stories
Hear Neil Gaiman Read A Christmas Carol Just as Dickens Read It
Neil Gaiman Reads Dr. Seuss' Green Eggs and Ham