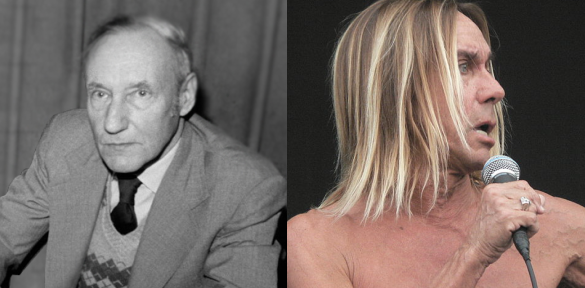 William S. Burroughs is one of the most mythologized American authors of the 20th century. When you recall the details of his life, they read like the biography of a fictional character. He was an unabashed heroin addict yet he dressed like a dapper insurance salesman. He was openly, militantly gay at a time when homosexuality wasn't even mentioned in polite society. He shot his wife, Joan Vollmer, in Mexico City while playing an ill-conceived game of William Tell and then spent years in Tangiers indulging in every possible vice while writing Naked Lunch, which happened to be one of the most controversial books of the century. And his writing influenced just about everyone you consider cool.
This week is the 101st birthday of Burroughs. To mark the occasion, This American Life aired a BBC documentary on Burroughs's life. The show is narrated by Iggy Pop whose voice, in announcer mode, bears an uncanny resemblance to Sam Elliot. Pop relates how Burroughs influenced Kurt Cobain, punk rock and Bob Dylan, and how he himself lifted lyrics from Burroughs for his most popular song, and unlikely Carnival Cruise jingle, "Lust for Life."
As Ira Glass notes, the documentary paints a clear picture of why he is such a revered figure – going into detail about his writing, his hugely influential "Cut Up" method, his obsession with cats – while never buying into his mystique. In fact, one of the most interesting parts of the doc is a damning appraisal of Burroughs's cool junkie persona by author Will Self, who was himself an addict for a couple of decades. You can listen to the whole episode above.
If you would like to sign up for Open Culture's free email newsletter, please find it here.
If you would like to support the mission of Open Culture, consider making a donation to our site. It's hard to rely 100% on ads, and your contributions will help us continue providing the best free cultural and educational materials to learners everywhere. You can contribute through PayPal, Patreon, and Venmo (@openculture). Thanks!
Related Content: 
William S. Burroughs Reads His First Novel, Junky
William S. Burroughs on the Art of Cut-up Writing
William S. Burroughs Explains What Artists & Creative Thinkers Do for Humanity
550 Free Audio Books: Download Great Books for Free
William S. Burroughs on Saturday Night Live, 1981
Jonathan Crow is a Los Angeles-based writer and filmmaker whose work has appeared in Yahoo!, The Hollywood Reporter, and other publications. You can follow him at @jonccrow. And check out his blog Veeptopus, featuring lots of pictures of badgers and even more pictures of vice presidents with octopuses on their heads.  The Veeptopus store is here.