Not too long ago, an older relative tried to donate the Funk & Wagnalls encyclopedia he'd owned since boyhood to a local charity shop, but they refused to take it.
What an ignominious end to an institution that had followed him for seven decades and twice as many moves. Like many such weighty possessions, its provenance was sentimental, a graduation gift I believe, bestowed all at once, rather than purchased piecemeal from a traveling encyclopedia salesman.
By the time I came along, its function had been reduced to the primarily decorative. Every now and then, he'd find some pretext to pull one of its many volumes from the shelf.
Did I know that Tanzania was once called Tanganyika?
And Thailand was once Siam!
The vintage Funk & Wagnalls' many facts, maps, and illustrations were not the only aspects in need of an update. Its pre-Women's Lib, pre-Civil Rights attitudes were shocking to the point of camp. There was unintentional comic gold in those pages. A collage artist could've had a ball. Witness the success of the Encyclopedia Show, an ongoing performance event in Chicago.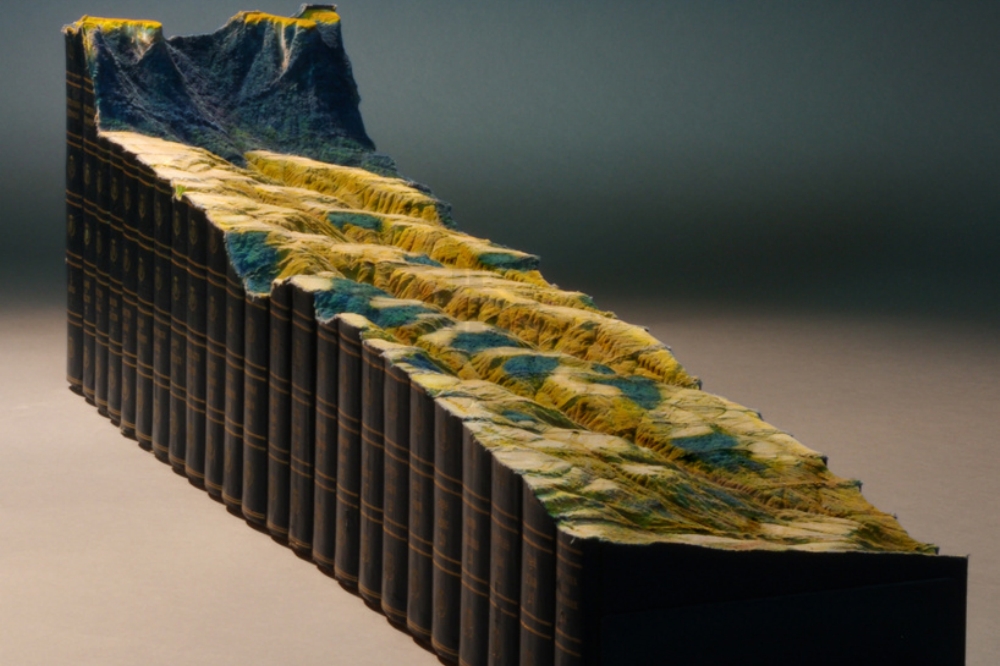 Multidisciplinary artist Guy Laramée takes a much more sober approach, above. Adieu, his sculptural repurposing of a 24-volume Encyclopedia Britannica feels like a memento mori for a dimly recalled ancestor of the information age.
Quoth the artist:
I carve landscapes out of books and I paint romantic landscapes. Mountains of disused knowledge return to what they really are: mountains. They erode a bit more and they become hills. Then they flatten and become fields where apparently nothing is happening. Piles of obsolete encyclopedias return to that which does not need to say anything, that which simply IS. Fogs and clouds erase everything we know, everything we think we are.
An enemy of 3D printing and other 21st-century technological advances, Laramée employs old fashioned power tools to accomplish his beautiful, destructive vision. What's left is a deliberate wasteland.
Kudos to filmmaker Sébastien Ventura for transcending mere documentation to deliver the befitting elegy at the top of the page. He presents us with a beautiful ruin. Whatever happened there, nature will reclaim it.
You can see more of Laramée's work at This Is Colossal.
Related Content:
Artist Takes Old Books and Gives Them New Life as Intricate Sculptures
The Sketchbook Project Presents Online 17,000 Sketchbooks, Created by Artists from 135 Countries
The Metropolitan Museum of Art Puts 400,000 High-Res Images Online & Makes Them Free to Use
Ayun Halliday is an author, illustrator, and Chief Primatologist of the East Village Inky zine. Follow her @AyunHalliday