It seems per­fect­ly nat­ur­al to us that ani­ma­tion is a medi­um dom­i­nat­ed by cel-by-cel draw­ings, whether made with paint and brush or mouse and soft­ware. But it might have been oth­er­wise. After all, some ani­mat­ed films and videos have been made in less con­ven­tion­al for­mats with less con­ven­tion­al mate­ri­als. In the past, we've fea­tured here stop-motion ani­ma­tions made with dead bugs, inno­v­a­tive pin­screen ani­ma­tions, unusu­al cutout ani­ma­tions, and the "destruc­tive ani­ma­tion" of paint­ed plas­ter. And today, we bring you the live-action sand ani­ma­tion of Hun­gar­i­an artist Fer­enc Cakó, who projects his work on a screen for a the­atri­cal audi­ence. These more sculp­tur­al forms may be more painstak­ing than tra­di­tion­al cel ani­ma­tion, and for that rea­son more rare, but they are also often much more inter­est­ing.
Cakó per­forms his "sand ani­ma­tions," all over the world, to the accom­pa­ni­ment of clas­si­cal com­po­si­tions like Bach's Orches­tral Suite No. 3 in D major and Orf­f's Carmi­na Burana. Here we have his ani­mat­ed inter­pre­ta­tion of the most well-known work of Vival­di, the Four Sea­sons ("Spring" and "Sum­mer" above, "Autumn" and "Win­ter" below.) The effect of Cakó's live tech­nique is mes­mer­iz­ing; his hands and arms break the fourth wall in broad ges­tures under which suc­ces­sions of images take shape. His sand draw­ings tend to be rather static—instead the ani­mat­ed ele­ments in Cakó's sand ani­ma­tions are his hands as he push­es the sand around, rapid­ly form­ing it into faces, flocks of birds, angry clouds. These are quick­ly wiped away and remade into trees, fright­ened hors­es, soli­tary shep­herds….
Watch­ing him work rais­es many a ques­tion: Is Cakó using from sto­ry­boards? (No.) How much of his live ani­ma­tion does he impro­vise? (A good deal.) And why sand, any­way? (It's dry.) You will find more com­pre­hen­sive answers to these ques­tions and many more in an inter­view post­ed on Cakó's web­site. Allud­ing to the dif­fi­cul­ty of his work, com­pound­ed by its per­for­ma­tive aspect, Cakó says, "Sand can­not be cor­rect­ed, so while work­ing I do not have con­trol, no motion con­trol. I do not have any oppor­tu­ni­ty, which car­toon­ists do, such as the trac­ing paper phase, dur­ing which they either draw the lines or scan them in the com­put­er." In oth­er words, this is unique­ly dif­fi­cult art that requires the skills of a unique­ly con­fi­dent artist.
Cakó's web­site also con­tains pho­tos of the artist at work, a biog­ra­phy that is also a film‑, art‑, and per­for­mance-ogra­phy, and a page devot­ed specif­i­cal­ly to script­ing "the way Mr Cakó should be announced," com­plete with inex­plic­a­ble uses of paren­the­ses. It's a fit­ting bit of brava­do for an artist who has legal­ly copy­right­ed his process.
(Ladies and Gen­tle­men, what you shall see tonight, is a)

Live Sand Ani­ma­tion Per­for­mance, cre­at­ed by Mr Cako, right here by his hands, to the rhythm of the music.

(on the stage and on the screen…….. Mr Fer­enc Cako!)
See many more "sandanimations"—and "paint animations"—at Cakó's YouTube chan­nel.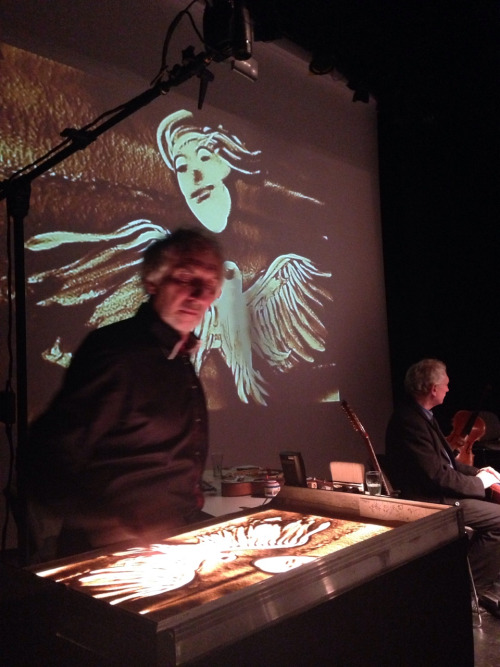 Relat­ed Con­tent:
Watch The Amaz­ing 1912 Ani­ma­tion of Stop-Motion Pio­neer Ladis­las Stare­vich, Star­ring Dead Bugs
Niko­lai Gogol's Clas­sic Sto­ry, "The Nose," Ani­mat­ed With the Aston­ish­ing Pin­screen Tech­nique (1963)
Watch Piotr Dumala's Won­der­ful Ani­ma­tions of Lit­er­ary Works by Kaf­ka and Dos­to­evsky
Josh Jones is a writer and musi­cian based in Durham, NC. Fol­low him at @jdmagness