Some enthusiasts of 19th-century American psychological horror master (or, in a very real sense, 19th-century American psychological horror inventor) Edgar Allan Poe find his work best read aloud. Thus we've previously featured Poe delivered in the gravitas-filled voices of such noted thespians as Vincent Price, Basil Rathbone, Christopher Walken, Christopher Lee, and James Mason. Mason did the reading (above) as a narration for a 1953 animated short The Tell-Tale Heart, adapting Poe's 1843 story of the same name, which drew both an Academy Award nomination for Best Animated Short Film and — perhaps more in line with the Poe sensibility — a rating of "X" from the British Board of Film Censors.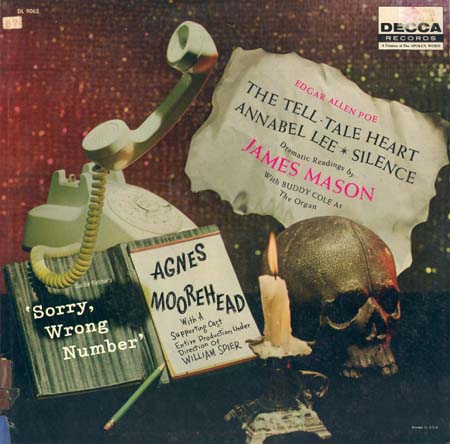 WFMU managed to dig up even more Poe as read by Mason, three tracks of which they posted to their blog one Halloween, all with "creepy and dramatic organ stylings by Buddy Cole, who no doubt wore an Inverness cape for the occasion." They come from a 1958 release from Decca Records, featuring Mason's readings of not just "The Tell-Tale Heart" [MP3] but Poe's cryptic fable "Silence" [MP3—below] and haunting final poem "Annabel Lee" [MP3—bottom]. (The flip side of the album offers something completely different, in the form of Agnes Moorehead "and a supporting cast" performing Lucille Fletcher's radio play "Sorry, Wrong Number.")
Opinions on who reads Poe most effectively will differ from listener to listener, but if you'd like to make a partial but direct comparison for yourself, simply line up Mason's rendition of "The Tell-Tale Heart" on a playlist with the ones we've previously posted by Christopher Lee, Basil Rathbone — and of course, Iggy Pop. It may have become Poe's best-known story in the first place by having retained its impact over all these 172 years, but having such a range of performative personalities interpret it can't hurt in keeping it as eerie as ever.
Related Content:
Iggy Pop Reads Edgar Allan Poe's Classic Horror Story, "The Tell-Tale Heart"
5 Hours of Edgar Allan Poe Stories Read by Vincent Price & Basil Rathbone
Edgar Allan Poe's "The Raven," Read by Christopher Walken, Vincent Price, and Christopher Lee
Hear Orson Welles Read Edgar Allan Poe on a Cult Classic Album by The Alan Parsons Project
Edgar Allan Poe Animated: Watch Four Animations of Classic Poe Stories
Download The Complete Works of Edgar Allan Poe on His Birthday
Colin Marshall writes elsewhere on cities, language, Asia, and men's style. He's at work on a book about Los Angeles, A Los Angeles Primer, the video series The City in Cinema, and the crowdfunded journalism project Where Is the City of the Future? Follow him on Twitter at @colinmarshall or on Facebook.