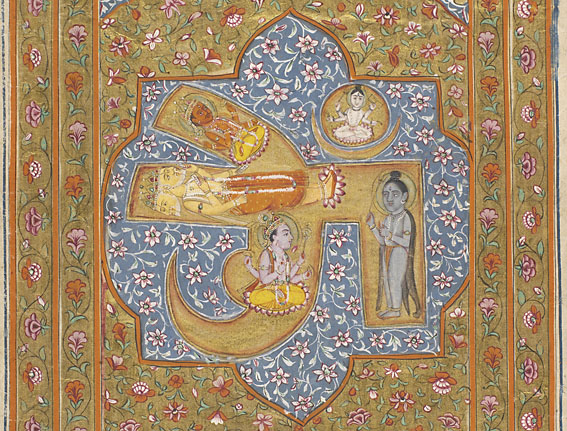 Perhaps you've heard of a phenomenon called "podfade," wherein a podcast — particularly an ambitious podcast — begins by putting out episodes regularly, then misses one or two, then lets more and more time elapse between each episode, one day ceasing to update entirely. It pleases us to report that The History of Philosophy Without Any Gaps, the podcast offering just that, on whose progress we've kept you posted over the past three years, not only shows no signs of podfade, but has even broadened its mandate to include a greater variety of philosophical traditions than before.
For those who haven't heard the show, The History of Philosophy Without Any Gaps comes from Peter Adamson, philosophy professor at Ludwig Maximilians University Munich and King's College London, and "looks at the ideas, lives and historical context of the major philosophers as well as the lesser-known figures of the tradition."
The main show has put out 379 episodes so far, beginning with the pre-Socratics (specifically Thales) and most recently examining Franciscan poverty, and now a new branch has grown, starting from Adamson and collaborator Jonardon Ganeri's introduction to Indian Philosophy. (Hear the first episode of the Indian Philosophy series below.)
Episodes of this new series on the Indian tradition, Adamson writes, "will appear in alternating weeks with episodes on European philosophy." He also mentions a "further ambition to cover the other philosophical traditions of Asia (especially Chinese) and also African philosophy and the philosophy of the African diaspora, but of course India will take a while so you'll have to be patient if you are waiting for me to get to that!"
You can subscribe to The History of Philosophy Without Any Gaps' Indian philosophy series on its very own podcast RSS feed, or on iTunes here. Philosophically-minded binge-listeners beware; you could lose a lot of time to these two shows. "I've been doing my laundry to it for months and I'm only up to Maimonides," says one commenter on a Metafilter thread about the new series. "I am totally not ready for this Patañjali."
Related Content:
200+ Free Online Philosophy Courses
A History of Philosophy in 81 Video Lectures: A Free Course That Explores Philosophy from Ancient Greece to Modern Times
Death: A Free Philosophy Course from Yale
Introduction to Political Philosophy: A Free Online Course from Yale University
Colin Marshall writes elsewhere on cities, language, Asia, and men's style. He's at work on a book about Los Angeles, A Los Angeles Primer, the video series The City in Cinema, and the crowdfunded journalism project Where Is the City of the Future? Follow him on Twitter at @colinmarshall or on Facebook.