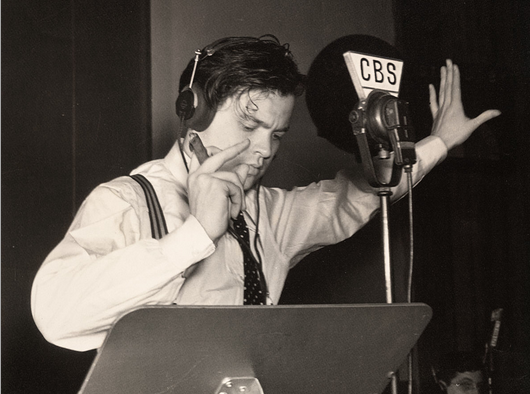 There has rarely ever been an artist more ful­ly in com­mand of as many dif­fer­ent art forms as Orson Welles dur­ing his height — the late 1930s and ear­ly 40s. He rev­o­lu­tion­ized the stage, radio and cin­e­ma before the age of 26 and became a house­hold name in the process.
Welles's first brush with nation­al fame came at the age of 20 when he staged an all-black pro­duc­tion of Mac­beth in Harlem. The 1936 play was ground­break­ing both for its strik­ing sets and its dar­ling inter­pre­ta­tion that set Shakespeare's bloody trag­ic in Haiti. But per­haps the most remark­able aspect of this pro­duc­tion was that it was done entire­ly with non-actors. Through sheer charis­ma and force of will, Welles coaxed and cajoled ter­rif­ic per­for­mances out of day labor­ers and fac­to­ry work­ers.
Two years lat­er, in 1938, Welles end­ed up on the cov­er of TIME Mag­a­zine for his stag­ing of Julius Cae­sar. He set the play in con­tem­po­rary fas­cist Italy. It was a bold choice that turned a 340 year-old play into a work of great polit­i­cal urgency.
That same year, Welles also man­aged to freak out the nation with his bril­liant, wild­ly irre­spon­si­ble adap­ta­tion of War of the Worlds. Welles staged the beloved sci-fi nov­el as if it were a news report. The broad­cast cap­tured the dra­ma and ter­ror of an emerg­ing calami­ty all too well; it caused a pub­lic pan­ic.
Now you can lis­ten to that infa­mous radio play along with 61 hours of oth­er radio plays, all cre­at­ed by Welles for his 1930s radio show, The Mer­cury The­atre on the Air. The Spo­ti­fy playlist, embed­ded below, includes A Christ­mas Car­ol, Heart of Dark­ness and even a rehearsal for Julius Cae­sar. Check it out. And if you need Spo­ti­fy's free soft­ware, down­load it here.
Or if Spo­ti­fy isn't your thing, you can lis­ten to anoth­er big col­lec­tion of Welles's radio dra­mas below at archive.org. Start stream­ing that col­lec­tion here:
The noto­ri­ety of Welles' radio work land­ed him one of the most gen­er­ous movie con­tracts in Hol­ly­wood stu­dio his­to­ry. This is dou­bly impres­sive because, at this stage in his life, Welles had no idea how to actu­al­ly make a film. The result­ing movie was a barbed, thin­ly veiled film à clef of one of the most pow­er­ful men in Amer­i­ca – William Ran­dolph Hearst. This proved to be a ter­ri­ble career move; Hearst's wrath derailed Welles's career for years but it did pro­duce a pret­ty good movie – Cit­i­zen Kane.
Via Cri­te­ri­on
Relat­ed Con­tent:
Young Orson Welles Directs "Voodoo Mac­beth," the First Shake­speare Pro­duc­tion With An All-Black Cast: Footage from 1936
Orson Welles' Icon­ic War of the Worlds­Broad­cast (1938)
Lis­ten to Eight Inter­views of Orson Welles by Film­mak­er Peter Bog­danovich (1969–1972)
Watch Orson Welles' The Stranger Free Online, Where 1940s Film Noir Meets Real Hor­rors of WWII
The Hearts of Age: Orson Welles' Sur­re­al­ist First Film (1934)
Orson Welles Explains Why Igno­rance Was His Major "Gift" to Cit­i­zen Kane
Jonathan Crow is a Los Ange­les-based writer and film­mak­er whose work has appeared in Yahoo!, The Hol­ly­wood Reporter, and oth­er pub­li­ca­tions. You can fol­low him at @jonccrow. And check out his blog Veep­to­pus, fea­tur­ing lots of pic­tures of vice pres­i­dents with octo­pus­es on their heads. The Veep­to­pus store is here.