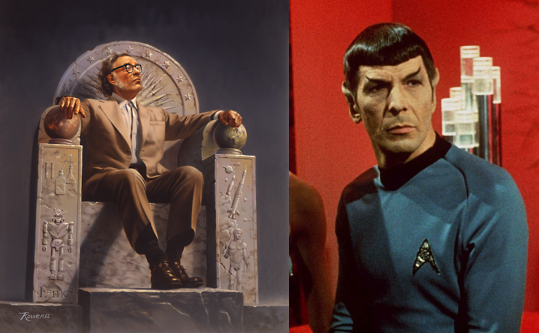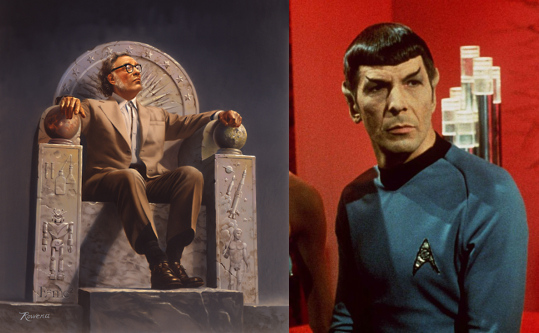 When we think of a science fiction, most of us doubtless think of a Star Trek. Since the original series made its television debut almost a half-century ago, the speculative future it created has come to stand, in many minds, as the very model of the science-fictional enterprise (as it were). But the institution of Star Trek in all its forms — TV shows, movies, movies made out of TV shows, novels, video games, action figures, and so on — still has its detractors, and back at the very beginning it hardly looked like a sure success. Geek.com's list of five things that nearly killed off Star Trek includes a failed pilot, a near-firing of Leonard Nimoy, and the words of no less a science-fiction titan than Isaac Asimov.
"Star Trek," wrote its creator Gene Roddenberry in 1966, "almost did not get on the air because it refused to do juvenile science fiction, because it refused to put a 'Lassie' aboard the space ship, and because it insisted on hiring Dick Matheson, Harlan Ellison, A.E. Van Vogt, Phil Farmer, and so on." This came as part of a response to Asimov, who, in a TV Guide article entitled "What Are a Few Galaxies Among Friends?," criticized Star Trek for getting the science wrong. He cites, for example, a line about a gaseous cloud "one-half light year outside the Galaxy," which he likens to "saying a house is one-half yard outside the Mississippi Basin."
Measurement flubs aside, Star Trek, despite its cancellation after three seasons, had become so big by the early 1970s that its fans had begun to put on whole conventions dedicated to the show. You can see in the clip above one such event in 1973, which provides proof that even Asimov had turned fan. He speaks of his appreciation for the show three times during the video, now describing Star Trek as the "sanest" and "most meaningful" program of its kind, one that "tackled real social problems," was "not devoted entirely to adventure," and had "fully realized characters" (citing Mr. Spock as Exhibit A). He may still have objected to the infamous split infinitive "to boldly go" (once a nitpicker, always a nitpicker), but he still thought the show "really presented the brotherhood of intelligence."
After Asimov wrote his initial critique in TV Guide, he and Gene Roddenberry exchanged letters, and the two formidable sci-fi minds became friends and even collaborators thereafter. A 1967 Time magazine profile described Asimov as "batting out books on a new electric typewriter, emerging only occasionally to watch Star Trek (his favorite TV show)," and he went on to become an advisor to the show. A Letters of Note post on Roddenberry and Asimov's correspondence contains a 1967 exchange wherein they put their heads together to solve the problem of how to give Captain Kirk lines as good as the ones that naturally go to a more unusual character like Spock. Since Asimov also contributed original ideas to the show, after having gone on record as a fan, I wonder: does that mean, in some sense, that Isaac Asimov wrote Star Trek fan fiction?
Related Content:
Klingon for English Speakers: Sign Up for a Free Course Coming Soon
Isaac Asimov Predicts in 1964 What the World Will Look Like Today — in 2014
Free: Isaac Asimov's Epic Foundation Trilogy Dramatized in Classic Audio
Isaac Asimov Explains the Origins of Good Ideas & Creativity in Never-Before-Published Essay
Isaac Asimov Explains His Three Laws of Robots
Isaac Asimov's Favorite Story "The Last Question" Read by Isaac Asimov— and by Leonard Nimoy
Based in Seoul, Colin Marshall writes and broadcasts on cities and culture. He's at work on a book about Los Angeles, A Los Angeles Primer, the video series The City in Cinema, and the crowdfunded journalism project Where Is the City of the Future? Follow him on Twitter at @colinmarshall or on Facebook.