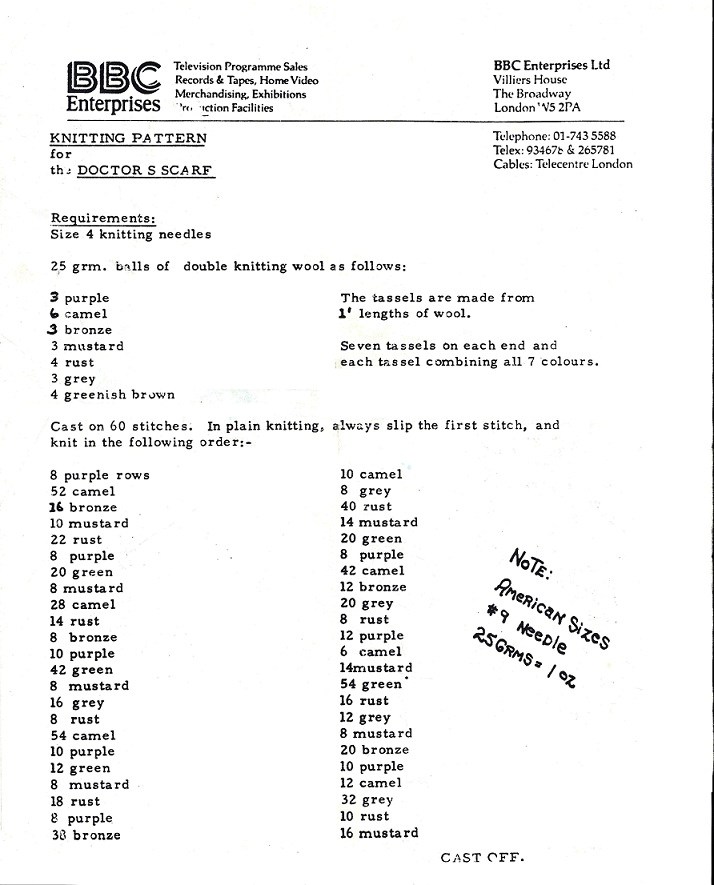 When Jon Pertwee reincarnated into Tom Baker in 1974, the Fourth Doctor of popular sci-fi show Doctor Who ditched the foppish look of velvet jackets and frilly shirts, and went for the "Romantic adventurer" style, with floppy felt hat, long overcoats and, most iconically, his multicolored scarf.
Fan legend has it that costume designer James Acheson picked up a load of multi-color wool and asked knitter Begonia Pope to create a scarf, and Pope, perhaps mishearing, used *all* the wool, resulting in a scarf that ran 12 feet long. The mistake was perfect, and suddenly many UK grandmothers were being asked by their grandchildren to recreate their hero's look.
The above memo isn't dated, but comes from sometime in the early '80s when the BBC sent detailed instructions to a fan's mother on making the scarf. (Click here, then click again, to view the document in a larger format.) The colors include camel, rust, bronze, mustard, grey, green and purple and should be knitted with size four needles (that's #9 US size). The requests must have come regularly, because a similar memo is reprinted from many years later to another fan's family.
The original scarf only lasted a few episodes, then was altered, replaced, and subtly changed as the show went on. There were stunt scarves for stand-ins.
Come Season 18, costume designer June Hudson rethought the entire costume and streamlined the colors to three: rust, wine, and purple, to match the Doctor's more swashbuckling look. It also became the longest scarf of the series, some 20 feet.
The following year, the Doctor reincarnated again into a cricket-jumper and striped trouser-wearing young blonde man. The Scarf Years were over.
For a very in-depth look at the scarves, including Pantone color references and wool brands, there is nothing better than DoctorWhoScarf.com. So, get knitting, Who-vians!
Related Content:
Meet Delia Derbyshire, the Dr. Who Composer Who Almost Turned The Beatles' "Yesterday" Into Early Electronica
See Penguins Wearing Tiny "Penguin Books" Sweaters, Knitted by the Oldest Man in Australia
Play The Hitchhiker's Guide to the Galaxy Video Game Free Online, Designed by Douglas Adams in 1984
Ted Mills is a freelance writer on the arts who currently hosts the FunkZone Podcast. You can also follow him on Twitter at @tedmills, read his other arts writing at tedmills.com and/or watch his films here.