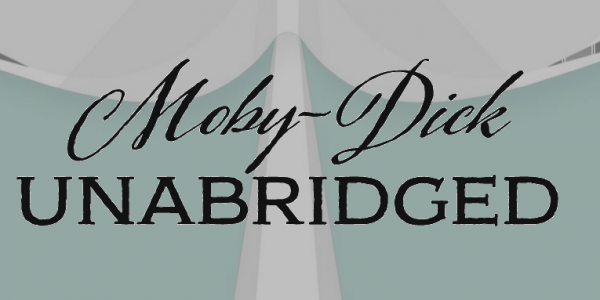 Last week, Ted Mills told you how Plymouth University orchestrated a wonderful project called Moby-Dick The Big Read, which resulted in celebrities–like Benedict Cumberbatch, John Waters, Mary Oliver, Stephen Fry, and Tilda Swinton–reading the entirety of Herman Melville's Moby-Dick, and making the recording free to download.
This weekend, we happily discovered another unabridged reading of Melville's great American novel, this one coming out of the 2015 London Literature Festival, held at the Southbank Centre in London. Over four days, Moby-Dick was read by writers, actors, comedians, members of the public and even Melville's great-great-great-granddaughter. You can stream a recording of the epic reading on Soundcloud right below. You might want to make a good strong pot of coffee because it runs 24 hours.
If you visit the Moby-Dick Unabridged website, you can get more background on the project. In the meantime, this latest recording will be added to our collection, 1,000 Free Audio Books: Download Great Books for Free.
If you would like to sign up for Open Culture's free email newsletter, please find it here.
If you would like to support the mission of Open Culture, consider making a donation to our site. It's hard to rely 100% on ads, and your contributions will help us continue providing the best free cultural and educational materials to learners everywhere. You can contribute through PayPal, Patreon, and Venmo (@openculture). Thanks!
Related Content
Hear Moby Dick Read in Its Entirety by Benedict Cumberbatch, John Waters, Stephen Fry, Tilda Swinton & More
An Illustration of Every Page of Herman Melville's Moby Dick
How Ray Bradbury Wrote the Script for John Huston's Moby Dick (1956)
Orson Welles Reads From Moby-Dick: The Great American Director Takes on the Great American Novel