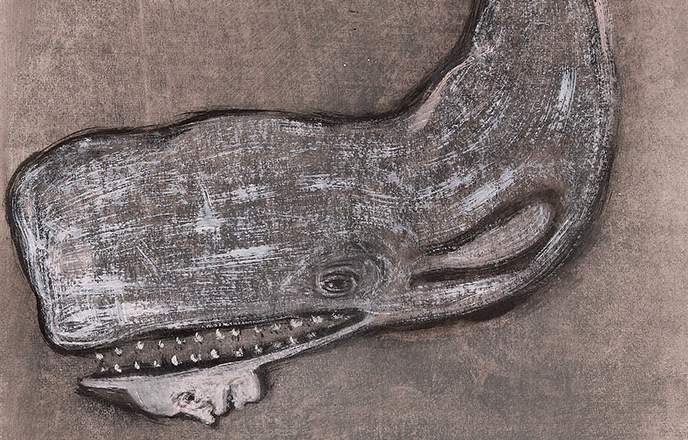 Image of Moby Dick by David Austen.
Three years ago, Plymouth University kicked off Moby Dick The Big Read, promising a full audio book of Herman Melville's influential novel, with famous (and not so famous) voices taking on a chapter each. When we first wrote about it here, only six chapters had been unveiled, but boasted actors like Tilda Swinton (reading chapter one below), author Nigel Williams, and poet and journalist Musa Okwonga.
We're glad to say the project, created out of a 2011 conference by artist Angela Cockayne and writer Philip Hoare, has reached its successful conclusion. And they've certainly called on an impressive roster of celebrity readers: Stephen Fry, Neil Tennant, Fiona Shaw, Will Self, Benedict Cumberbatch, China Miéville, Tony Kushner, John Waters, Simon Callow, Sir David Attenborough, even Prime Minister David Cameron. Pulitzer Prize winning poet Mary Oliver finishes off the whole project, reading the Epilogue.
All 135 chapters are available to be listened to in your browser, downloaded on iTunes, streamed on SoundCloud, or even heard as a podcast. However, do check them out online, as each chapter comes with a work of art each created by 135 contemporary artists such as Matthew Barney, Oliver Clegg, and Matthew Benedict. (See David Austen's work above.) The project is a mammoth undertaking befitting such a monumental book, and if you've never read it this just might be the way to go.
Copies of Moby Dick can be found in our collection of Free eBooks. Meanwhile, this big reading will be added to our collection of Free Audio Books.
If you would like to sign up for Open Culture's free email newsletter, please find it here.
If you would like to support the mission of Open Culture, consider making a donation to our site. It's hard to rely 100% on ads, and your contributions will help us continue providing the best free cultural and educational materials to learners everywhere. You can contribute through PayPal, Patreon, and Venmo (@openculture). Thanks!
Related Content:
An Illustration of Every Page of Herman Melville's Moby Dick
How Ray Bradbury Wrote the Script for John Huston's Moby Dick (1956)
Orson Welles Reads From Moby-Dick: The Great American Director Takes on the Great American Novel
Ted Mills is a freelance writer on the arts who currently hosts the artist interview-based FunkZone Podcast. You can also follow him on Twitter at @tedmills, read his other arts writing at tedmills.com and/or watch his films here.